OMET to launch the new FV.6: six lanes in a fully automatic solution
December 1, 2017
OMET innovation makes a further step forward and presents at the MIAC the new version of the FV line, the high-performing vacuum folding solution especially dedicated to the production of dispenser napkins. This type of napkin is typical of the American market but its use has been spreading rapidly throughout Europe.
The FV.6 is the new machine introduced in the FV line, the vacuum folding solution by OMET. Thanks to the 6 lanes and several technological innovations, it provides high-performance, automatic process and enhanced efficiency during the entire productive process.
The entire converting process can be entirely controlled from the main panel thanks to a group of cameras installed inside the machine, which allow real-time inspection and control, zoom and images rewind. Even the napkin size, the speed and the folding can be selected with a simple touch from the main panel.
It features a new transfer unit with two deliveries working alternately. The stacking system is more efficient and enables the production of dispenser napkins with 1/8 folding, widespread in the American disposable market and recently also in Europe. Thanks to the guided sliding system, it can produce packets up to 350 mm, with no risk of falling. It can also be integrated with different type of packing machines.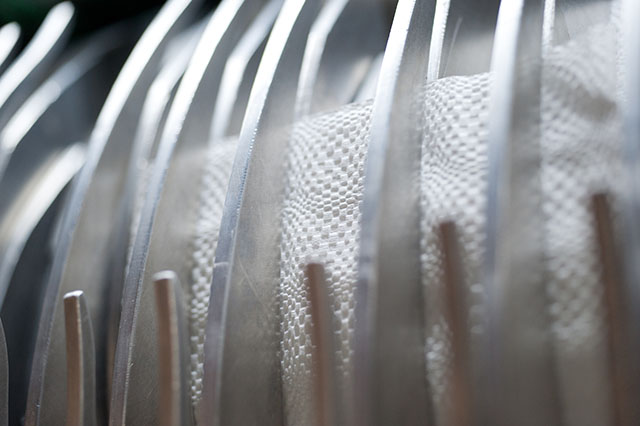 The machine can produce sizes up to 17×17 inches at the maximum speed of 250 meters per minute, but it can also use more than one reel or wider reels. Thus, despite a reduced production speed, it has the same production capability of a mechanical folding machine with less possible mistakes.
The machine is 4.70 meters high and is protected by a cabin, which increases safety and prevents the operator from touching any hazardous part. Maintenance is simple and involves a very limited direct intervention of the operator and the job changeover can be carried out easily in less than 2 minutes, guaranteeing low waste and high productivity.
Thanks to its modular design, the FV Line can integrate different finishing groups (embossing, folding, printing, etc..), thus offering extensive customization to suit customers' needs. The machine is equipped with a servomotor for each folding cylinder and servomotors controlling the vacuum valves.
The FV.6 completes the range of machines based on vacuum-folding technology, juxtaposed to traditional segment of mechanical folding machines, where OMET is undisputed market leader.
---
Sei vie in completa automazione, OMET lancia la nuova FV.6
L'innovazione OMET fa un nuovo passo avanti. E porta al MIAC con la nuova versione della FV Line, linea per tovaglioli a piega aspirata studiata in particolare per i dinner con piega 1/8, formato prediletto dal mercato americano ma in forte diffusione anche in Europa.
La FV.6 è la nuova macchina della linea FV e sfrutta la tecnologia della piega aspirata, ma grazie alle 6 vie e a diverse innovazioni tecnologiche, va un passo oltre in termini di prestazioni, digitalizzazione ed efficienza nella gestione del processo produttivo.
Il processo di converting e produzione è gestibile interamente dal pannello operatore grazie ad una serie di telecamere montate all'interno della macchina che consentono il controllo in tempo reale, lo zoom e il rewind delle immagini in caso di problemi. Sempre dal pannello è possibile settare la grandezza del tovagliolo da produrre, la velocità di produzione e il tipo di piega.
Presenta un nuovo convogliatore con due canali di uscita che lavorano in modo alternato. Il sistema di impilamento più complesso ma più efficiente che permette di produrre pacchi di tovaglioli dinner con piega 1/8, quindi rettangolari, molto richiesti dal mercato monouso americano ed in crescita anche in Europa, alti fino a 350 mm senza rischio di cadute grazie allo scorrimento guidato. Può essere accoppiata a macchine confezionatrici di varie tipologie.
Lavora con formati fino a 17×17 pollici a 200 mt/min, ma può utilizzare più bobine o bobine più larghe rispetto alle versioni precedenti. Nonostante la velocità inferiore, quindi, produce come una macchina meccanica con meno possibilità di errore. Può lavorare a ciclo continuo, senza interruzioni, richiede meno attenzione da un operatore e garantisce pertanto una maggior efficienza. Come tutte le macchine OMET, sono macchine "green" dotate di sistemi innovativi di risparmio energetico: si autoalimentano con l'energia dei motori in frenatura ed effettuano un monitoraggio continuo dell'assorbimento energetico.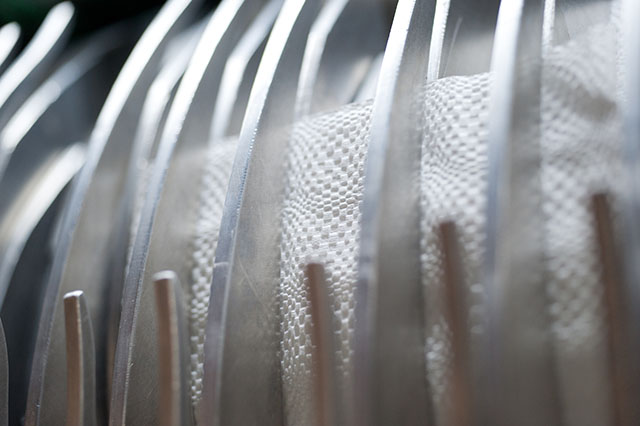 La macchina si sviluppa per 4,70 metri di altezza ed è protetta da una cabina che ne aumenta la sicurezza impedendo all'operatore di toccarne le parti pericolose. Anche la manutenzione è semplice e implica un intervento diretto dell'operatore molto limitato. OMET ha dedicato estrema cura gli aspetti relativi al cambio lavoro, che avviene in meno di 2 minuti ed è facilmente eseguibile garantendo alta produttività e scarti ridotti.
Grazie all'impostazione modulare per gruppi combinati (goffratura, piega, stampa ecc.), permette al cliente ampie possibilità di personalizzazione. E' dotata di un servomotore per ogni cilindro di piega e di servomotori di comando delle valvole del vuoto. La macchina è completamente gearless.
La FV.6 va ad arricchire la gamma di macchine a piega aspirata, che si affiancano al segmento di macchine a piega meccanica di cui OMET è leader di mercato ormai da molti anni.