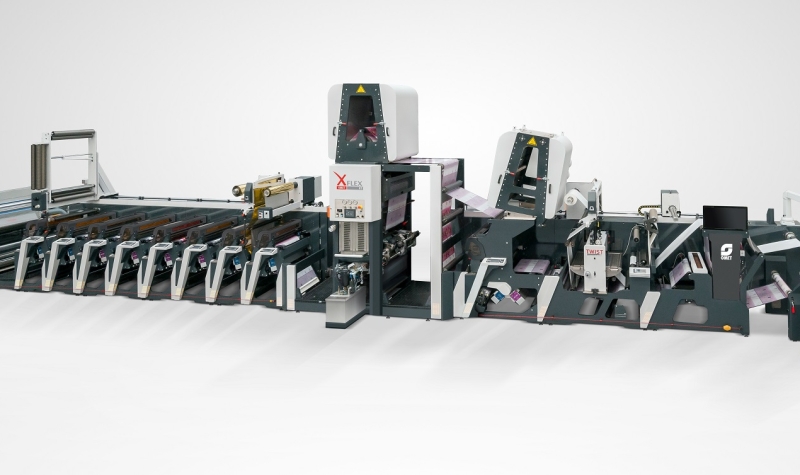 OMET to disrupt shrink sleeve printing with the new X7
September 16, 2019
OMET, the leader in pathbreaking technology and solutions for the flexo and combination printing presses, at LabelExpo Europe 2019 will launch a new printing press: XFLEX X7, which is set to disrupt the shrink sleeve and flexible packaging printing market. This 670mm (26") flexo printing press comes with a suite of innovative features and will showcase for the first time a new (HVR) Print Unit.
In today's competitive world, brands are continuously asking leading printers of the world to present innovative solutions which could help them attract customers at point of sale for a better conversion. When product differentiation becomes negligible, packaging plays a very important role in creating the premium perception in the mind of the customer. It is for such reason, the new trend in the market is to add a premium look and feel to shrink sleeves and flexible packaging using specialized varnish which creates special effects on these materials.
Sensing this need of the printers and their customers for applying varnishes for special effects, tactile features such as soft touch, leather, sand , textiles, peach, etc… on shrink sleeves and flexible packaging, OMET launches its new modular printing and converting platform, XFLEX X7.
This 670mm (26") printing press merges best features of OMET's earlier top selling platforms of XFLEX X6.0 and VARYFLEX V2 into a new innovative printing press. It now gives printers the possibility to offer high quality, high value shrink sleeves and flexible packaging materials optimized to print for medium volume quantities, which now has become the trending order size of leading brand owners.
OMET has industry's largest range of modules and attachments and with the new X7 we present our latest offering, the High Value Rotogravure-HVR, which we believe will disrupt the way printers achieve the special print effects on shrink sleeves and flexible packaging materials" said Amerigo Manzini, Director R&D at OMET. "HVR will be on display at Labelexpo Brussles at our stand in Hall 6, C49-53 and we encourage all innovative printers of the world to come and experience it running live! Also available will be various samples printed with HVR allowing printers to see the new possibilities they can now achieve with much east with this innovation" added Manzini.
In addition to the HVR, X7 also integrates several printing and converting technologies in-line along with a new flexo station designed with Zero Gears Solution which allows maximum level of precision on the market. It has 9 Servos on each printing unit offering fully automatic printing pressures, automatic on the fly pre-registration and the OMET's patented MULTIVISION registration camera allowing the machine to have the fastest setup times with the near zero wastages.
X7's modular design also allows OMET to offer different possibilities of combination printing and special effects with the Soft Touch Vertical Flexo Station and a new rotary screen unit available in 670mm. "Our Soft Touch Vertical Flexo Station is another great unit to be seen at the show, as it allows printers to work with soft touch applications with both water and solvent based inks" Manzini Stated while speaking about the versatility of the X7.
With the capability to print from 12microns and a variety of other substrates, the X7 will be a "Not to be missed" highlight of Labelexpo Brussels which will give a new dimension to shrink sleeve and flexible packaging printers in providing next generation solutions to their customers!
---
OMET rivoluziona la stampa shrink sleeve con la nuova X7
OMET, da sempre pioniera nel campo della tecnologia e delle soluzioni per le macchine da stampa flexo e combinata, presenterà una nuova linea a LabelExpo Europe 2019: la nuova OMET XFLEX X7, destinata a rivoluzionare il mercato delle shrink sleeve e del packaging flessibile. La macchina in esposizione, una flexo da 670 mm (26″), è dotata di una serie di funzioni innovative e per la prima volta avrà in dotazione l'unità di stampa a rotocalco High Value Rotogravure (HVR).
In un mondo sempre più competitivo, i brand chiedono continuamente agli stampatori di tutto il mondo soluzioni innovative che possano aiutarli ad attrarre i clienti nei punti vendita e a migliorare il proprio tasso di conversione. Quando la differenziazione tra i prodotti diventa minima, il packaging gioca un ruolo molto importante nel posizionare il prodotto a livello premium nella mente del cliente. È per questo che i nuovi trend di mercato vanno verso una resa "speciale" degli involucri shrink sleeve e dei packaging flessibili, ad esempio con particolari vernici che creano effetti speciali sul materiale stampato.
Intuendo la necessità degli stampatori e dei clienti di applicare queste vernici sui packaging, per dare – ad esempio – caratteristiche tattili agli involucri (soft touch, percezione di toccare vera pelle, sabbia, tessuto o buccia di pesca) OMET ha progettato la nuova linea modulare di stampa e converting, OMET XFLEX X7 che sarà lanciata a Labelexpo 2019.
Questa macchina da stampa 670 mm (26") unisce le migliori caratteristiche delle precedenti macchine top di gamma OMET – XFLEX X6.0 e VARYFLEX V2 – in una nuova linea innovativa. Offre agli stampatori la possibilità di produrre shrink sleeve di alta qualità e packaging flessibili, ottimizzati per la stampa con volumi medi di produzione che ormai sono diventati standard per i principali proprietari di brand.
"OMET offre la più vasta gamma di gruppi stampa e accessori dell'intero settore. La nuova X7 è la nostra ultima nata: con l'unità High Value Rotogravure-HVR riteniamo possa rivoluzionare il modo in cui venivano solitamente ottenuti gli effetti speciali di stampa sulle shrink sleeve e packaging flessibile" dice Amerigo Manzini, Responsabile R&D OMET. "La linea HVR sarà in mostra a Labelexpo Bruxelles presso il nostro stand nel padiglione 6 C49-53: invitiamo caldamente tutti gli stampatori del mondo che si ritengono innovativi a venire a provare dal vivo! Saranno inoltre disponibili vari campioni stampati con la HVR che consentiranno agli stampatori di vedere le nuove possibilità offerte da questa innovazione", ha aggiunto Manzini.
Oltre alla HVR, la OMET X7 integra diverse tecnologie di stampa e converting in linea insieme a una nuova stazione flexo progettata con la Zero Gears Solution che consente il massimo livello di precisione sul mercato. Dispone di 9 servo-motori su ogni unità di stampa e offre pressioni di stampa completamente automatiche, pre-registro automatico al volo ed è dotata di telecamere MULTIVISION brevettate OMET, che consentono alla macchina di avere i tempi di setup più rapidi con sprechi tendenti a zero.
Il design modulare della X7 consente inoltre diverse possibilità di stampa combinata ed effetti speciali con la Soft Touch Vertical Flexo Station e una nuova unità di stampa serigrafica, disponibile per la versione 670 mm. "La nostra Soft Touch Vertical Flexo Station è una soluzione eccezionale che potrà essere vista in fiera: consente alle macchine di lavorare su applicazioni soft touch con inchiostri sia a base acqua che a solvente", ha dichiarato Manzini parlando della versatilità della X7.
Con la capacità di stampare su materiali a partire da 12 micron e di grande varietà, la X7 sarà una delle attrazioni da non perdere alla prossima Labelexpo Bruxelles: darà una nuova dimensione alla stampa delle shrink sleeve e dei packaging flessibili, fornendo soluzioni di nuova generazione ai clienti OMET!