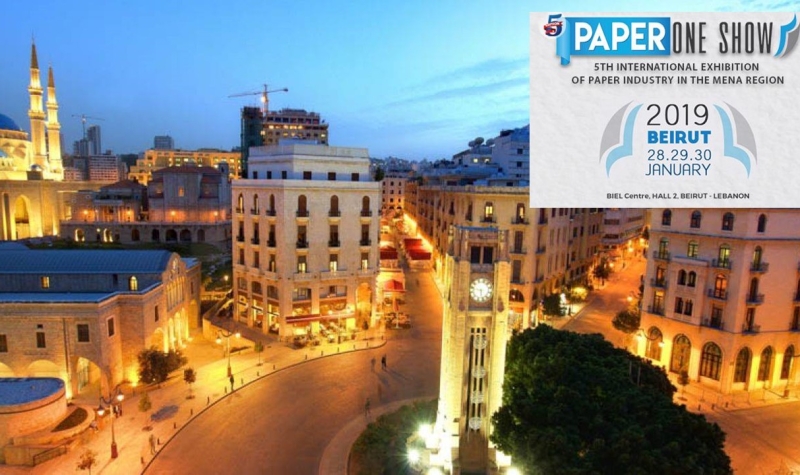 OMET to Beirut for the Paper One Show 2019
January 10, 2019
OMET will bring its outstanding technology in the field of tissue converting at the Paper One Show 2019, to be held at the Beirut Biel Centre (Lebanon) on 28-29-30 January 2019. OMET staff will be available at the booth to explain the best solutions developed to increase performance, quality and flexibility of tissue converting lines, showing samples of every kind of product that could be made by OMET machines.
"OMET is already present on the North African market with several tissue lines and is paying attention to the fast growing Middle East market – says Marco Calcagni, OMET Sales Director -. We will focus in particular on the interfolded products, increasingly appreciated in the MENA region. OMET ASV Line, the new automatic interfolding machine working at high speeds for the production of paper towels, toilet paper and facial tissues, is featuring user-friendly design and extreme modularity, being one of our leading innovations in this industry".
Paper One Show, organized by Al Furat Fairs, is one of the biggest international exhibitions for paper market in the MENA region, one of the fastest growing paper markets in the world. It is held every year in a different location of the area, attracting over 100 internationally recognised exhibitors from 26 countries and more than 2.500 professional visitors from Europe, North Africa, Asia and the Gulf States. It's providing a huge contribution to the development of the local market.
OMET will be present at the booth C-191, together with its Innova Tissue agents, with the Sales Area Manager Marco Gallo.
---
OMET a Beirut per il Paper One Show 2019
La tecnologia e l'innovazione OMET nel settore del tissue converting saranno protagoniste al Paper One Show 2019, che si terrà presso il Biel Center di Beirut (Libano) il 28-29-30 gennaio 2019. Lo staff OMET sarà disponibile presso lo stand per mostrare le soluzioni sviluppate per aumentare prestazioni, qualità e flessibilità delle linee di tissue converting, con campionature di tutte le tipologie di prodotto contemplate dalle macchine OMET.
"OMET è già presente sul mercato nordafricano con diverse linee di tissue converting e sta investendo sul Medio Oriente, mercato in rapida crescita – afferma Marco Calcagni, OMET Sales Director -. Dedicheremo particolare attenzione ai prodotti interfogliati, sempre più apprezzati nella regione MENA (Medio Oriente – Nord Africa). La OMET ASV Line, la nuova linea interfogliatrice automatica di facile utilizzo ed elevata modularità per produzioni ad alta velocità di asciugamani, carta igienica e facial tissue, è il frutto dei più recenti investimenti in innovazione in questo settore".
Il Paper One Show, organizzato dalla Al Furat Fairs, è una delle più grandi fiere internazionali per il mercato della carta nella regione MENA, uno dei mercati in più rapida crescita a livello globale. Si tiene ogni anno in una diversa location all'interno dell'area, ed è arrivata ad attrarre oltre 100 espositori riconosciuti a livello internazionale, provenienti da 26 Paesi del mondo, e oltre 2.500 visitatori provenienti da Europa, Nord Africa, Asia e Stati del Golfo. L'evento sta dando un enorme contributo allo sviluppo del mercato locale della carta.
OMET sarà presente presso lo stand C-191 insieme ai suoi agenti di Innova Tissue con l'area sales manager Marco Gallo.