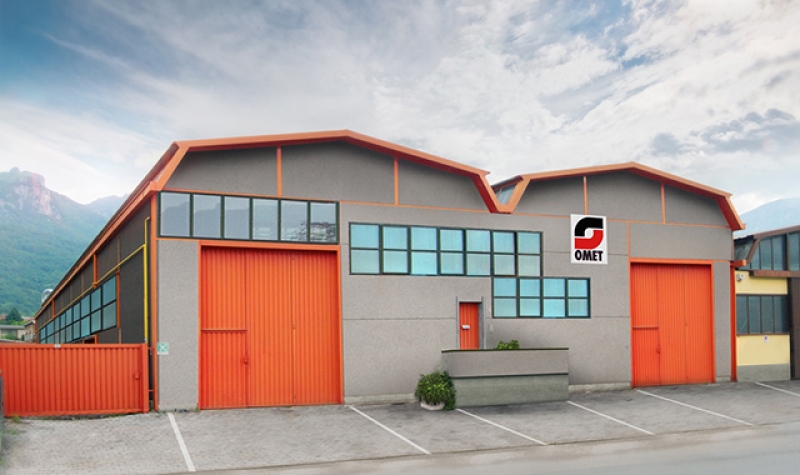 OMET Tissue boosts production capability
June 15, 2017
OMET opened a new production site for the business unit dedicated to tissue converting machines manufacturing, which in the last year achieved a strong growth in sales. The new area, covering over 1000 m2  including outdoor and indoor space, is situated in Valmadrera (LC) and integrates the historical headquarter in Via Caduti a Fossoli in Lecco. It serves as complementary production site where a dozen operators work at tissue converting machines assembling and testing.
"The new premises have been operative for a couple of months – as Marco Calcagni, OMET commercial director explained – and it represents the answer to the enormous increase in demand registered in the latest years in Italy and in many foreign markets ".
This is a further evidence of the regular and constant growth for the Italian company, which at the end of 2016 started a new production site in Molteno (LC) dedicated to the printing machines business unit.
OMET Tissue product portfolio includes four main converting lines for the automatic production of disposable napkins, paper towels, non-woven products and placemats.
---
OMET Tissue aumenta capacità produttiva
Nuova sede produttiva per la divisione OMET dedicata alle macchine piegatrici per tovaglioli in carta e altri prodotti monouso, che nell'ultimo anno ha registrato una forte crescita delle vendite. La nuova area, circa mille metri quadrati tra spazi esterni e interni, si trova a Valmadrera (LC) e si aggiunge a quella storica di via Caduti a Fossoli a Lecco dove ha sede la produzione principale. Ospita il montaggio e il collaudo di alcune linee di macchine per la produzione di tovaglioli, seguiti da una decina di operatori.
"La sede è operativa da un paio di mesi – commenta Marco Calcagni, direttore commerciale OMET – ed è la risposta della OMET ad un consistente aumento degli ordini negli ultimi anni sia sul mercato italiano sia all'estero".
Il passo compiuto è un'ulteriore testimonianza della crescita stabile e duratura dell'azienda lecchese, che a fine 2016 aveva avviato una nuova sede produttiva di Molteno dedicata alla produzione di macchine da stampa.
Il portafoglio prodotti OMET Tissue comprende 4 principali linee di macchine per la produzione automatica di tovaglioli da tavola usa e getta, asciugamani in carta, prodotti di tessuto non tessuto