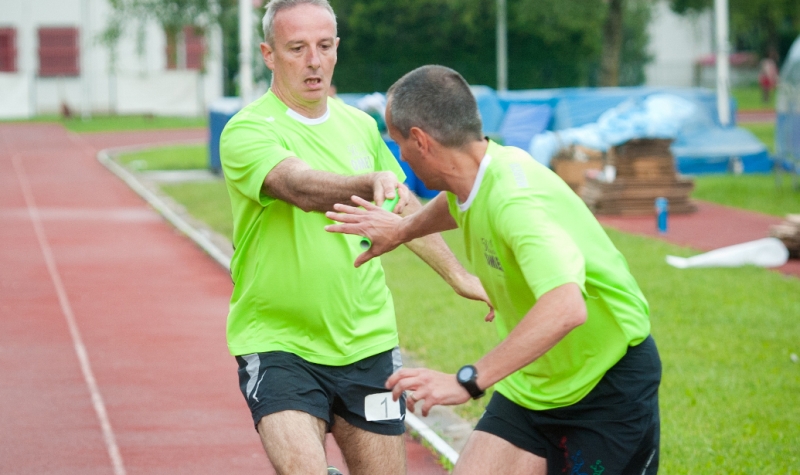 OMET: The values of sport from the court to the company
July 11, 2018
Challenges, competition, ethics, rules to be respected and maximum commitment. The principles of sport are the same as in business: for this reason, OMET takes an active part to promote it among his stakeholders, by supporting those who practice sports and promoting events on the territory. In 2018, OMET will organize a special event called "Omettiadi" (OMET Olympic Games), a competition between the different divisions of the group to celebrate the 55th anniversary of the foundation.
"The popular motto "Mens sana in corpore sano" is true today like many years ago – as President Antonio Bartesaghi explains -. Practicing sport is always useful for a correct psychophysical balance of the person that can express higher concentration and work more efficiently thanks to the natural benefit. Work generates stress and sport helps to let it off".
The reason of OMET commitment, it is not just the well-being of the employees. We really believe that sport teaches how to win professional challenges by shaping the character and getting used to team building. The comparison between sport and business is also useful to share a winning mentality and to enhance talents.
Mr. Bartesaghi continues: "In sport, as in work, there is competition, discipline, loyalty, teamwork, difficulties to overcome, objectives and the need to better express our skills. The context imposes precise rules of behavior and there is a judge (the customer) that must be respected even if he makes mistakes. Ethics is fundamental, we must work with respect for people, competitors and laws. The context of sports presents many similarities to the way we work in OMET. It's good to think that by doing sport and sponsoring sporting events we create adults, and also workers of higher quality, because they get used to share aspects connected to work".
This mindset has led the company to organize an internal sports tournament. It was proposed for the first time on the occasion of the 50th anniversary of the foundation. This year the "Omettiadi" (OMET Olympic Games) will be organized in a second edition in July and will involve all the collaborators of the various business divisions.
"For OMET it is a way to celebrate and acknowledge the good work and the intense participation of the employees in the life and success of the company".
OMET chooses to offer a sponsorship to realities and organizations involved in educating people since childhood to the real values of sport and life and supports different local initiatives, especially when they directly involve company's employees.
Marco Calcagni, OMET Sales and marketing director claims: "Sponsorship of local sporting events demonstrates the attention to the territory that has distinguished OMET Group since its foundation -. Our workers, their families, and all the stakeholders, who are related to the company and the divisions of the Group, are very sensitive to this type of commitment that is carried on in the name of the interest and sense of responsibility towards their hometown, from the lake to the mountains".
---
OMET: i valori dello sport, dal campo all'azienda
Sfida, competizione, etica, regole da rispettare e massimo impegno. Gli ingredienti dello sport sono i medesimi del mondo aziendale: per questo OMET è attivamente impegnata nel promuoverlo tra i suoi collaboratori, sostenendo coloro che lo praticano e promuovendo eventi sul territorio. Nel 2018 per festeggiare il 55° anniversario della fondazione saranno organizzate anche le "Omettiadi" torneo multisport tra le diverse divisioni del Gruppo.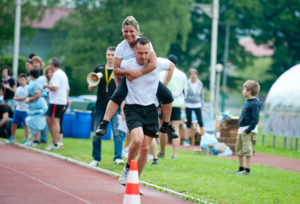 "L'antico motto mens sana in corpore sano è vero oggi come tanti anni fa – spiega il Presidente Antonio Bartesaghi -. Praticare attività sportiva è sempre utile per un corretto bilanciamento psicofisico della persona, che sentendosi meglio può esprimere una maggior concentrazione e un lavoro più efficiente all'interno dell'azienda. Il lavoro porta stress, e lo sport aiuta a scaricarlo".
Ma non è solo il benessere del singolo collaboratore il motivo dell'impegno di OMET in questo ambito: c'è la profonda convinzione che lo sport insegni a vincere le sfide professionali formando il carattere e abituando al lavoro in team. La metafora sportiva nel mondo aziendale è anche utile per diffondere una mentalità di allenamento costante e per valorizzare i talenti.
"Lo sport è un ambiente in cui, come nel lavoro, ci sono competizione, disciplina, lealtà, lavoro di squadra, difficoltà da superare, raggiungimento degli obiettivi, necessità di esprimere al meglio le proprie capacità – prosegue Bartesaghi -. Il contesto impone precise regole di comportamento e c'è un giudice (il cliente) che va rispettato anche se fa errori. L'etica è fondamentale, si deve lavorare nel rispetto delle persone, dell'avversario, delle leggi. Il contesto sportivo presenta quindi molte similitudini rispetto al modo in cui vogliamo lavorare in OMET. E' bello pensare che facendo sport e sponsorizzando eventi sportivi si creino persone adulte, e quindi lavoratori, di maggiore qualità, perché si abituano a condividere aspetti che incontrano anche sul lavoro".
Questa filosofia ha portato l'azienda a organizzare un torneo sportivo interno. Proposte per la prima volta in occasione del cinquantenario della fondazione, quest'anno le Omettiadi saranno organizzate in una seconda edizione nel mese di luglio e coinvolgeranno tutti i collaboratori delle varie divisioni aziendali.
"Per OMET è un modo per celebrare e riconoscere il buon lavoro e l'intensa partecipazione di tutti i dipendenti alla vita e ai successi aziendali".
Nelle scelte di sponsorizzazione OMET predilige realtà e organizzazioni impegnate sulla formazione, che educhino sin da ragazzi al gioco di squadra e ai valori dello sport.
OMET è anche vicina al territorio sostenendo diverse iniziative sportive locali, in special modo quelle che coinvolgono in modo diretto i collaboratori dell'azienda, per dimostrare la propria vicinanza a chi si impegna su questo fronte.
"La sponsorizzazione di eventi sportivi locali dimostra l'attenzione al territorio che ha contraddistinto il Gruppo OMET sin dalla sua fondazione – dichiara Marco Calcagni, direttore commerciale OMET -. I nostri collaboratori, le loro famiglie, e tutti gli stakeholder con cui le aziende e le divisioni del Gruppo si relazionano ogni giorno sono molto sensibili a questo tipo di impegno che viene portato avanti nel segno dell'interesse e del senso di responsabilità verso la sua città e la sua terra, dal lago alle montagne".