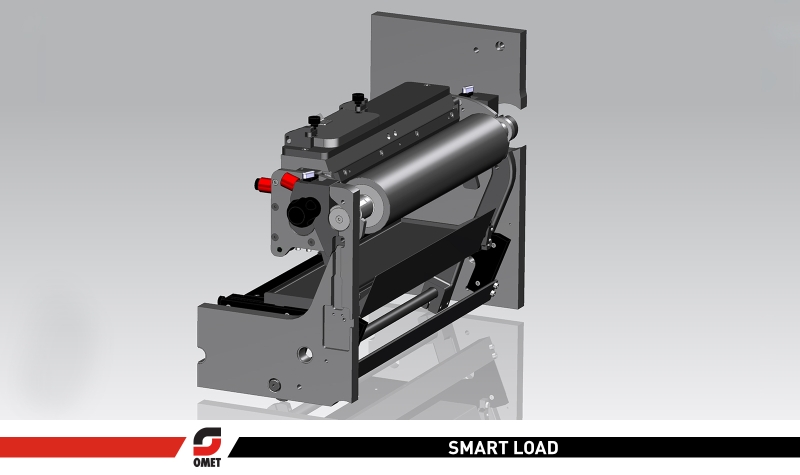 OMET: the inking process steps up with the "Smart Load" system
February 19, 2020
Ink distribution is a crucial step in the printing process: every printer knows that the functionality of the entire unit is essential to obtain an excellent printing result. Today OMET expands its offer in this field with the SMART LOAD chambered doctor blade system.
The new closed chamber doctor blade system combines better ink transportation on the anilox with improved ease of use, optimizing the printing performance of the machine especially when using white UV inks, varnishes and lacquers.
The Smart Load system allows direct ink refill into the closed chamber, without the need to install any pump and therefore saving costs, by maintaining the high performance of a closed chamber system.
The Smart Load system can be easily incorporated into the printing unit and is interchangeable with the standard inking system, to offer greater flexibility to the operator.
The new "Smart Load" chambered doctor blade system is available for OMET XFlex X6, X6.0 and XJET printing lines and retrofittable on existing machines
---
OMET: l'inchiostrazione fa un passo avanti con il sistema "Smart Load"
L'inchiostrazione è uno dei passaggi più determinanti su una linea da stampa: ogni stampatore sa che la funzionalità dell'intero gruppo di inchiostrazione è fondamentale per ottenere un ottimo risultato di stampa. Oggi OMET amplia l'offerta in questo campo con il sistema di inchiostrazione speciale a doppia racla SMART LOAD.
Il nuovo sistema a camera chiusa unisce un migliore trasporto dell'inchiostro sull'anilox con una maggiore facilità di utilizzo, ottimizzando le performance qualitative di stampa della macchina soprattutto nell'utilizzo di inchiostri bianchi UV, vernici e lacche.
Il sistema Smart Load permette il caricamento diretto dell'inchiostro all'interno della camera chiusa, senza la necessità di installare una pompa e quindi permettendo un contenimento dei costi, ma senza rinunciare alle performance di un sistema a racla chiusa.
Il gruppo è inseribile facilmente nell'unità di stampa ed è intercambiabile con il sistema a di inchiostrazione e raclatura standard, per offrire maggior flessibilità all'operatore.
Il nuovo sistema di inchiostrazione a doppia racla "Smart Load" è disponibile per le unità stampa delle linee OMET XFlex X6, X6.0 e XJET, nuove e esistenti.