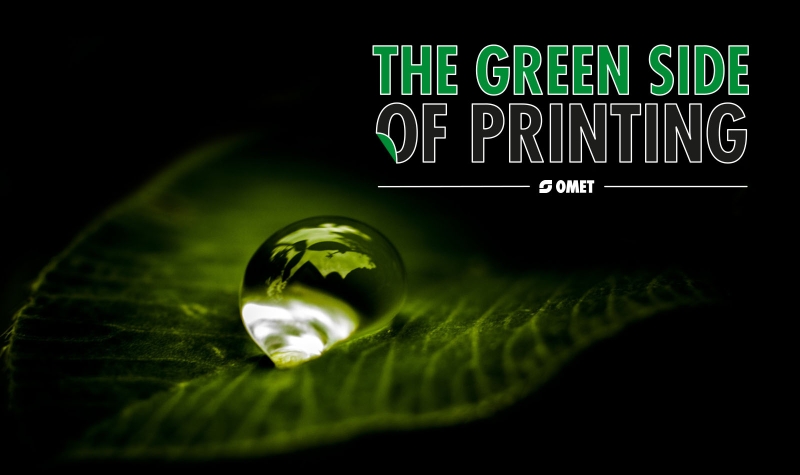 OMET, the Green Side of Printing
July 2, 2019
A cleaner world, a more protected environment and plastic-free oceans. OMET takes up the challenge launched by international institutions and organizations to renew and share its commitment to environmental sustainability and energy efficiency in view of Labelexpo 2019. At the fair in Brussels, OMET will show new solutions, materials and technologies able to protect the planet beyond ensuring greater productivity and profitability to the customer.
In 2015, the United Nations members adopted the 2030 Agenda for Sustainable Development and its 17 Sustainable Development Goals, highlighting that sustainability is not just an environmental issue, but also an economic and social one: all stakeholders should work to reach these goals, from companies to public organizations.
Respect for the environment is one of OMET's fundamental values: the company believes it's precise responsibility towards the society and future generations. OMET has always invested in research and development paying attention to waste reduction, energy saving and sustainability of production processes through the whole value chain, starting from the raw materials to the final product.
This commitment takes shape today in the "The Green Side of Printing" project, which brings together all OMET's "green" innovations over the years, and will be the hallmark of its participation at the upcoming Labelexpo 2019. OMET is ready to amaze and involve its visitors with new ideas and solutions, following the "green" path to show how efficiency and sustainability are perfectly fitting together and enhancing each other.
"With the Green Side of Printing project, we want to highlight all sustainable technologies already implemented on our machines – explains Antonio Bartesaghi, OMET President and CEO – and to officialize our commitment in developing innovative solutions with our partners. We aim to give our customers the possibility to work with greater care for the environment, and at the same time gain advantages in their business, as for example new possibilities for finished products and production and time savings".
---
OMET, the Green Side of Printing
Un mondo più pulito, un ambiente più protetto e un mare senza plastica. OMET raccoglie la sfida lanciata dalle istituzioni e organizzazioni internazionali per rinnovare e condividere il suo impegno verso la sostenibilità ambientale e l'efficienza energetica in vista di Labelexpo 2019. A Bruxelles OMET presenterà nuove soluzioni, materiali e tecnologie capaci di proteggere il pianeta oltre che di offrire maggior produttività e redditività al cliente.
Nel 2015, le Nazioni Unite hanno approvato l'Agenda globale per lo sviluppo sostenibile e i Sustainable Development Goals da raggiungere entro il 2030, rimarcando che la sostenibilità non è solo una questione ambientale, ma anche economica e sociale e chiamando a questo impegno tutti gli attori della società, dalle imprese al settore pubblico.
OMET pone il rispetto per l'ambiente tra i suoi valori fondamentali, considerandolo un obbligo verso la società e le generazioni future. Da anni investe in ricerca e sviluppo, cercando di orientare la propria tecnologia alla riduzione degli sprechi, il risparmio energetico e la sostenibilità dei processi produttivi, partendo dalle materie prime per arrivare al prodotto finale.
Questo impegno si concretizza oggi nel progetto "The Green Side of Printing", che raccoglie sotto il proprio nome tutte le innovazioni OMET in questo campo, tra passato presente e futuro, e sarà il segno distintivo della prossima Labelexpo 2019. OMET è pronta a stupire e coinvolgere i propri visitatori con nuove idee e soluzioni realizzate seguendo il pensiero "green", dimostrando sullo stand come efficienza e sostenibilità non siano obiettivi contrapposti fra loro ma perfettamente integrabili e anzi, capaci di potenziarsi a vicenda.
"Nell'ambito del progetto "The Green Side of Printing" – spiega il presidente Antonio Bartesaghi – OMET vuole mettere in evidenza tutte le tecnologie sostenibili già implementate sulle proprie macchine e si impegna a sviluppare con i propri partner soluzioni innovative per il mercato, dando la possibilità ai propri clienti non solo di lavorare con maggiore cura dell'ambiente, ma anche di avere vantaggi sulla propria produzione: in particolare, nuove possibilità sul prodotto finito e risparmi su tempi e costi di produzione".