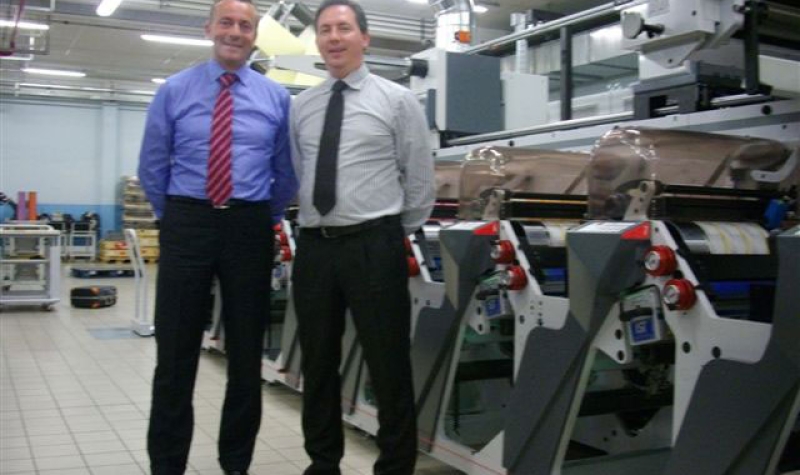 OMET strengthens its partnership with Eurostampa with the sale of two further machines XFlex X6
April 15, 2013
Industria Grafica Eurostampa Spa is one of the most vital and fast growing converter in the Italian label context, with which OMET has been able to establish a very close relationship aimed at finding the best solution for the customer's most stringent requirements. Eurostampa's requests are in line with what is the general trend of the market: stay competitive through specialization, innovation and sophistication on the machine to ensure a high quality distinctive product and general reduction of production costs. The goal is to continue to reap success even in times not purely exciting for the world economy.
Next to the two flexo lines XFlex X6 already installed, will find its place within the month of May 2013, the third XFlex X6 in width 430 mm, a multi-process press configured with the new offset groups with sleeves. Offset sleeve by OMET, recently launched, has already marked a great success at international resulting in a remarkable backlog.
In such a context, the "lean" operational behaviour of both companies, which base their strength on family ties, on an established group of co-operators and on winning R&D aimed at the greatest innovation could not lead but to a strong cooperation, increasingly consolidated.
He has no doubt Enrico Gandolfi, Sales Director Italy of OMET, when he says that the collaboration with Eurostampa is bound to become closer in the years to come, hand in hand with the strengthening of both companies on an international level. Eurostampa already operates in an international environment with a plant in the UK and one in the United States – as well as representative offices in Mexico, France, Spain and Russia – while OMET has three subsidiaries abroad (USA, Spain and China) that provide global coverage on the market and promote the meeting with the client in the regional context.
A fine example of "made in Italy" exported and replicated by Eurostampa and OMET in the world. Proud Italian companies that, despite the impasse that the country is experiencing, are a 'flagship' in their respective areas of production.