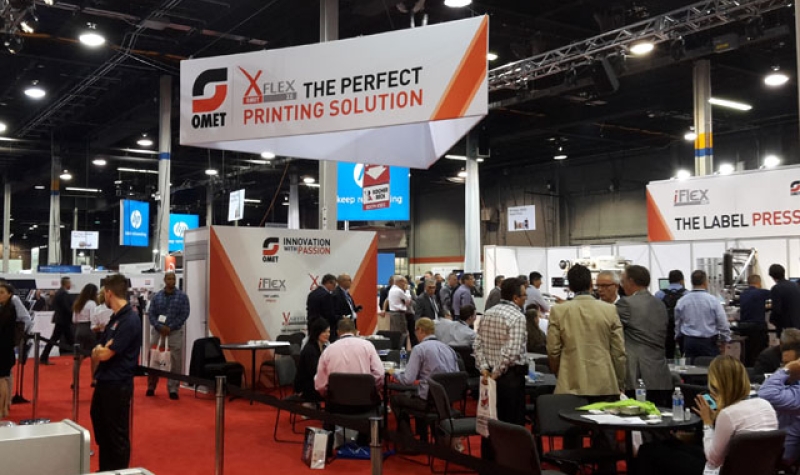 OMET starring at the Labelexpo Americas 2016
September 23, 2016
The 2016 edition of the most important American exposition in the sector saw OMET present some exclusive solutions that know how to meet expectations in terms of technological level, printing quality and design.
In recent years OMET has made significant investments to best serve the American labeling and flexible packaging market, especially with the recent opening of the new OMET Americas headquarter, thereby reinforcing its presence in the country.
Labelexpo Americas 2016 was a testing ground to measure the American market's appreciation of OMET's new strategies.
Three daily demos on iFlex aroused great enthusiasm among spectators at the OMET booth. These demonstrations showed the incredible potential of this label printing machine, confirming it to be in a league of its own in terms of high performance and ease of use. The opportunity to book visits for customized demonstrations at the new demo centre at OMET AMERICAS INC. in Elk Grove Village, IL, was also offered and accepted by many guests desiring to better understand the printing capabilities of the revolutionary OMET iFlex.
The moments of greatest astonishment and interest focused on the XFlex X6, universally considered as a reference point in the narrow-web market, a synonym of excellence in label and flexible packaging printing. The demonstration of the 10-color XFlex X6 showed off the possibility of printing with variable data even on plastic film, quickly, without stopping the press and without any waste.
Furthermore, even though it wasn't present at the expo, many visitors requested information about the new Varyflex V2 Offset 850, which positively impressed flexible packaging market players during DRUPA, speaking for itself even over the pond.
A very positive outcome for OMET Americas, which adds the optimal results obtained at Labelexpo, with hundreds of visitors attending the stand, numerous contacts and many negotiations, to the success of the recent open house at the demo centre in Elk Grove Village: results that repay the company for its efforts on American soil in recent years, persuading OMET to continue with determination on the path they have already taken.
---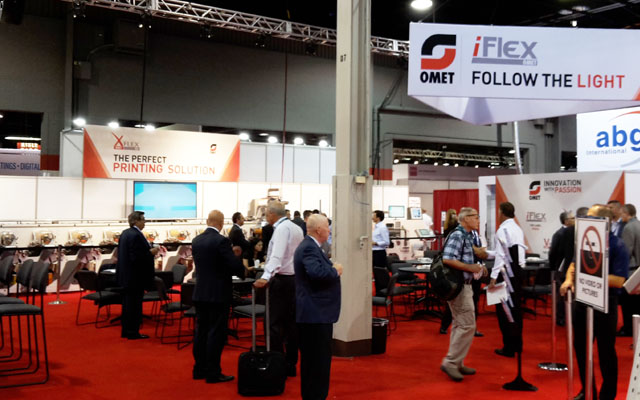 OMET protagonista a Labelexpo Americas 2016
L'edizione 2016 della più importante esposizione Americana del settore ha visto OMET presentare delle soluzioni esclusive che hanno saputo soddisfare le attese per livello tecnologico, qualità di stampa e design.
Negli ultimi anni OMET ha investito fortemente per presentare le proprie macchine e servire al meglio il mercato americano delle etichette e del packaging flessibile, arrivando ad inaugurare recentemente la nuova sede di OMET Americas e rafforzando così la presenza sul territorio.
Labelexpo Americas 2016 è stato un banco di prova per misurare l'apprezzamento del mercato americano riguardo le nuove strategie di OMET.
Sullo stand OMET hanno suscitato grande entusiasmo negli spettatori le tre demo giornaliere della iFlex, in cui sono state mostrate le incredibili potenzialità di questa macchina da stampa per etichette, altamente performante e di grande facilità di utilizzo per qualsiasi operatore.
E' stata anche offerta la possibilità di prenotare visite per dimostrazioni personalizzate presso nuovo demo center di OMET AMERICAS INC. a Elk Grove Village,  IL, occasione che molti ospiti hanno voluto cogliere per comprendere meglio le capacità di stampa della rivoluzionaria iFlex di OMET.
I momenti di maggiore stupore ed interesse hanno però riguardato la XFlex X6, la macchina OMET considerata universalmente punto di riferimento nel mercato del narrow-web, sinonimo di eccellenza nella stampa di etichette e flexible packaging.
Le dimostrazioni della XFlex X6 a 10 colori presente in fiera hanno messo in mostra la possibilità di stampare con dati variabili anche su film plastico, in modo rapido, senza fermo macchina e senza scarti.
Inoltre, nonostante non fosse presente in fiera, molti visitatori hanno richiesto informazioni riguardo la nuova Varyflex V2 Offset 850, che durante la DRUPA ha positivamente impressionato i player del mercato del packaging flessibile, facendo parlare di sé anche oltre oceano.
Un bilancio molto positivo per OMET Americas, che somma al successo del recente open house del demo center di Elk Grove Village, gli ottimi risultati ottenuti a Labelexpo, con centinaia di visitatori intervenuti sullo stand, numerosi contatti e molte trattative in essere: risultati che ripagano l'azienda degli sforzi sul territorio americano compiuti negli ultimi anni, convincendo a proseguire con determinazione sulla via intrapresa.