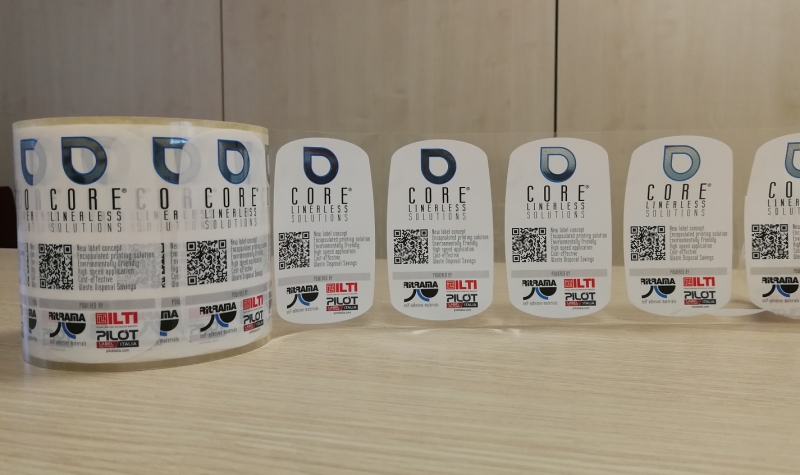 OMET-Ritrama, new partnership for linerless labels
January 22, 2019
A new laminating module to produce linerless labels. Here is the focus of the new partnership between OMET and Ritrama, leading Italian and international producer of self-adhesive materials that has recently launched the Core Linerless Solutions®, an innovative self-adhesive film engineered to be transformed into a single ply Linerless web, ready to be dispensed using a special linerless module. An innovation that allows significant improvements on efficiency and environmental sustainability of the printing process.
Linerless labels (without siliconized liner) are one of the most innovative and competitive products launched on the market, because allows converters to increase the efficiency of the press set-up, the printing process and the waste management, to achieve considerable material cost and time savings.
The module that OMET is developing will "open" the material and laminate the siliconized liner onto the face stock. It's a heat-activated lamination of the siliconized PET liner on the face stock that has been previously printed: it encapsulates the print as a protective film, eliminating the need of lamination or the application of a protective varnish.
The film has the proper stiffness to be printed and dispensed at high speed but will has a lower thickness than traditional labels, with several advantages for the whole production and logistic process.
With this kind of labels, there's no die-cutting, no matrix or liner waste to dispose of, lower transport and logistics costs. Companies save on materials, transport and machine downtime because the line prints twice as many labels per roll. The printing process is more sustainable, reducing environmental footprint impact (CO2 emissions).
Linerless labels are addressed to the wide market of primary products in food, beverage, home & personal care industries: most of the labels for these products have squared or rectangular shape and transparent material.
---
OMET-Ritrama, nuova partnership per le etichette linerless
Un nuovo gruppo di laminazione per la lavorazione di etichette linerless. Ecco il focus della nuova partnership attivata qualche mese fa da OMET e Ritrama, multinazionale italiana leader nel settore dei materiali autoadesivi che ha di recente lanciato il Core Linerless Solutions®, un film autoadesivo che tramite un apposito processo di converting si trasforma in un laminato senza liner, pronto per essere applicato con un'etichettatrice linerless. Un'innovazione che consente notevoli impatti positivi sia sull'efficienza sia sulla sostenibilità ambientale del processo di stampa.
Le etichette linerless (senza supporto siliconato) sono uno dei prodotti più innovativi e competitivi sul mercato, perché il loro utilizzo comporta una maggiore efficienza nel processo di stampa, nella preparazione della macchina e nella gestione dei materiali e degli scarti, con un considerevole risparmio in termini monetari e di tempo.
Il gruppo che OMET sta sviluppando separerà il supporto inferiore del film e tramite un processo di laminazione a caldo applicherà il liner PET siliconato sul frontale precedentemente stampato, incapsulando l'etichetta che risulterà quindi protetta senza necessità di sovraverniciare o sovralaminare.
Il supporto manterrà una rigidità adeguata per essere lavorato ad alte velocità ma avrà uno spessore inferiore alle etichette tradizionali, con tutti i vantaggi che ne derivano in termini di logistica e applicazione finale.
Con questo tipo di etichette non è necessario fustellare, non ci sono sfridi da smaltire e raddoppia il numero delle etichette in un rotolo rispetto ad un autoadesivo standard. Si risparmia quindi sui materiali, sul trasporto e sui tempi di fermo macchina perchè vengono prodotte più etichette per ogni bobina. Il processo di stampa diventa inoltre più sostenibile a livello ambientale in termini di riduzione della Carbon footprint (emissioni di CO2).
Le etichette linerless sono destinate all'ampio mercato dei prodotti primari nei settori food, beverage, home & personal care in cui la maggior parte delle etichette sono di forma quadrata o rettangolare e in materiale trasparente.