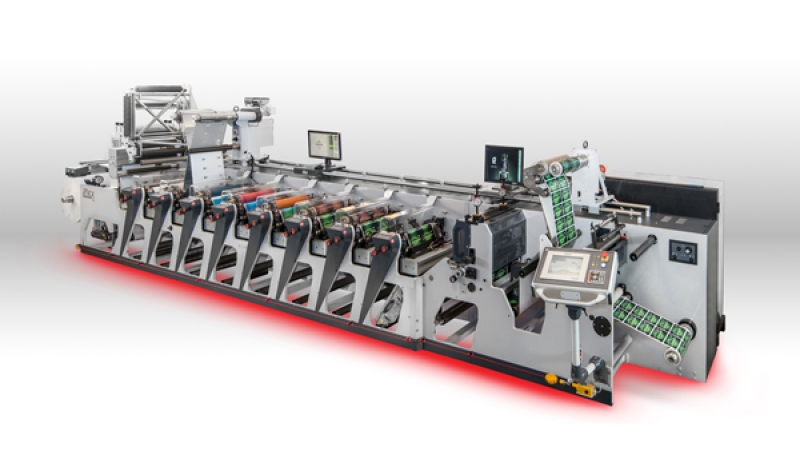 OMET revolutionises the label market, again!
May 21, 2015
On May 19, 2015 OMET officially presented the new press iFLEX dedicated to label printing. It is the start of a new way to print labels packed with a great deal of innovation aimed at simplifying the printer's work and increase the press efficiency.
iFLEX, UV Flexo machine in width 370mm, inspired by a careful analysis of customers' needs and promoting ease of operation, is equipped with tools designed to reach the highest print quality in a few, easy steps. Specifically, we refer to innovative pre-register and register devices that contribute to speed up the machine set-up after each job changeover like iLIGHT, pre-register system through laser pointers located on each Flexo group, and iVISION, set of smart cameras located on every print unit that capture the register mark for immediate correction and a monitor located centrally on the machine that speeds up register.
iFLEX introduces the shortest web path (1,3 meters) in the field of narrow web machines which makes it a super compact press ensuring important material savings in the start-up phase (the register setting waste is below the web length between two prints!). iFLEX, moreover, is the only machine to have all the printing cylinders Direct Drive controlled so to increase the printing precision and eliminate the criticalities due to traditional gear transmission. In this regard, the presence of only one gear per Flexo unit is guarantee of elevated print quality results.
So states Marco Calcagni, OMET's sales and marketing director:
         "iFLEX fills a technology gap on today's market as it is the ideal complement of the equipment of medium to large label converters that produce large volumes of simple labels with just-in-time deliveries looking for a decrease in wastage. At the same time, it represents for smaller label converters with less investment capacity, the fundamental technological resource to print any job, no matter the volume, with a very high ROI."