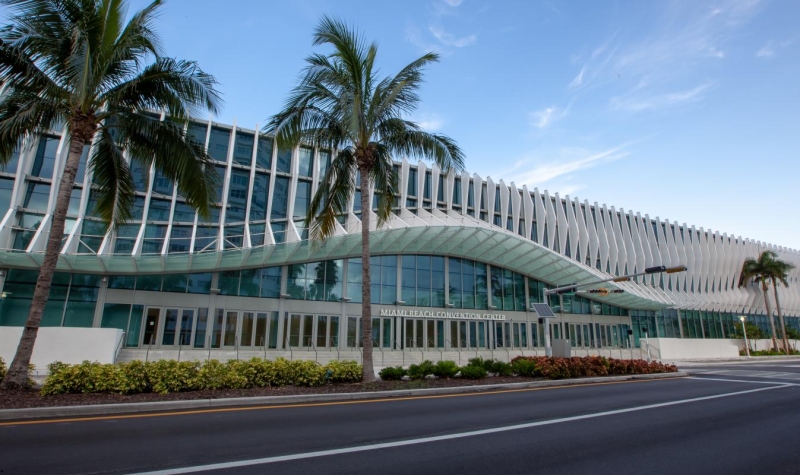 OMET ready to attend Tissue World Miami 2020
February 12, 2020
Once again, OMET will be present at Tissue World Miami exhibition to be held  in the Miami Beach Convention Center. The event, scheduled for March 2020, will be postponed (date to be confirmed). OMET staff will be pleased to welcome you in our booth no. E94.
During the exhibition, OMET technical and sales staff will be at disposal to provide news about the complete range of tissue converting machines for napkins and other disposable products, as well as information about OMET new products and solutions for the market.
This upcoming trade show is an unmissable opportunity to discover the benefits of new OMET ASV Line for the production of interfolded products (such as towels, facial tissue and toilet paper).
The ASV Line offers high-performance in terms of production, speed, ease-of-use and new solutions for reducing maintenance stops.
Two versions of this new Line are available: ASV Line Storm and ASV Line Tornado.
Visitors who wants to arrange a meeting with OMET staff, can contact us at claudio.semenza@omet.it, indicating day and time of preference. For any further information, OMET Sales department will be at disposal by writing to comm@omet.it.
————-
OMET, pronti per il Tissue World Miami 2020
OMET sarà ancora una volta protagonista alla fiera Tissue World Miami, che si terrà dall'11 al 13 marzo 2020 al Miami Beach Convention Center. Lo staff OMET sarà lieto di ricevere i visitatori allo stand E94.
Durante la fiera, il personale tecnico e commerciale OMET sarà a disposizione per illustrare la gamma di macchine per il tissue converting dedicate alla produzione di fazzoletti, tovaglioli e altri prodotti usa e getta, e per dare informazioni sui nuovi prodotti e soluzioni.
La fiera sarà un'occasione imperdibile per scoprire i vantaggi della nuova OMET ASV line per prodotti interfogliati (asciugamani, fazzoletti per il viso e carta igienica).
La ASV line offre prestazioni elevate in termini di produzione, velocità, facilità d'uso, e nuove soluzioni per ridurre i fermi macchina. La linea è disponibile in due versioni: ASV Line Storm e ASV Line Tornado.
I visitatori interessati ad approfondire di persona le proposte OMET possono scrivere a claudio.semenza@omet.it, indicando giorno e ora preferenziali per organizzare un incontro. Per ogni ulteriore informazione, il reparto commerciale OMET è a disposizione, indirizzo comm@omet.it.
————-
OMET en la feria Tissue World Miami 2020
Una vez màs, OMET presenciarà en la Feria Tissue World de Miami, entre el 11 y el 13 de marzo próximos en el Miami Beach Convention Center, en su Stand E94.
Durante la Feria, nuestro personal técnico y comercial será a disposición para proporcionar las novedades al respecto de nuestra gama de máquinas de conversión de papel tisú para la producción de servilletas y otros productos desechables, así como informaciones al respecto de nuevos productos y soluciones por el mercado.
Esta Feria representerá una oportunidad increíble para descubrir todos los beneficios de la nueva Linea ASV dedicada a los productos intercalados (toallas, facial tissue y papel higiénico).
La Linea ASV ofrece alto rendimento en términos de producción, velocidad, facilidad de uso y nuevas soluciones para reducir las paradas de mantenimiento. Esta Linea es disponible en dos versiones: ASV STORM y ASV TORNADO.
Será un gusto tener la oportunidad de encontrarles y compartir esta información. Si están pensando asistir al Evento y aprovechar la ocasión por una cita, no duden en contactarnos al correo electrónico claudio.semenza@omet.it, indicando la fecha y el/los horario/s que más os convengan para la reunión.
Para cualquier información nuestra oficina comercial està a su disposición comm@omet.it.