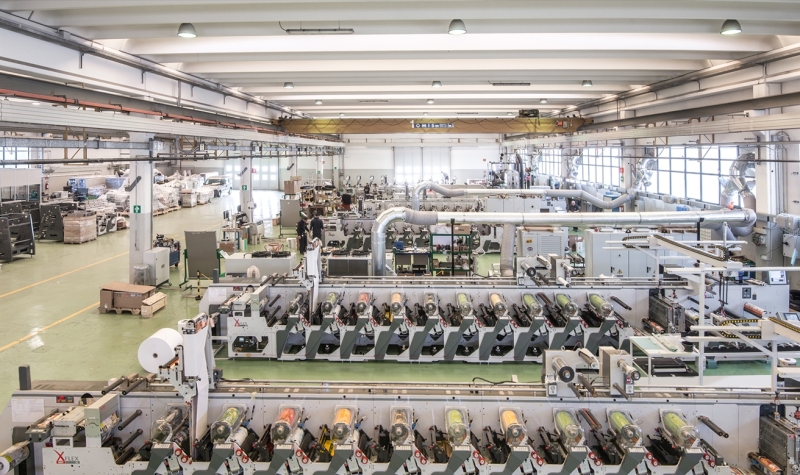 OMET: quality and reliability acknowledged all over the world
January 25, 2018
In the last decade, more than sixty companies purchased a second OMET machine after the first successful installation.
It is not easy for a printer to pick one supplier among all the manufacturers of packaging printing machines. Usually the budget is the main discriminating factor, followed by the type of technology and the supplier, who has a key role in the investment and consequently in the future trend of the company.
Performance, productivity, ease of use and technology: those features are usually verified on the spot at the supplier's site with customized demonstration, where the buyer can fully understand the value of the machine.
If the investment turns out to be fruitful, it can boost the economy of the company. The initial cost will be balanced by the improvement of the overall productivity. On the other hand, if the machine does not produce the results expected, the investment turns out to be a complete loss, preventing the printer from fulfilling the goals established in advance.
How to avoid this risk? Do not give priority to the price. Usually the right choice is not the cheapest one, because the technology inside such complex machines is the result of decades of experience and resources dedicated to research and development.
It is not about choosing just a supplier, but a real partner whose technology can improve the printer's business and increase the profits. When the printer is satisfied with the investment, in most cases he would purchase another machine from the same supplier, creating a strong partnership that allows him to face the market as leaders, being aware of offering the best product at the right price.
In the last ten years, OMET got a high rate of repurchases from clients who decided to put their trust in OMET's experience in order to keep on growing. Numbers speak for themselves: more than sixty customers ordered a second (and sometimes a third or fourth) OMET machine within few years from the first installations. This acknowledgement pays back all the years and the investments dedicated to research and development and the constant passion for innovation.
Marco Calcagni, OMET Marketing and Sales Director, states: "Long-term partnerships are one of the strengths of OMET and the best satisfaction for a company committed to quality and innovation. They are the concrete demonstrations of the appreciation of the international market for our technological solutions which have contributed to create relevant profits for our clients".
In the last decade, OMET notably increased the turnover, with a constant growth of 10% per year, but more importantly, it succeeded in keeping its mission alive: the production of reliable high-quality products, as well as the satisfaction of all clients, by listening to their necessities and proposing them innovative and customized solutions.
---
OMET, affidabilità riconosciuta in tutto il mondo
Sono oltre sessanta i clienti che nell'ultimo decennio hanno acquistato una seconda macchina OMET dopo la prima installazione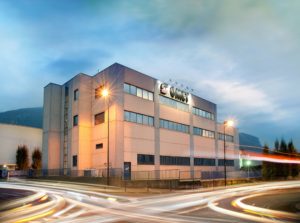 La scelta del fornitore di una macchina da stampa per etichette o imballaggi flessibili è sempre complessa per gli stampatori. Innanzitutto si deve fare i conti con il budget disponibile, poi stabilire la tipologia di macchina e infine valutare il fornitore a cui affidarsi per un investimento che avrà, nel bene o nel male, un impatto notevole sull'andamento futuro dell'azienda. Prestazioni, produttività, facilità di utilizzo, tecnologia, referenze: tutto viene verificato quasi sempre di persona presso la sede del fornitore, con dimostrazioni di stampa sulla macchina.
Se l'investimento è oculato, può rivelarsi un vero e proprio "turbo" per l'economia aziendale. Il costo iniziale, sebbene elevato, verrà controbilanciato già nei primi mesi successivi all'installazione da un notevole aumento di produttività. Si rivelerà invece una clamorosa perdita, capace di innescare un circolo vizioso, se la macchina presenterà dei problemi che impediranno allo stampatore di raggiungere gli obiettivi prefissati.
Come evitare questo rischio? Evitando di dare la priorità al costo dell'investimento. Spesso la scelta corretta non è quella della macchina più economica, perché la tecnologia insita in una macchina di questa complessità è frutto di anni di esperienza, ricerca e passione per l'innovazione che hanno dei costi notevoli, e che possono essere testimoniate dall'affidabilità che il nome del fornitore garantisce.
Non si tratta di scegliere un semplice fornitore di macchine, ma di tecnologia, che permette allo stampatore di moltiplicare i suoi profitti. L'impatto positivo sull'andamento dell'azienda è così evidente che quando uno stampatore è soddisfatto del macchinario installato, spesso ne acquista un altro dallo stesso fornitore. Maggiori sono la produttività, la qualità e l'affidabilità di questo strumento, e maggiore sarà il guadagno, non solo in termini monetari ma anche di reputazione. Partnership di questo tipo permettono alle aziende di affrontare il mercato a testa alta, con la consapevolezza di poter offrire il meglio al giusto prezzo.
Negli ultimi dieci anni OMET ha riscontrato un elevato tasso di ripetitività degli ordini da parte dei clienti, che nell'intento di continuare la crescita decidono di affidarsi all'esperienza di chi ha già dimostrato di essere la soluzione migliore. A parlare sono i numeri: oltre sessanta clienti OMET hanno ordinato una seconda (in alcuni casi una terza e una quarta) macchina entro pochi anni dalla prima installazione. Un riconoscimento che ripaga gli anni spesi in investimenti in ricerca & sviluppo e in passione per l'innovazione.
"Le partnership di lunga durata con i propri clienti sono uno dei punti di forza di OMET – commenta Marco Calcagni, Direttore Vendite e Marketing OMET – e sono il miglior riconoscimento al quale un produttore di tecnologie può ambire. Sono un segnale concreto dell'apprezzamento del mercato per le proprie soluzioni tecnologiche e sono conferma dell'aver contribuito in modo determinante a generare ricchezza per i clienti".
OMET negli ultimi anni ha incrementato notevolmente il proprio fatturato, con una crescita media e costante del 10% annuo, senza tralasciare gli aspetti più importanti della sua mission: la qualità dei propri prodotti, l'affidabilità, la produttività e la soddisfazione del cliente, che si traduce nell'ascolto delle sue necessità e nella continua proposta di soluzioni innovative e personalizzate.