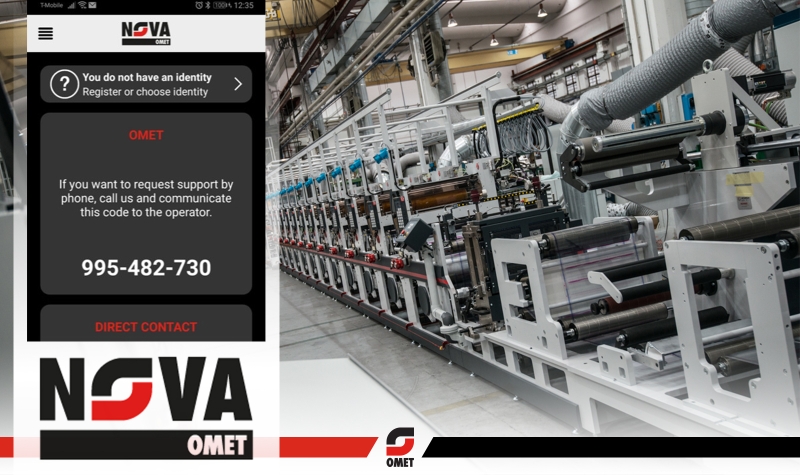 OMET presents NOVA: a revolutionary App for remote service
December 23, 2020
New OMET Virtual Access: the new multi-language OMET App is ready to upset remote service and remote installations. It was developed with foresight just before the pandemic and tested with excellent results during the lockdowns of this difficult 2020. Able of instant translation in 64 languages, both voice and chat, the App allows our service to operate with maximum effectiveness and timeliness.
Strongly desired by the Sales Director Marco Calcagni and by the Technical Assistance Manager Antonio Muraca, NOVA represents a new frontier for the customer assistance. It is managed directly from OMET offices, allowing the OMET technicians to work in the customer's virtual reality and to guide the local staff over the needed operations with the utmost precision for solving the problem. "What distinguishes this App from the others is the instant translation and the ease of customer interaction.
Thanks to NOVA, over the recent months we have been able to solve customers' requests in all continents without the physical presence of our technicians. We managed to carry out maintenance and complete replacement of machine parts, virtually guiding the staff on site" explains Antonio Muraca, OMET Assistance Manager. "We already had the opportunity to successfully test the App during the lockdown and we think NOVA will be the protagonist in the future also for remote installations carried out by local collaborators".
To use the new App, a first download registration must be made, to allow OMET to immediately recognize who is calling and identify the customer and its machines. Then, our technician will be able to operate and guide local staff with the maximum safety, thanks to various tools able of recognizing the context, including potential dangers (eg hot parts) and machine operating mechanisms.
The NOVA app is already available from online stores (both Android and iOS), by entering "Omet Nova" as a search. Starting from 2021 it will be included in sales contracts. It is suitable for any OMET machine. To use it, all you need is a smartphone or a tablet.
"The NOVA App is already active globally and represents a revolution for the world of assistance. With the pandemic underway, it becomes the key to manage any type of remote technical intervention, from installation to fault repair, without any delay or loss of effectiveness. However, OMET does not consider it a simple goal, but the first step towards an even more ambitious goal: 24h assistance" comments Marco Calcagni.
---
OMET presenta la App NOVA, rivoluzione per il Service a distanza
New OMET Virtual Access: è pronta la nuova App multilingua per la gestione delle attività di manutenzione e assistenza e le installazioni da remoto, sviluppata con lungimiranza nei mesi precedenti la pandemia e testata con ottimi risultati durante i lockdown di questo difficile 2020. Capace di una traduzione istantanea in 64 lingue, sia in vocale che in chat, permette di operare con la massima efficacia e tempestività.
Fortemente voluta dal Direttore Commerciale Marco Calcagni e dal Responsabile Assistenza Tecnica Antonio Muraca, NOVA rappresenta una nuova frontiera dell'assistenza al cliente. Viene gestita direttamente dall'Assistenza Tecnica OMET, permettendo all'operatore OMET di calarsi nella realtà virtuale del cliente e di guidare da remoto i tecnici nelle operazioni con la massima precisione nella gestione del problema.
"Ciò che la distingue da tutte le altre app, è la capacità di traduzione istantanea e semplicità di interazione con il cliente. Grazie a NOVA, negli ultimi mesi siamo stati in grado di intervenire tecnicamente presso clienti dislocati in tutti i continenti senza la presenza fisica dei nostri tecnici, riuscendo anche ad effettuare la riparazione e sostituzioni complete di parti macchina, guidando virtualmente il personale in loco" spiega Antonio Muraca, responsabile assistenza OMET. Come abbiamo già avuto modo di testare con successo durante il lockdown, NOVA sarà protagonista in futuro anche per le installazioni da effettuare in Remoto tramite collaborazioni locali.
Per utilizzare la nuova app si deve effettuare una prima registrazione al download, che permette ad OMET di riconoscere immediatamente la provenienza della chiamata e di identificare il cliente e le sue macchine. Il tecnico potrà quindi operare e guidare il personale locale con la massima sicurezza, grazie a diversi tools capaci di riconoscere il contesto, compresi potenziali pericoli (es. parti calde) e meccanismi di funzionamento della macchina.
L'app NOVA è già scaricabile dagli store online (sia Android che iOS), inserendo come ricerca Omet Nova. A partire dal 2021 sarà inclusa nei prossimi contratti di vendita e applicabile a qualsiasi macchina OMET. Per utilizzarla è sufficiente avere a disposizione uno smartphone o un tablet.
"L'App NOVA è già attiva a livello globale e rappresenta una rivoluzione per il mondo dell'assistenza. Con la pandemia in corso, diventa la via che rende possibile ogni tipo di intervento tecnico da remoto, dall'installazione alla riparazione di guasti, senza alcun ritardo né perdita di efficacia. OMET tuttavia non la considera un semplice traguardo, ma il primo passo verso un obiettivo ancora più ambizioso: l'assistenza h.24" commenta Marco Calcagni.