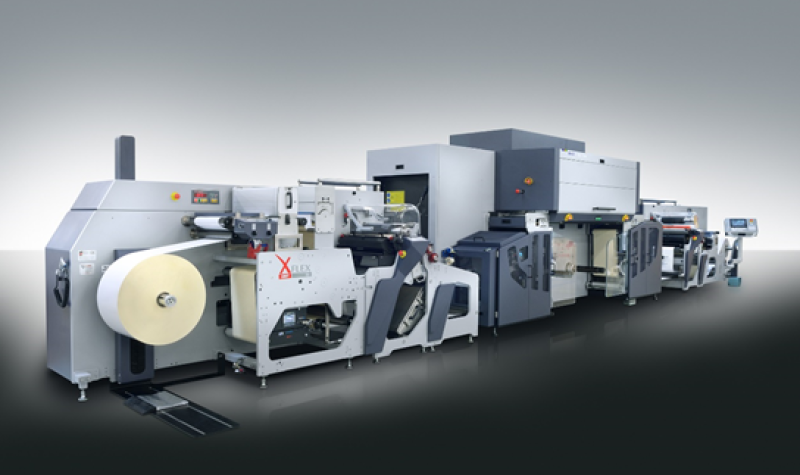 OMET to present the new XJet hybrid solution at Print4All 2018
March 6, 2018
OMET will be among the protagonists at the Print4All exposition in Milan, with an innovative integrated hybrid press. This brand new event organized in Italy is dedicated to the world of printing and converting and aims at becoming the point of reference of the entire industry on an international level. It will be held from May 29th to the 1st of June, at the exposition center of Rho where OMET will count on a booth of 160 sqm (E16-F15, Hall 18)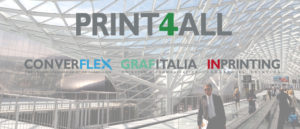 At the Print4All OMET is going to surprise the public with the new OMET XJET powered by Durst, unveiled only a few weeks ago. It is the true core of the partnership between OMET and Durst: a complete hybrid solution that integrates in-line the Durst Tau RSC digital inkjet group with the OMET X6's flexo printing and converting units, providing limitless flexibility, wide range of final application and consistent cost saving. This machine can assure reliability and excellent results with all kind of run lengths, with the advantage of getting to the final product always in a single passage: It will be a closer look into the future of label and packaging printing.
During the exposition days, OMET will offer the possibility to visit their production sites in Lecco and Molteno, where the entire product portfolio, including the iFlex, the XFlex X6.0 and The Varyflex V2, will be available for a closer look and live demonstrations.
The Print4All was conceived as a "business project" dedicated to the entire supply chain, in order to overcome the conventional segmentations between commercial printing, industrial printing and publishing market. The new format promotes a new point of view of the printing scenario with the chance to create new synergies and business networks.
During the same days, visitors will have access to other trade fairs such as Ipack-Ima (packaging), Meat-Tech, Plast and Intralogistica that will take place in the pavilions nearby, using the same entry ticket. The players of every industrial sector will find a complete offer at the same time in a single varied context.
---
OMET presenta la nuova XJet a Print4All 2018
Con un'inedita linea ibrida integrata, OMET si prepara ad essere protagonista alla Print4All di Milano. Il nuovo, grande evento dedicato al mondo del printing e del converting, si propone in Italia come punto di riferimento internazionale non solo del settore, ma dell'intera filiera. L'appuntamento è dal 29 maggio al 1 giugno nei padiglioni del centro fieristico di Rho dove OMET avrà uno stand di 160 m2 (E16-F15, Padiglione 18).
Per la Print4All, OMET prepara una presenza in grande stile con la nuova OMET XJET powered by Durst, svelata al mercato solo poche settimane fa. Punta di diamante della partnership fra Durst e OMET, si tratta di una macchina da stampa ibrida con integrazione in linea del gruppo di stampa digitale inkjet Durst Tau RSC con le unità flexo e i moduli di converting della OMET X6, che offre illimitata flessibilità, una vasta gamma di applicazioni finali e un notevole risparmio di costi grazie alla configurazione multi-processo in linea. La macchina assicura affidabilità e risultati eccelsi per ogni genere di tiratura con il vantaggio di ottenere il prodotto finito in un unico passaggio: porterà alla Print4all una ulteriore passo avanti verso il futuro della stampa di etichette e imballaggi flessibili.
OMET offrirà inoltre la possibilità nei giorni di fiera, previa registrazione, di visitare le proprie sedi produttive di Lecco e di Molteno, dove saranno a disposizione macchine di tutta la gamma OMET in dimostrazione, dalla iFLEX alla X6.0 alla Varyflex V2.
La fiera Print4All è stata pensata come un "progetto di filiera" per superare le tradizionali segmentazioni del mercato della stampa commerciale, editoriale e industriale. Il nuovo format propone una nuova prospettiva al mondo della stampa con la possibilità di creare sinergie e nuove occasioni di business.
In contemporanea, nei padiglioni adiacenti, si svolgeranno anche le fiere Ipack-Ima (imballaggio), Meat-Tech, Plast e Intralogistica, visitabili con lo stesso biglietto di ingresso. Gli operatori professionali di ogni settore industriale potranno trovare, in un unico momento e in un solo contesto, un'offerta variegata e completa per ogni loro necessità.