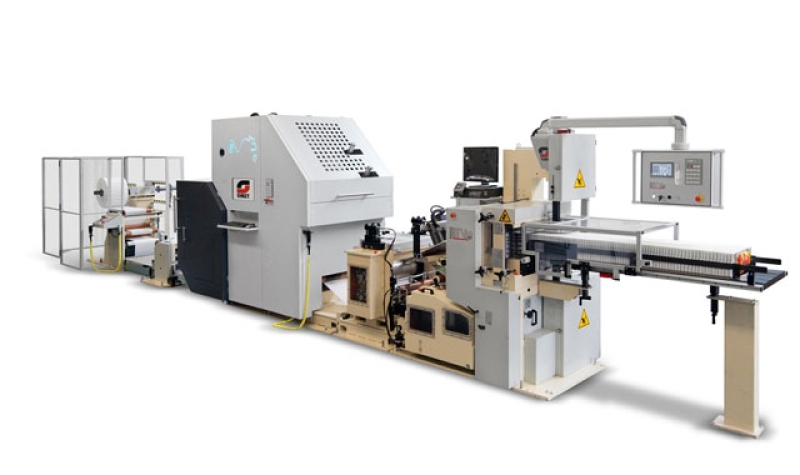 OMET Partners with DMR Solutions to Meet Growing Demands of OMET Machines Worldwide
July 17, 2017
OMET Americas, Inc has announced the appointment of David Root to the role of Tissue Division Specialist for North America.
Elk Grove Village, IL USA – In this newly created role, David Root has been tasked with managing client relationships while coordinating the sales and delivery of tissue converting equipment for the production of napkins, towels and place mats. His appointment builds on the momentum that OMET has gained with the recent achievement of the 750th installation of tissue converting machines worldwide.
David comes to OMET with more than 35 years of experience in the flexographic printing industry, with an emphasis on specialty substrates: napkin printing and folding, high speed paper towel print applications, napkin and bath tissue, as well as nonwovens.
Root's engagement reaffirms OMET's commitment to provide local sales, support and service across all United States and Canadian markets.
The significant increase in orders for machinery in recent years has led OMET to develop new partnerships that will bring great advantages in terms of sales, service efficiency and capacity to meet the growing demands of OMET machines in the North American market.
This partnership will allow OMET to contribute to the growth of the tissue printing industry in North America by offering technically advanced equipment and excellent local support through DMR Solutions.
Root will be based out of New York and will report into Claudio Semenza, Sales Director of OMET Americas, Inc.
In its 50 years' long history OMET has built a solid reputation for excellence in the delivery of tissue converting equipment and premium service to customers, with a complete range of automatic machines for the production of folded napkins and towels, characterized by strong innovation, efficiency, ease of use and low maintenance.
David Root
OMET Tissue Division Specialist
Mobil: +1 516 456 9771§
Email: dmroot123@gmail.com
Claudio Semenza
OMET Americas, Inc. Sales Director
Office: +1 847 621 2369
Mobile: +1 224 256 1880
Email: Claudio.semenza@omet.it
About OMET Americas, Inc.
OMET is a manufacturer of printing presses and tissue converting machines and is the US branch of the OMET Group, Italy. The target of OMET Americas Inc. is to provide customer service, technical support, and sales across all North and Central American countries. With more than 50 years of excellence in Service, Technology and Innovation, OMET is a world market leader in the development, production and marketing of narrow and mid-web printing presses for the inline production of labels, folding cartons and cardboard products. Besides its portfolio of printing presses, the Group also provides narrow and wide-web tissue converters for the embossing, folding and printing for the towel and napkin industries. The OMET Group has employees in North and Central Americas, Italy and China. OMET is market leader in solutions for the tag, label and tissue industry. Learn more at www.ometamericasinc.com
For more information or to request hi-res images, please contact:
OMET AMERICAS Inc.
1291, Brummel Ave.
Elk Grove Village – 60007 Illinois
United States
Contact:
Jessica George
Marketing & Communications
Tel.: +1 847 621 2369
Jessica.george@ometamericasinc.com
---
OMET e DMR Solutions: nuova partnership in Nord America per fronteggiare la richiesta di macchine OMET per il tissue converting
OMET Americas, Inc. ha annunciato la nomina di David Root al ruolo di Tissue Division Specialist per il Nord America. Nell'ambito di questo nuovo incarico, Root – titolare della DMR Solutions – gestirà le relazioni con i clienti del settore tissue, coordinando le vendite e la consegna delle macchine destinate alla produzione di tovaglioli, asciugamani in carta e tovagliette americane.
La decisione di assumere un'agente è frutto del successo di mercato delle macchine OMET, culminato nella recente installazione della 750° linea tissue a livello mondiale.
Root entra in OMET con oltre 35 anni di esperienza nell'industria della stampa flessografica, in particolare nell'ambito dei materiali speciali: stampa e piega tovaglioli, applicazioni per la produzione e la stampa di asciugamani in carta ad alta velocità, tovaglioli, asciugamani e prodotti nonwoven.
La partnership conferma l'impegno OMET sul mercato nordamericano nel campo della vendita, del supporto e dell'assistenza tecnica. Negli ultimi anni, dagli Stati Uniti al Canada, gli ordini sono aumentati in modo significativo e hanno indotto OMET a creare nuove partnership per implementare la capacità commerciale e l'efficienza dei servizi offerti.
Grazie al supporto di DMR Solutions, che ha sede a New York e riferirà direttamente a Claudio Semenza (Direttore Vendite di OMET Americas), OMET contribuirà ad una ulteriore crescita del mercato nordamericano del tissue, offrendo un portfolio macchine tecnologicamente molto avanzato e assistenza tecnica a livello capillare.
Nei suoi 50 anni di storia OMET si è costruita una reputazione d'eccellenza nel settore del tissue converting, grazie a un elevato livello di servizi e macchine caratterizzate da forte innovazione, efficienza, facilità di utilizzo e manutenzione ridotta.
OMET Americas è il ramo statunitense della OMET Srl, leader di mercato in soluzioni per stampa di etichette, packaging flessibile e tissue converting. La sede centrale e produttiva è in Italia e vanta dipendenti in Nord e Centro America, Italia e Cina. OMET Americas si occupa di vendite, servizio clienti, assistenza tecnica in tutti i Paesi del continente americano.
Ulteriori informazioni su www.ometamericasinc.com