OMET obtains the "Welfare Champion" rating
March 27, 2019
OMET has obtained the Welfare Champion rating for the Welfare Index PMI 2019, Italian national survey that identifies the best companies in welfare practices. This year, the companies selected as Welfare Champion were 68 out of a total of over 4,500 participants.
The names of the best welfare companies were disclosed on 26th March during the final event of the Welfare Index PMI initiative celebrated in Rome. The results of the survey were presented to an audience of entrepreneurs, institutions, journalists, teachers, and commented by Riccardo Fraccaro, Minister for Parliamentary Affairs and Direct Democracy, and by board members of the associations supporting in the initiative, promoted by Generali Italia with the patronage of the Prime Minister's Office and the participation of Confindustria, Confagricoltura, Confartigianato and Confprofessioni.
The rating of "Welfare Champion" is given to companies with a welfare activity characterized by a wide range of initiatives that go beyond the measures provided by collective agreements, orientation to social innovation, significant economic and organizational commitment and systematic involvement of workers.
OMET, which has always stood out for the attention paid to its employees, has rightly obtained the highest rating in the ranking for the welfare initiatives implemented over the last years. The founder Angelo Bartesaghi and then his son Antonio Bartesaghi, today president of the Group, invested a lot on this aspect.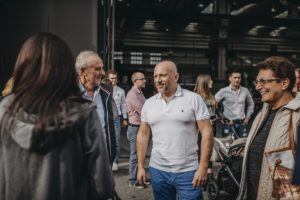 "Investing in welfare is fundamental – explains Bartesaghi -. The job quality and the efficiency of the time spent on work are a crucial issue for the economic success of a company. Welfare, which means providing useful services for many small but important extra-work activities, means helping people in efficiently manage their daytime, so that they can concentrate on activities with greater added value. Beyond the classic professional and training courses, our company provides basic services useful for people and for their family. For example they can count on the delivery bread, medicines, laundry, packages at their offices. We have a tire changing service at the workplace, as well as free legal consultancy and tax consultancy. Several local shops or professionals has signed agreements for granting discounts to our collaborators. All these time-saving services help our collaborators to have more time to spend at work or at home. It means better quality of life".
OMET periodically organizes events for its collaborators: the traditional Christmas dinner and the company day trip have great success every year, and symbolize the strong team spirit of the Group. Last year, on the occasion of the 55th anniversary of the foundation, OMET organized also the Omettiadi, a multisport competition among the different divisions involving more than 150 people, and the Family Day, opening the company's doors to the families of the workers and the employees to celebrate with them the important achievement of the Group.
During the Family Day, on Saturday October 20th 2018, the family members of OMET and O-PAC collaborators were allowed to visit the departments and production areas of 6 Group's locations, following guided tours held by volunteers. Play areas for children were set up in collaboration with local charity associations. The event was a great success, highly appreciated by all the participants: registered visitors were almost 1,200: 10% more than the first edition that took place in 2013 for the 50th anniversary of OMET foundation.
"Each one of our collaborators, with his/her own job, brings a fundamental contribution to the quality of our products and therefore to the success of the company – explains Bartesaghi -. For them, the Family Day is the occasion to share the importance and complexity of their work with their family, proudly valuing the time and energy they spend every day at work".
Every year, OMET awards scholarships to employees' or workers' children with good results at school, offers internship opportunities, hosts school visits and actively collaborates with local technical schools or universities like the Politecnico di Milano, promoting the connection between school and work.
Info: www.welfareindexpmi.it
---
OMET ottiene il rating di Welfare Champion
OMET ha ottenuto il rating di Welfare Champion per l'edizione 2019 del Welfare Index PMI, ricerca nazionale che identifica le migliori imprese italiane a livello di welfare aziendale. Quest'anno, le imprese selezionate come Welfare Champion sono state 68 su un totale di oltre 4.500 partecipanti.
I nomi delle migliori imprese italiane a livello di welfare sono stati diffusi il 26 marzo in occasione dell'evento finale del Welfare Index PMI celebrato a Roma dove il Rapporto sullo stato del welfare nelle imprese italiane è stato presentato al Salone delle Fontane all'Eur ad una platea di imprenditori, istituzioni, docenti, e commentato da Riccardo Fraccaro, Ministro per i rapporti con il Parlamento e la democrazia Diretta e dei vertici delle associazioni che partecipano all'iniziativa (promossa da Generali Italia con il patrocinio della Presidenza del Consiglio dei Ministri e la partecipazione di Confindustria, Confagricoltura, Confartigianato e Confprofessioni).
Il riconoscimento di "Welfare Champion" viene assegnato alle imprese con un sistema di welfare aziendale caratterizzato da un ampio raggio di iniziative, anche oltre le misure previste dai contratti collettivi nazionali, orientamento all'innovazione sociale, rilevante impegno economico-organizzativo e sistematico coinvolgimento dei lavoratori.
OMET, che si è sempre distinta per l'attenzione prestata ai propri collaboratori, ha ottenuto a ragione il rating più alto della classifica alla luce delle molteplici iniziative attivate per i propri collaboratori nel campo del welfare. Su questo aspetto hanno investito prima il fondatore Angelo Bartesaghi e poi suo figlio Antonio Bartesaghi, oggi presidente del Gruppo. "Investire a favore dei nostri collaboratori è fondamentale – spiega Bartesaghi -. La qualità del lavoro e l'efficienza del tempo trascorso in azienda sono elemento critico e fondamentale affinché l'azienda possa conseguire buoni risultati. Welfare, che si traduce anche nel fornire servizi utili per tante piccole ma importanti attività di routine extra lavorative, vuol dire aiutare le persone a gestire in modo efficiente il tempo disponibile nella giornata, per potersi concentrare sulle attività a maggiore valore aggiunto. Quindi, ai classici percorsi professionali e formativi affianchiamo servizi di base efficaci per la persona ed estremamente utili alla famiglia, come la consegna di alimentari, farmaci, lavanderia, pacchi personali o il cambio gomme in azienda. Abbiamo attivato anche un servizio di consulenza legale gratuita, la consulenza fiscale in azienda e abbiamo diverse convenzioni sul territorio. Questi servizi fanno risparmiare ai nostri collaboratori tempo prezioso che possono reimpiegare con una maggiore qualità sul lavoro o in famiglia. Ossia, qualità di vita".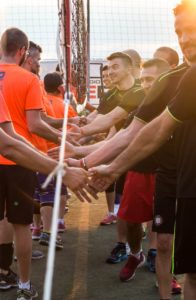 OMET organizza periodicamente eventi per i propri collaboratori: la tradizionale cena di Natale e la gita aziendale, che vengono proposte ogni anno, raccolgono sempre una forte adesione e sono simbolo del forte spirito di gruppo che caratterizza le aziende del Gruppo. Lo scorso anno, in occasione del 55° anniversario di fondazione, sono state organizzate anche le Omettiadi, torneo multisport tra le diverse divisioni aziendali che ha coinvolto oltre 150 collaboratori, e il Family Day, momento di festa in cui il Gruppo ha aperto le porte delle proprie sedi alle famiglie dei propri dipendenti per renderli partecipi del traguardo di eccellenza raggiunto dall'azienda.
Durante il Family Day, sabato 20 ottobre 2018, i familiari dei collaboratori hanno potuto visitare i reparti e le aree di produzione, seguendo percorsi guidati e accompagnati da volontari che illustravano l'attività della propria sede. Per i bambini sono stati allestiti spazi gioco in collaborazione con associazioni benefiche del territorio. L'iniziativa è stata un successo, con ottimi commenti da parte di tutti i partecipanti: i visitatori registrati sono stati quasi 1.200 nelle 6 sedi del Gruppo a Lecco, Valmadrera, Oggiono e Molteno: il 10% in più della prima edizione avvenuta nel 2013 in occasione del 50esimo anniversario dalla fondazione.
"Ogni persona, ogni collaboratore, con il proprio ruolo porta un contributo fondamentale alla qualità dei prodotti finiti e quindi al successo dell'azienda. – spiega Bartesaghi -. Il Family Day è un momento in cui ognuno può condividere con la propria famiglia l'importanza e la complessità del proprio lavoro, valorizzando con orgoglio il tempo e le energie che gli dedica ogni giorno".
Oltre a questi eventi particolari, ogni anno OMET assegna borse di studio ai figli dei dipendenti con risultati meritevoli negli studi, offre diverse possibilità di stage e organizza visite scolastiche presso l'azienda e collabora fattivamente con le scuole tecniche del territorio oltre che con alcune università come il Politecnico di Milano promuovendo percorsi di alternanza scuola-lavoro.
Info: www.welfareindexpmi.it