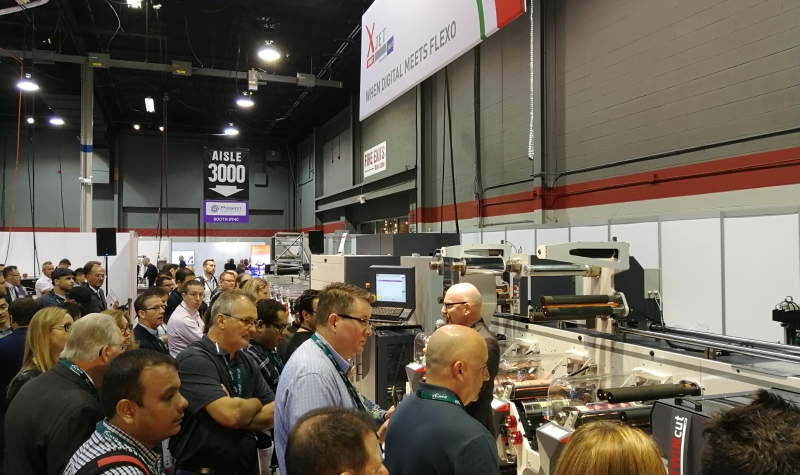 OMET leaves its mark at Labelexpo Americas 2018
October 4, 2018
Excellent results for OMET at Labelexpo Americas 2018, held in Chicago from 25th to 27th September. The fair has registered the absolute record of visitors compared to past editions, different machines sold and the first hybrid press (flexo + digital) to be installed in the United States.
The new OMET XJet powered by Durst, the hybrid printing machine unveiled last February that integrates in-line the Durst Tau RSC digital inkjet group with the OMET X6's flexo printing, finishing and converting units, appeared for the first time in the Americas and obtained a great appreciation.
OMET and Durst Group announced also their collaboration for the distribution of Durst products by OMET Americas in the continent, during a crowded press conference held by Marco Calcagni, OMET Sales director and Helmuth Munter, Segment Manager Labels & Package Printing at Durst.
Live demonstrations of OMET XJet and OMET iFlex attracted thousands of visitors that could appreciate the exceptional performances and the high potential of the whole OMET's technology.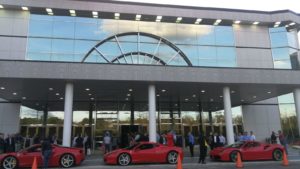 Great success was registered also by the "Join the network Gala" organized by OMET Americas and the Future of Flexo initiative at the Rosemont Theatre on the second day of the fair. The event saw the participation of over 400 people that had the amazing opportunity to test drive a Ferrari, another example of the excellence of Italian technology.
During the Gala evening Antonio Bartesaghi, OMET Managing Director, received the Lifetime Achievement Award in memory of his father Angelo Bartesaghi, founder of OMET. "Angelo Bartesaghi, founder and soul of OMET Group, in 1963 gave life to the company that today has become an international excellence in the field of technology. Entrepreneur, husband, father and great leader, he was the point of reference for the whole Group. The current managerial organization is still founded on his everlasting values: determination, loyalty, progress and deep sense of belonging".
---
OMET lascia il segno a Labelexpo Americas 2018
Ottimi risultati per OMET a Labelexpo Americas 2018 (Chicago, 25-27 settembre). La fiera ha registrato il record assoluto di visitatori interessati sullo stand rispetto alle edizioni passate e diverse macchine vendute tra cui la prima macchina ibrida (flexo+digitale) da installare negli Stati Uniti.
La nuova OMET XJet powered by Durst, la macchina da stampa ibrida presentata al mercato nel febbraio 2018 che integra in linea il gruppo di stampa digitale inkjet Durst Tau RSC con le unità flexo e i moduli di finishing e converting della OMET X6, è stata esposta per la prima volta nel continente americano ottenendo grande apprezzamento. OMET e Durst hanno annunciato in fiera la collaborazione per la distribuzione di prodotti Durst nel Nord America da parte di OMET Americas, durante un'affollata conferenza stampa tenuta da Marco Calcagni, Direttore Sales & Marketing OMET e Helmuth Munter, Segment Manager Labels & Package Printing di Durst.
Le demo sulle linee OMET XJet e OMET iFlex hanno attirato allo stand OMET migliaia di visitatori che hanno potuto apprezzare le eccezionali prestazioni e l'elevato potenziale della tecnologia OMET.
Grande successo è stato registrato anche dal "Join the Network Gala" organizzato al Rosemont Theatre da OMET Americas e la Future of Flexo initiative alla fine del secondo giorno di fiera. L'evento ha visto la partecipazione di oltre 400 persone che hanno avuto l'incredibile opportunità di testare una Ferrari, altro esempio d'eccellenza della tecnologia italiana.
Durante la serata di gala, Antonio Bartesaghi, Managing Director di OMET, ha ricevuto il Lifetime Achievement Award in memoria di suo padre Angelo Bartesaghi, fondatore di OMET. "Angelo Bartesaghi, fondatore e anima di OMET Group, nel 1963 ha dato vita alla società che oggi è diventata un'eccellenza internazionale nel campo della tecnologia. Imprenditore, marito, padre e grande leader, è stato il punto di riferimento dell'intero Gruppo. L'attuale organizzazione manageriale è ancora fondata sui suoi eterni valori: determinazione, lealtà, progresso e profondo senso di appartenenza".