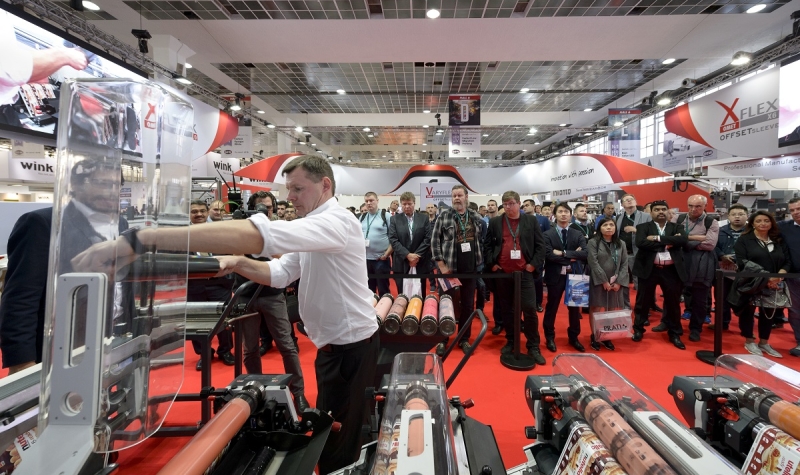 OMET launches the new X7 at Labelexpo Europe 2019
July 29, 2019
Among the many innovations that OMET will present at the Brussels fair from 24 to 27 September 2019 there will be the new machine of the XFlex line with a 670mm web width. Great attention is also expected around the new version of the XJet hybrid powered by Durst and its performances, as well as around the full LED iFLEX and the revolutionary linerless solution developed in collaboration with Ritrama and Spilker. All innovations to be displayed, beyond improving productivity and profitability of our customers, has been engineered in an eco-sustainable perspective, in line with the "OMET – The green side of printing" project.
Labelexpo Europe countdown
50 days left to the main event of the label printing world: OMET will be present with a double stand in the Hall 6: C49-C53, 680 m2 in total. Three machines will be on show with demos on the stand, with many innovations that will definitely attract the attention of the plenty of visitors coming from all over the world to the Brussels Fair.
XFlex X7, the new OMET machine
The main attraction on the Lablexpo stand will be the OMET X7, newborn of the XFlex line. It's a flexo printing machine for labels and flexible packaging with 670mm (26 ") web width, that will bring to Labelexpo printing solutions never seen before. Its printing quality and its ability to carry out the most complex jobs in a simple way will make the demos of this machine a must-see for all Labelexpo visitors.
iFLEX full LED
iFLEX, the small one of the OMET range, will be at Labelexpo with an 8-color flexo UV-LED configuration. This solution allows considerable energy savings and perfect drying at high speed. Unlike other entry-level machines on the market, iFlex is equipped with several new and highly sophisticated features that will help printers to reduce waste during the production process, time for job changeover and overall maintenance costs.
Shrink Label with the XJet
XJet powered by Durst, the hybrid flexo + inkjet machine that OMET has successfully placed to several converters in 2019, will be the third machine in demo at Labelexpo. As already demonstrated during the recent OMET Americas' Open House, it's the first and only machine currently on the market able to produce shrink labels with combined printing. (Click here for more info)
Core Linerless Solution®
OMET engineered the laminating module to process CLS self-adhesive film (Core Linerless Solution), a project in collaboration with Ritrama and Spilker. The project is gathering strong interest among printers and brand owners all over the world, especially in the food & beverage, home, and personal care industries. Core Linerless Solution® is an innovative self-adhesive film engineered to be transformed into a single ply Linerless web, ready to be dispensed using a special linerless module. A revolutionary innovation that allows significant improvements on efficiency and environmental sustainability of the printing process. (Click here for more info)
OMET – Hall 6 – Stand C49-C53
---
OMET lancia la nuova X7 a Labelexpo Europe 2019
Fra le numerose novità che OMET presenterà alla fiera di Bruxelles dal 24 al 27 Settembre 2019 ci sarà una nuova macchina della linea XFlex di larghezza nastro 670mm. Grande attenzione anche per la nuova versione della ibrida XJet powered by Durst e su quello che stamperà in fiera, oltre che per la iFLEX in versione full LED e per la soluzione rivoluzionaria per etichette Linerless in collaborazione con Ritrama e Spilker. Tutte le innovazioni proposte, oltre che migliorare produttività e redditività dei clienti, sono state ideate in ottica ecosostenibile, in linea con il progetto OMET – The green side of printing.
Labelexpo Europe countdown
Mancano poco più di 50 giorni all'evento principale per il mondo della stampa di etichette: OMET sarà presente con un doppio stand C49-C53 per un totale di 680 m2 presso il padiglione 6. Le macchine in dimostrazione sullo stand OMET saranno tre, con numerose novità che attireranno senza dubbio l'attenzione dei numerosi visitatori in arrivo da tutto il mondo alla Fiera di Bruxelles.
XFlex X7, la nuova macchina OMET
La principale attrazione dello stand OMET a Labelexpo sarà la nuova macchina della linea XFlex, la X7. Si tratta di una macchina da stampa flexo per etichette e flexible packaging di larghezza nastro 670mm (26") che presenta soluzioni di stampa mai viste in dimostrazione a Labelexpo. La qualità di stampa e le possibilità di effettuare in modo semplice le lavorazioni speciali più complesse rendono la presentazione di questa macchina un vero must per tutti i visitatori di Labelexpo.
iFLEX full LED
La piccola della gamma OMET, la iFLEX, verrà presentata a Labelexpo con una configurazione a 8 colori flexo UV-LED, una soluzione che permette un notevole risparmio energetico ed un asciugamento perfetto ad alta velocità. A differenza delle altre macchine entry-level sul mercato, iFlex è dotata di diverse funzionalità di nuova concezione e altamente sofisticate che aiutano gli stampatori a ridurre gli sprechi in fase di avviamento, gli scarti di produzione, i tempi di cambio lavoro e i costi complessivi di manutenzione.
Shrink Label con la XJet
XJet powered by Durst è la macchina ibrida flexo+inkjet che OMET sta installando con successo nel 2019 presso diversi stampatori e sarà la terza macchina in dimostrazione a Labelexpo. Come già dimostrato recentemente durante l'Open House organizzato presso la sede di OMET Americas Inc, è la prima e unica macchina attualmente sul mercato capace di stampare shrink label con stampa combinata. (Clicca qui per maggiori informazioni)
Core Linerless Solution®
OMET ha creato il gruppo di laminazione per il processo di lavorazione del materiale CLS (Core Linerless Solution). Il progetto, in collaborazione con i partner Ritrama e Spilker, sta riscuotendo un fortissimo interesse fra i principali stampatori e brand owner di tutto il mondo del settore beverage, food, home & personal care. Il Core Linerless Solution® è un film autoadesivo prodotto da Ritrama che tramite un apposito processo di converting si trasforma in un laminato senza liner, pronto per essere applicato sul prodotto finito (bottiglie, barattoli, ecc…) con un'etichettatrice linerless. Un'innovazione rivoluzionaria che consente notevoli impatti positivi sia sull'efficienza sia sulla sostenibilità ambientale del processo di stampa. (clicca qui per maggiori informazioni)
OMET – Hall 6 – Stand C49-C53