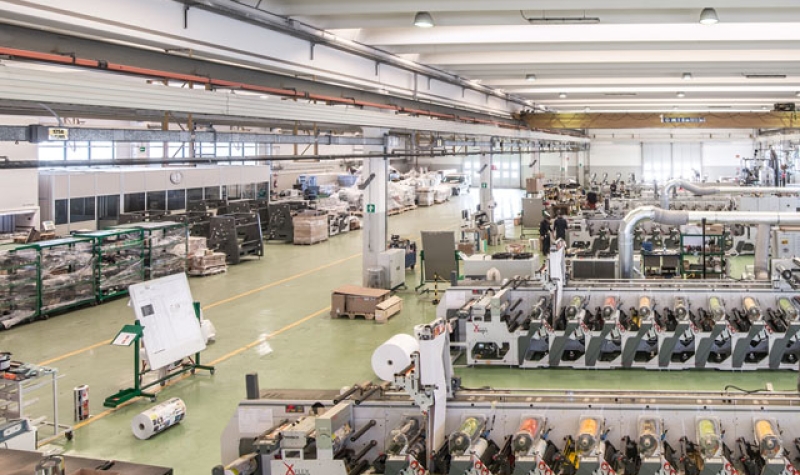 OMET keeps growing: the new production site works at full speed
February 20, 2017
The growing number of employees and the development of an excellent operational workflow, show the importance of OMET's new manufacturing unit inaugurated a few months ago in Molteno (LC). "This is the first step to the expansion of our company – says Antonio Bartesaghi, CEO of OMET Group -. This is not the perfect solution for our real necessities imposed by a continuous growth, but it has been extremely important for a policy of production times and costs reduction through logistics reorganization and efficiency improvement".
The new production site is already working at full speed – goes on Mr. Bartesaghi – and it is fully dedicated to the assembly of some machine lines. The entire company is taking advantage of the logistic rearrangement we have implemented in the new working space, obtaining the maximum efficiency in the entire working process".
This important investment has given huge satisfaction to OMET management, proving the stable and long-lasting growth of the Italian company.
A few international customers have already visited Molteno production site, which can count on a space of 3000 square meters and more than 20 operators working on machines assembly and demonstration. "The new plant has been provided with all the resources needed for machines assembly and testing – concludes Mr. Bartesaghi – and with a special team responsible for productive process optimization, already showing good commitment and the results we all expected.
---
OMET, la crescita continua: il nuovo stabilimento è già a "pieno regime"
Personale in crescita e ottimo workflow per la nuova unità produttiva OMET, avviata qualche mese fa a Molteno (LC) per la produzione di macchine da stampa. "E' il primo passo del processo di espansione dell'azienda – dice Antonio Bartesaghi, AD del Gruppo OMET -. Non è esaustivo per le nostre esigenze di crescita ma assolutamente importante per la riorganizzazione logistica e il miglioramento dell'efficienza nell'ottica della riduzione di tempi e costi di processo".
"Lo spazio produttivo di Molteno è già a pieno regime – continua Bartesaghi – ed è completamente utilizzato per l'assemblaggio di alcune linee produttive. Ci ha permesso di riorganizzare l'aspetto logistico ottenendo efficienza sul ciclo di processo, per cui stiamo già riscontrando dei risultati positivi a livello aziendale".
Piena soddisfazione alla OMET, dunque, per l'investimento effettuato: testimonianza concreta della crescita stabile e duratura dell'azienda lecchese.
Molteno, che conta 3000 metri quadri di capannone e già una ventina di operatori attivi sulle linee produttive, ha già ospitato la visita di clienti internazionali. "Lo stabilimento è stato attrezzato con tutte le apparecchiature e le strutture necessarie al montaggio e al collaudo – conclude Bartesaghi – e c'è un gruppo di lavoro che si è preso la responsabilità di ottimizzare il processo produttivo, sta lavorando bene e sta ottenendo i risultati che ci aspettavamo".