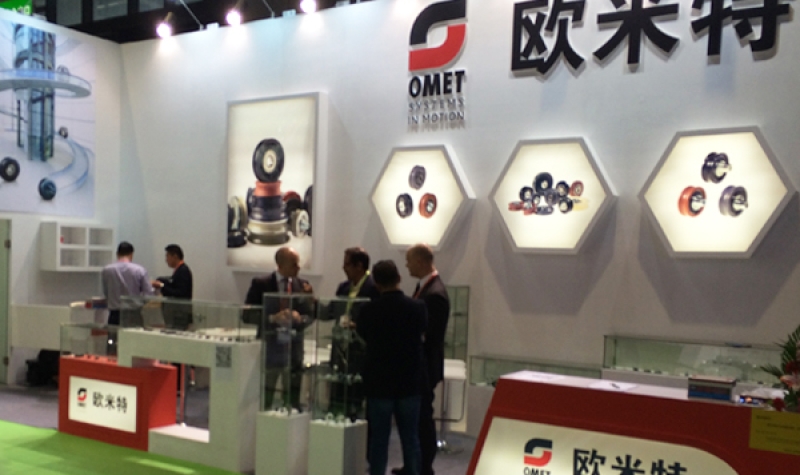 OMET, Italian technology takes over at WEE Expo
May 30, 2016
Italian style, high technology and customised production. This is how Omet won over visitors at WEE, the World Elevator & Escalator Expo, organised by the China Elevator Association from May 10 to 13 2016 at the National Exhibition and Convention Center in Shanghai. The show brought together the major international producers of elevators, escalators, moving walks, components, accessories and related equipment.
Following the success of the 2014 edition where OMET officially presented itself as a supplier of sliding systems for the Asian elevator market, its participation at WEE Expo 2016 was necessary to consolidate the brand, nationally and internationally.
Omet Group is based in Lecco (Italy) and produces special ball bearings, linear guides and trolleys with complete, sliding and silent solutions. The group opened Omet Suzhou Mechanical Co. Ltd in Wujiang at the beginning of the millennium to create a distribution base for the continent. Having acquired our Italian know-how, the Chinese division has grown to over 70 employees and a network of customers spread out over South-east Asia. Its strong point is working in partnership with the customer, who can always count on great design capacities, production processes with European standards, flexibility and high technical competence.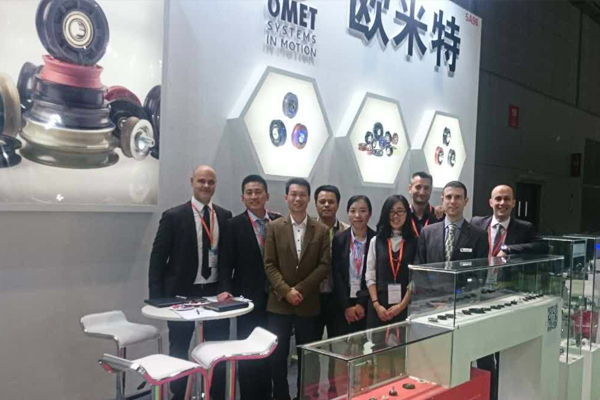 The Omet stand, distinguished by the high quality of its products and technology in addition to the set-up, was visited by hundreds of people. International visitors, workers in the industry and even competitors stopped by for information on the company, to learn more about Italian technology and the quality of the products, guaranteed and certified by Omet around the globe. The important references and the various installations in the global elevator market have allowed Omet to show its full potential, built on a success story: more than fifty years of experience in the industry are a guarantee of reliability, experience and solidity.
Omet received positive comments and numerous contacts, that we are ready to provide feedback on with our standard care and promptness.



OMET, la tecnologia italiana conquista la WEE Expo
Italian style, alta tecnologia e produzione personalizzata. Così Omet ha conquistato i visitatori della WEE, la World Elevator & Escalator Expo, organizzata dalla China Elevator Association dal 10 al 13 maggio 2016 presso il National Exhibition and Convention Center di Shanghai. La fiera raccoglie i maggiori produttori internazionali di ascensori, scale mobili, marciapiedi automatici, componenti, accessori e attrezzature connesse.
Dopo il successo dell'edizione 2014, nella quale OMET si è presentata ufficialmente come fornitore di sistemi di movimentazione per il mercato asiatico degli ascensori, la partecipazione alla WEE Expo 2016 è stata una scelta obbligata per il consolidamento del marchio sia a livello nazionale che internazionale.
Il Gruppo Omet ha sede a Lecco (Italia), e produce cuscinetti speciali, guide lineari e carrelli con soluzioni complete, scorrevoli e silenziose. Ha aperto la Omet Suzhou Mechanical Co. Ltd a Wujiang nei primi anni Duemila per avere una base di distribuzione nel continente. Acquisito il know how italiano, la divisione cinese è cresciuta fino ad avere oltre 70 dipendenti e una rete di clienti dislocati nell'area del Sud-est Asiatico. Il suo punto di forza è il lavoro in partnership con il cliente, che può contare sempre su grande capacità progettuale, processi produttivi con standard europei, flessibilità, e alta competenza tecnica.
Lo stand Omet, che spiccava per l'alta qualità di prodotti e della tecnologia oltre che per l'allestimento, è stato visitato da centinaia di persone. Visitatori internazionali, operatori di settore e perfino concorrenti si sono fermati per avere informazioni sull'azienda, approfondire la tecnologia italiana e la qualità dei prodotti, garantita e certificata da Omet in ogni parte del mondo. Le importanti referenze e le diverse installazioni nel mercato globale degli ascensori hanno permesso ad Omet di mostrare al completo il proprio potenziale, costruito su una storia di successo: oltre cinquant'anni di esperienza nel settore sono una garanzia di affidabilità, esperienza e solidità.
Omet ha raccolto apprezzamenti positivi e numerosi contatti, a cui ora è pronta a dare feedback con la consueta attenzione e puntualità.