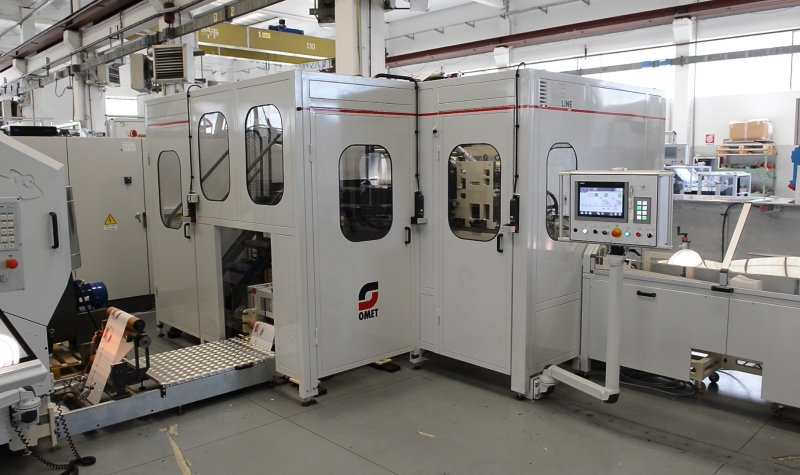 OMET introduces the new MF Line, the multi-folding machine
June 25, 2020
The new MF LINE is available in single or double lane configuration according to production needs and offers napkin production with different types of fold with quick job changes directly from the operator control panel thanks to the new vacuum/mechanical folding head technology. The in-line Chameleon digital printing configuration allows maximum flexibility in producing customized products with no set up waste.
The new MF Line is the revolutionary OMET machine suited for the production of all types of napkins made of different materials, types of fold, embossing and also flexo and digital printing.
The new folding head is a vacuum/mechanical technology exclusively developed by OMET in order to provide the maximum flexibility in terms of folding options. It allows a quick fold change between any type of fold, from the more traditional ¼ fold, up to the fancier book fold. Actually, an innovative electronic system enables a quick change of napkins size which can go up to 100 mm range.
The flexibility of the new MF combined with OMET digital printing technology satisfies all possible needs of both the ho.re.ca and the retail customer. The new machine can be equipped with different printing units, from the basic version which can have up to 6 printing units, to the XP version prepared for up to 8 printing units. The machine can also be integrated with OMET's exclusive digital printing unit, the Chameleon.
Digital printing technology allows both an increase in terms of efficiency with cost optimization and innovative services for customers. Having infinite folding products' customization possibilities becomes a real communication and marketing tool. Also, digital printing ensures more flexibility on orders' execution: the ease of use of the printing subjects' software configuration allows a quick changeover which creates a "just-in-time" management of the orders. It allows rapid job changeovers and allows to update over time, the graphic design by printing it when needed, without having to store drafts destined to become obsolete.
The innovative OMET MF Line is double lane version, thus meeting different levels of productivity. It also allows the processing of non-woven materials and all other kinds of special materials used for the production of disposable products such as dust-catching cloths for domestic cleaning, for barbers and beauty salons.
The machine's modularity allows an ease of change of the embossing cassette thus allowing a very fast change-over and maximum flexibility. At the same time, it is designed to guarantee a high quality of the embossing, both in terms of ply adhesion and pattern definition. The new embossing frames are specially designed with an anti-vibration system in order to ensure a longer life of the rolls. The new lubricating and cleaning system help the operator maintain constant production and high efficiency.
A point to point embossing unit is also available. It comes with a gluing system that creates a lamination effect. If preferred, a version without glue application is also available, thus creating a very soft and ecological product. An easy and effective laminating device allows a perfect plies union thank to the point to point embossing rolls which work at a micrometric controlled distance with precise glue distribution.
The machine allows a quick-change of the parent roll thanks to a new rotary turret system. The new parent roll can be prepared while the machine is running. The new automatic web tension control allows high precision in terms of unwinding also with winded materials at different tensions. MF Line's unwinder comes with a paper centering system that enables alignment precision on the whole machine. The unwinder can also be equipped with a revolutionary system of paper cleaning. Most of the powder on the tissue rolls is removed thanks to an electrostatic device and vibrating brushes. The system is equipped with an automatic shaker of the filter which ensures efficiency for several hours without stops for cleaning.
At last, the calender station consists of two embossing rolls with a particular anti-abrasion surface treatment which increases the rolls life. The micrometric pressure adjustment allows a perfect control of the paper thickness.
The MF Line is the ideal machine for any converter who wants to have the maximum flexibility in terms of production also for short runs with customized products. However, the double lane version enables to gain the ideal configuration for high napkins production.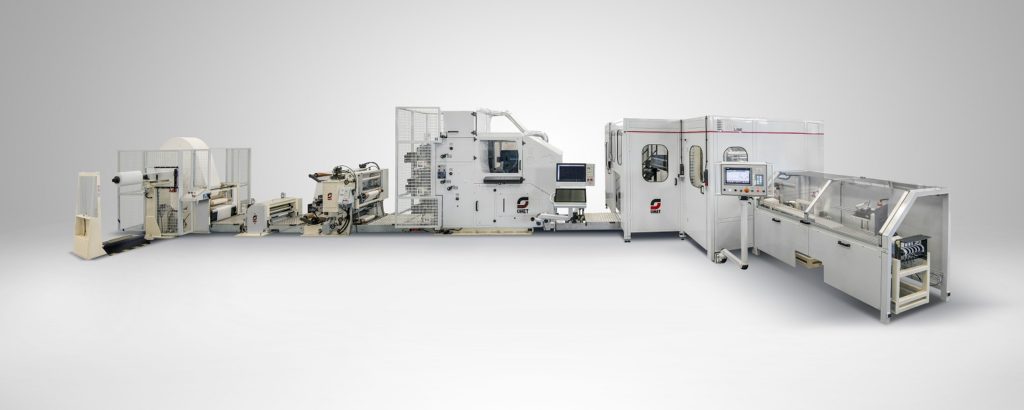 ---
OMET presenta la nuova MF Line, la piegatrice multi-fold
La nuova MF Line, disponibile a una o due vie in base alle esigenze produttive, permette di realizzare tovaglioli con diversi tipi di piega con cambi rapidi direttamente da pannello operatore grazie al nuovo gruppo piega a tecnologia mista meccanica+aspirata. La configurazione con gruppo stampa digitale Chameleon in linea consente la massima flessibilità per realizzare prodotti personalizzati senza scarti.
La nuova MF Line è la rivoluzionaria macchina OMET studiata per la produzione di tutti i tipi di tovaglioli nei diversi materiali con diverse tipologie di piega, tutti i tipi di goffratura disponibili e utilizzando la stampa in linea sia flessografiche che digitale.
La nuova testa di piega a tecnologia mista meccanica/aspirata è stata sviluppata per soddisfare le molteplici esigenze di flessibilità della produzione di tovaglioli, consentendo di passare in modo rapido, semplice e sicuro ad ogni tipo di piega, dalla piega tradizionale ¼ alla piega a libro. Infatti, un innovativo sistema elettronico permette il cambio rapido e veloce della misura dei tovaglioli in un range che arriva fino a 100 mm.
La flessibilità della nuova MF abbinata al digitale soddisfa tutte le necessità del mondo ho.re.ca e consumer. Infatti la nuova macchina può essere equipaggiata con vari sistemi di stampa, dalla versione base che può avere fino a 6 gruppi stampa flexo, alla versione XP predisposta fino a 8 gruppi flexo, ma può essere integrata anche con l'esclusivo gruppo di stampa digitale OMET, il Chamaleon.
La tecnologia di stampa digitale permette sia un aumento dell'efficienza con riduzione dei costi, sia un ampliamento dell'offerta con servizi innovativi per i clienti. Sono infinite, infatti, le possibilità di personalizzazione dei prodotti piegati, che diventano un vero e proprio strumento di comunicazione e marketing, oltre che per la loro funzione originale. La stampa digitale assicura inoltre maggior flessibilità e rapidità nell'esecuzione e nella fornitura delle commesse: la facilità del software di configurazione dei soggetti di stampa garantisce tempi di lavoro e di produzione brevissimi just-in-time. Consente cambi lavoro rapidi e permette di aggiornare, nel tempo, i progetti grafici ristampandoli al bisogno, senza dover far magazzino con copie destinate a diventare obsolete.
L'innovativa linea OMET MF è stata sviluppata in versione a 1 o 2 piste di uscita per sopperire a tutte le necessità di bassa e alta produzione e permette anche di lavorare i materiali non-woven e tutti i tipi di materiali speciali per la produzione di prodotti monouso come i panni catturapolvere, per la pulizia, per barbieri e centri estetici.
La modularità della macchina permette la facilità di cambio dei cassetti di goffratura assicurando sempre una precisione assoluta della penetrazione dei punti fondamentale per la visione del disegno stesso oltre che il mantenimento dell'adesione dei veli. I nuovi cassetti di goffratura sono studiati appositamente con sistemi anti-vibrazione per garantire una maggior durata dei cilindri stessi e il nuovo sistema di lubrificazione e pulizia aiuta l'operatore in fase di lavoro e assicura una costanza di produzione e un'alta efficienza.
E' inoltre disponibile il gruppo di goffratura punta/punta, dotato di sistema di incollatura per creare l'effetto laminazione e che può lavorare anche senza colla creando un prodotto morbido ed ecologico. Un semplice ed efficace sistema di laminazione permette di unire i veli grazie ai cilindri di goffratura punta a punta che lavorano a distanza controllata micrometricamente e con la distribuzione della colla in modo preciso e controllato.
La macchina è dotata di un sistema di cambio rapido della bobina grazie al nuovo sistema a torretta girevole. La nuova bobina può essere infatti preparata mentre la macchina è in funzione. Il nuovo dispositivo automatico di controllo tensione carta permette un'assoluta precisione di svolgitura anche con materiali riavvolti a tensioni differenti. Lo svolgitore della MF Line dispone inoltre del sistema di centratura della carta che permette una precisione di allineamento su tutta la macchina. Lo svolgitore può essere equipaggiato anche di un sistema rivoluzionario di pulizia della carta. Grazie a delle spazzole vibranti e ad un sistema elettrostatico viene eliminata gran parte della polvere contenuta nelle bobine di tissue. Il sistema è dotato di scuotitore automatico del filtro che garantisce un'efficacia per parecchie ore senza fermi per la pulizia.
Il gruppo di calandratura, infine, è composto da una coppia di cilindri di lisciatura carta dotati di un particolare sistema di anti-abrasione che aumenta la vita degli stessi. Il sistema micrometrico di regolazione della distanza permette di controllare perfettamente lo spessore della carta all'uscita della calandra stessa. Un semplice ed efficace sistema di laminazione semplice permette di unire i veli grazie ai cilindri di goffratura punta a punta che lavorano a distanza controllata micrometricamente e con la distribuzione della colla in modo preciso e controllato.
La MF Line è la macchina ideale per tutti i converter che vogliono avere la massima flessibilità produttiva per tirature anche brevi con prodotti personalizzati, ma la versione a due piste consente di disporre anche della configurazione ideale per alte produzioni di tovaglioli.