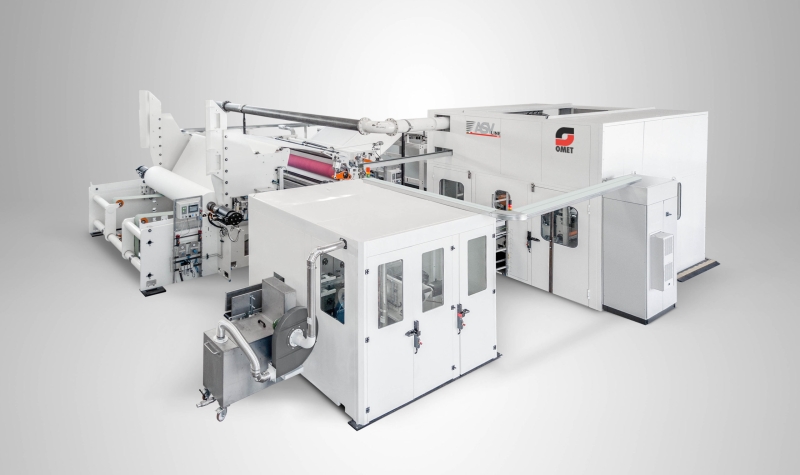 OMET introduces the new ASV Storm Line for interfolded towel and facial tissue
January 9, 2020
After the presentation of the ASV Tornado Line during the "OMET Interfolding Experience" open house, organized in October 2019 at its OT Lucca premises, OMET introduces the ASV Line Storm to the market, with a new automatic interfolding head.
OMET doubles the offer for the new ASV Line, introducing the new Storm version after having recently presented the Tornado version at the latest "OMET Interfolding Experience" open house in Lucca. ASV Line is the new automatic interfolding line that combines extensive modularity, ease of use and high productivity for the production of 1,2 or 3-ply paper hand towels, 2,3 or 4-ply facial tissue and 2-3-ply toilet paper. This line is the result of a careful technological research with innovative and patented operating principles, that allows a complete modularity with in-line, mirror or 90 degrees configurations. Actually, the ASV Line can be designed and configured in a flexible way according to the needs of the user with the addition of several functional modules: unwinders, lamination unites, embossing units, calenders, lotion application systems and wheel knurling units, banding units, log and gang saw, as well as the automatic interfolding head and the longitudinal slitting units that form the core of the machine.
The ASV embodies the essential requirements that have always been sought by the user: high levels of quality of the product, simplicity of use and easy maintenance. Its complete automation allows considerable savings of personnel costs and a consequent reduction of risks.
OMET offers two versions of the ASV Line, the Tornado and the Storm Line, distinguished by their different folding units and a wide range of finishing units, in order to specifically fulfill different production needs. The new ASV Line Storm is equipped with side suction system and two folding and cutting rollers of the panel. This folding system allows to use a head up to 1500 mm and enable an extremely high production capacity.
The new ASV Line Storm interfolding head is now available at OMET Lucca Demo Center for any tests, where it is possible to require customized demonstrations in order to notice the outstanding performance, the ease of use for the operator, the complete automation and the user-friendly and essential interface.
---
OMET presenta la nuova ASV Line Storm per asciugamani interfogliati e facial tissue
Dopo la presentazione della ASV Line Tornado in occasione dell'open house "OMET Interfolding Experience" organizzato a Ottobre 2019 presso la propria sede OT Lucca, OMET presenta al mercato la ASV Line in versione Storm, con una nuova testa interfogliatrice.
OMET raddoppia l'offerta per la nuova ASV Line, proponendo la nuova versione Storm dopo aver presentato recentemente la versione Tornado in occasione del recente open house "OMET Interfolding Experience" a Lucca. ASV Line è la nuova linea interfogliatrice automatica che unisce ampia modularità, facilità di utilizzo ed elevata produttività per la produzione di asciugamani a 1, 2 o 3 veli, facial tissue a 2, 3 o 4 veli e carta igienica a 2 o 3 veli. Questa linea è il risultato di un'accurata ricerca tecnologica con principi di funzionamento innovativi e brevettati, che permette una assoluta modularità con configurazioni in linea, a specchio o a 90 gradi. Infatti la linea ASV può essere progettata e configurata in modo flessibile a seconda delle necessità dell'utilizzatore con l'aggiunta di diversi moduli funzionali: svolgitori, laminatori, goffratori, calandre, gruppi lozionatori e godroni, fasciatrici, troncatori e sega pacco, oltre alla testa interfogliatrice e ai gruppi di taglio longitudinale che compongono il cuore della macchina.
La ASV racchiude in sé i requisiti essenziali da sempre ricercati dall'utilizzatore: alti livelli qualitativi del prodotto, semplicità nell'utilizzo e facile manutenzione. La sua completa automazione consente un risparmio considerevole sui costi del personale e una conseguente riduzione dei rischi di infortunio.
OMET presenta due versioni della ASV Line, la Tornado e la Storm, che si distinguono per il differente gruppo di piega ed un'ampia gamma di gruppi di finitura, che rendono questa linea di macchine interfogliatrici estremamente modulare e capace di rispondere in modo specifico a differenti esigenze di produzione. La nuova ASV Line Storm è dotata di un sistema di aspirazione laterale e due rulli di piega e taglio del pannello. Questo sistema di piega consente di utilizzare una testa da 1500 mm ed permette una capacità produttiva elevatissima.
La nuova testa di piega interfogliatrice della ASV Line Storm è disponibile presso il Demo Center OMET di Lucca per eventuali test, dove è possibile richiedere delle dimostrazioni personalizzate per constatare le eccezionali prestazioni, la semplicità d'utilizzo per l'operatore, la completa automazione e l'interfaccia intuitiva ed essenziale.