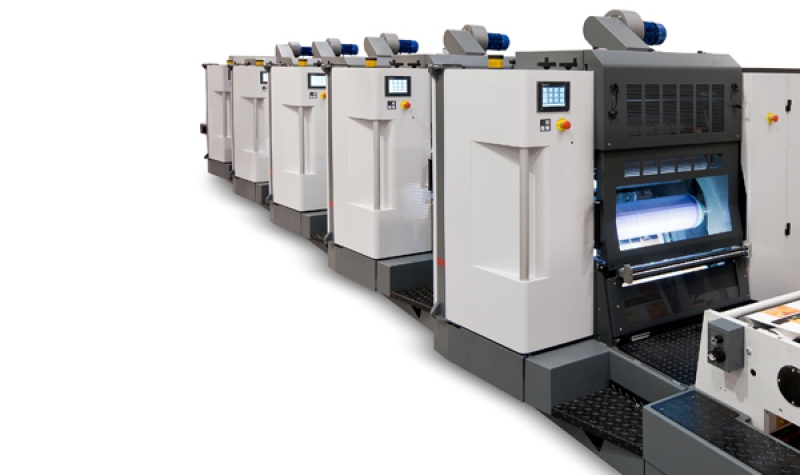 OMET introduces the most innovative Mid-web Variable-size Sleeve Press for flexible packaging
May 21, 2015
Available in widths 670mm (26") and 850mm (33"), Varyflex V2 Offset is made unique by the introduction of a new mid-web Offset unit concept granting the highest operational flexibility, simplicity in use, wide machine accessibility and maximum efficiency with any print run. The geometry of OMET's patented 'Easy Sleeve Format Change' is guarantee of mechanical robustness and great printing quality at high speeds.
The V2 Offset print unit, publicly presented on May 19, 2015, is characterized by an innovative inking group with four inking rollers on the plate, optional mixed or separate dampening and an user-friendly color management system ensuring the maximum stability during production.
Through 'Easy Sleeve format change' system, the format changeover (the widest, with 16-32'' interval) is rather simple and quick to perform thanks to the use of lightweight pneumo-locking sleeves having the external tube in fiberglass, carbon fiber or aluminum. The introduction of Revolver cart to fasten the sleeves changeover is another revolutionary idea. When the Revolver cart is moved in proximity of the machine, the sleeves slide in and out the press with no effort and no need of hoists.
The customer, advised by OMET, can choose the configuration that best suits its needs, select the most appropriate in-line printing and finishing technologies and drying/curing systems among UV wet/wet, UV Interdeck and/or EB wet/wet.
Varyflex V2 Offset summarizes all the advantages of Varyflex V2 presses (multi-process approach, servo and gearless operation, ergonomics), appreciated by converters worldwide,  widening its reach through the addition of powerful Offset to meet pre-press, inking and printing quality standards, combined with low-cost platemaking and precise color control. The new V2 Offset groups enrich Varyflex V2 press for optimal printing of thin films, multi-layer films, shrink labels, IML labels, wraparound labels, laminates, carton boxes and special applications.