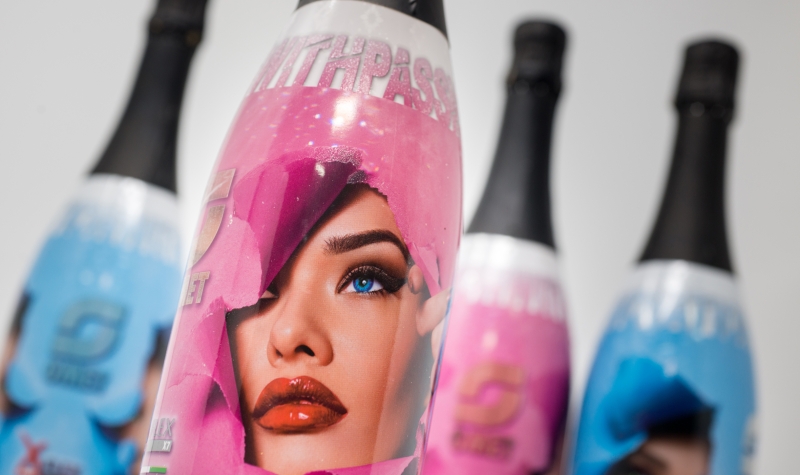 OMET: innovation is ready for Labelexpo
September 16, 2019
The new XFlex X7 is ready to amaze. Its revolutionary performances and special effects in the shrink sleeve and flexible packaging printing will be one of the great innovations that OMET is going to show at the upcoming Labelexpo Europe, hosted in Brussels from 24 to 27 September 2019. On display with the X7, also a new version of the hybrid XJet powered by Durst and the full LED iFLEX.
OMET's latest offering, the X7, is going to disrupt the sector by offering a new way for achieving special print effects on shrink sleeves and flexible packaging materials. It is a 670 mm (26″) flexo line equipped with innovative features, that integrates several printing and converting technologies in-line with a modular design. Thanks to the new High Value Rotogravure printing unit (HVR) and the new flexo station designed with Zero Gears Solution, it allows the maximum level of precision, automation, quick setup and near zero waste.
Waiting for customers on our stand there will also be a new version of the hybrid XJet powered by Durst, able to produce the highest-quality labels and shrink labels with combined printing: from its launch to date, it has registered increasing number of installations and level of appreciation. The third machine on demo will be an iFLEX with an 8-color flexo UV-LED configuration, which allows considerable energy savings and perfect drying at high speed maintaining the high quality standard of the OMET printing.
All innovations to be showed at the fair refer to the project "OMET-The green side of printing" which gathers the whole OMET's eco-sustainable research, involving different aspects of the printing process: sustainable materials and inks, air recycling, UV-LED drying and waste reduction.
In this context, there is great expectation for the "Core Linerless Solution" project for Linerless labels, carried out in collaboration with Ritrama, Spilker and ILTI. OMET engineered the laminating module to process CLS self-adhesive film (Core Linerless Solution), produced by Ritrama, designed to be transformed into a single ply Linerless web, ready to be dispensed using a special linerless module.
OMET – Hall 6 – Stand C49-C53
---
OMET: l'innovazione è pronta per Labelexpo
La nuova XFlex X7 è pronta a stupire. Le sue rivoluzionarie performance nella stampa di shrink sleeve e packaging flessibili con effetti speciali saranno una delle grandi novità sullo stand OMET alla prossima Labelexpo Europe, a Bruxelles dal 24 al 27 Settembre 2019. In demo con la X7, anche la nuova ibrida XJet powered by Durst e la iFLEX in versione full LED.
La X7, ultima nata in casa OMET, rappresenta una vera rivoluzione nel settore. E' una linea flexo da 670 mm (26″) dotata di una serie di funzioni innovative, diverse tecnologie di stampa e converting in linea con design modulare: dall'unità di stampa a rotocalco High Value Rotogravure (HVR) alla nuova stazione flexo progettata con la Zero Gears Solution, consente il massimo livello di precisione sul mercato, massima automazione, setup rapido e sprechi tendenti a zero.
Ad attendere i clienti sullo stand ci sarà anche nuova versione della ibrida XJet powered by Durst, la macchina flexo+inkjet in grado di produrre oltre ad etichette di altissima qualità anche shrink label con stampa combinata: dalla sua presentazione al mercato, ha registrato tassi crescenti di apprezzamento e installazioni. La terza macchina in demo sarà una iFLEX con una configurazione a 8 colori flexo UV-LED, che permette un notevole risparmio energetico ed un asciugamento perfetto ad alta velocità, mantenendo l'alto standard qualitativo di stampa OMET.
Nei giorni di fiera sarà protagonista anche il "green" con progetto OMET – The green side of printing che racchiude la ricerca tecnologica OMET in campo ecosostenibile, sviluppato su diversi punti che incidono sulla stampa: materiali e inchiostri sostenibili, riciclo dell'aria, asciugamenti UV-LED e riduzione degli scarti.
In quest'ambito c'è grande attesa per il progetto "Core Linerless Solution" in collaborazione con Ritrama, Spilker e ILTI, che avrà come protagoniste le etichette Linerless. OMET ha creato il gruppo di laminazione per il processo di lavorazione del materiale CLS (Core Linerless Solution), film autoadesivo prodotto da Ritrama che si trasforma in un laminato senza liner, pronto per essere applicato sul prodotto finito con un'etichettatrice linerless.
OMET – Hall 6 – Stand C49-C53