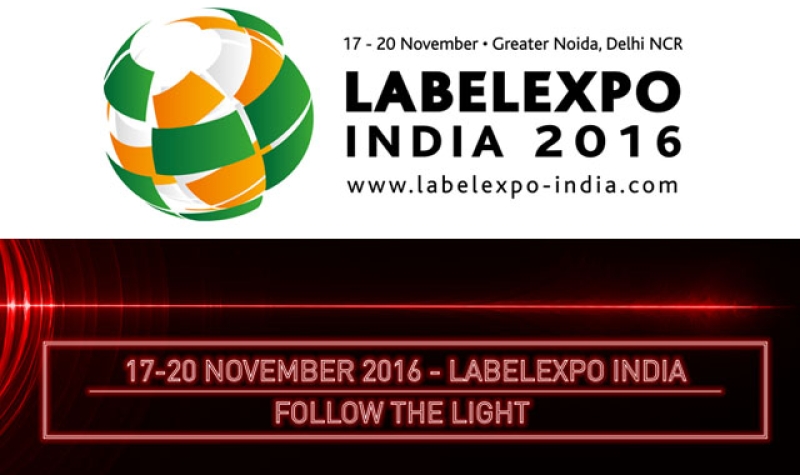 OMET iFLEX ready to surprise at Labelexpo India
October 27, 2016
"Tomorrow's packaging technology revealed". Labelexpo India's slogan looks like an invitation: when the future calls, OMET is there to reply. The exposition, taking place from 17th to 20th November in Greater Noida, New Dehli, is the most important event in South-East Asian label printing business.
OMET will be starring with iFlex: launched in May 2015, it will be at its first official appearance in India. This ergonomic flexo press has been explicitly designed to become the perfect solution to all label printers looking for ease of use and superior print quality, main characteristics that represent an innovative solution for Asian market.
Labelexpo India will gather all the key players from South Asia: more than 200 exhibitors are expected at the India Expo Center & Mart in Greater Noida. OMET has been investing a lot in this area, which has become one of the most dynamic markets of the international business: the number of OMET presses installations has been constantly growing and the recent opening of OMET India Office in New Delhi contributes to strengthen its presence and expand the service on the territory.
Omet has decided to give iFlex a leading role in this exposition, because it has what it takes to win the trust of Asian market. iFlex is an extremely precise press featuring innovative technologies and smart devices which make it one of the highest performing products on the market in terms of printing quality, ergonomics and flexibility, suiting the needs of all label printers.
More in detail, iFlex features iLight pre-registration system, the first laser application on a printing press, iVision, a clever system for register adjustment and control through smart cameras and iDrive the first single-gear direct driven transmission. These exclusive innovations allow for the highest printing quality and the maximum productivity in few simple steps, considerably reducing set-up time and waste at each job changeover. The converting section of this press is an extraordinary example of technology and simplicity: "Converting Express" includes in very little space the ECDC Easy Change Die-Cutting station, optional slitting unit, Rock'n'Roll matrix stripping section and rewinder.
Omet is pleased to welcome everyone who wish to attend iFlex demonstrations at stand C24, hall C of Labelexpo India, from 17 to 20 November 2016
---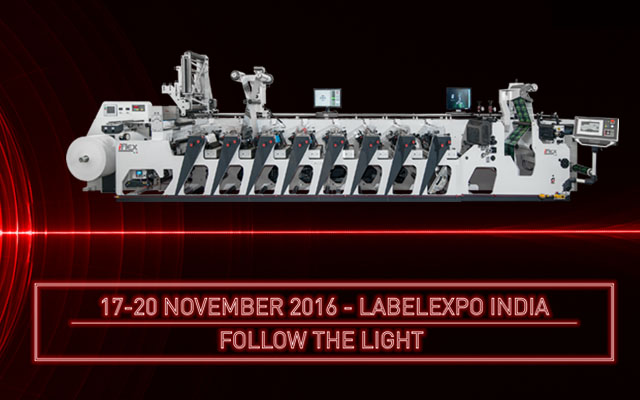 OMET iFLEX pronta per Labelexpo India
"Tomorrow's packaging technology revealed". Lo slogan della Labelexpo India sembra un invito: il futuro chiama, OMET risponde.  La fiera, che si terrà dal 17 al 20 Novembre a Greater Noida, New Dehli, rappresenta il più grande evento per il mondo etichette e stampa del Sud Est Asiatico. OMET sarà protagonista con la iFLEX: presentata nel maggio 2015, è al suo debutto in India. La facilità di utilizzo e la grande ergonomia operativa di questa macchina flessografica studiata appositamente per gli stampatori di etichette, unite alla qualità di stampa superiore, hanno sinora riscosso enorme successo e rappresentano una soluzione innovativa per il mercato asiatico,.
La fiera radunerà tutti i produttori chiave del settore operanti in Asia meridionale: nella location dell'India Expo Centre & Mart di Greater Noida sono attesi oltre 200 espositori. OMET sta investendo grandi risorse su quest'area, che rappresenta uno dei mercati più dinamici del settore: il numero di stampatori con installazioni OMET è in continua crescita e la recente apertura degli uffici di OMET India a New Delhi garantisce una presenza e un servizio costante sul territorio.
La iFLEX, su cui l'azienda ha deciso di puntare tutto in questa fiera, ha le carte giuste per conquistare il terreno asiatico. Straordinariamente precisa e dotata di dispositivi innovativi e tecnologici che la rendono uno dei prodotti più performanti del mercato, la iFLEX è progettata per ottenere le migliori prestazioni in termini di qualità, rapidità di cambio lavoro, riduzione degli scarti e manovrabilità da parte dell'operatore. La sua flessibilità e le sue performance la rendono adeguata ad etichettifici di qualsiasi dimensione.
In dettaglio, è dotata del sistema di pre-registro laser iLight e del dispositivo di regolazione del registro di stampa mediante telecamere iVision che permettono di raggiungere la massima qualità di stampa in pochi, semplici passaggi, accelerando il set-up della macchina dopo ogni cambio lavoro e riducendo notevolmente gli scarti ad ogni avviamento. La sezione di converting della iFlex è eccezionale per tecnologia e semplicità d'uso e comprende ECDC (Easy Change Die Cut), carrello con due posti di parcheggio separati che semplifica la sostituzione della fustella, e Rock'n'Roll, il sistema di riavvolgimento dello sfrido più performante del mercato.
Per assistere alle dimostrazioni della iFLEX recatevi allo stand C24 padiglione C della Labelexpo India dal 17 al 20 novembre 2016.