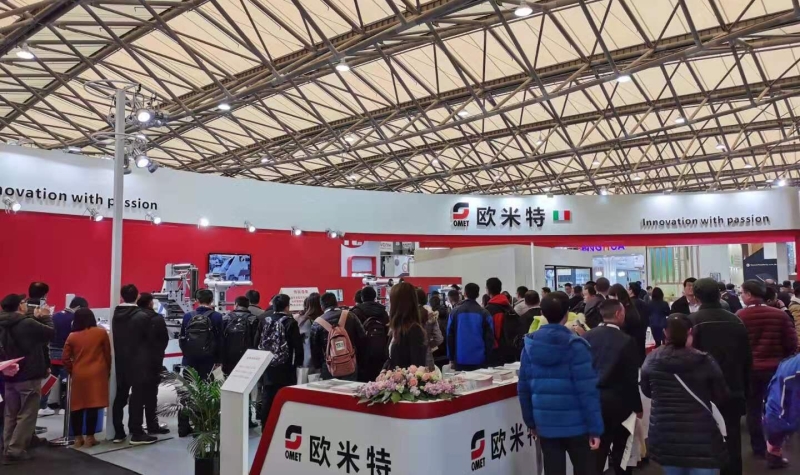 OMET iFLEX impresses in Shanghai
January 13, 2020
Labelexpo Asia 2019 was a very successful event, with visitors coming not only from different regions of China, but also from Southeast Asia, the Indian subcontinent, Russia and the Middle East. OMET presented a 12-color iFLEX, for sure the most powerful and appreciated machine of this edition.
The OMET stand at Labelexpo Asia, held in Shanghai from 3 to 6 December 2019, was among the most visited, thanks to the presence of an iFLEX line with fully loaded 12 UV-LED flexo printing units, double cold foil, Easy Change die station for quick tool's change and several high-quality print demonstrations every day. OMET has been on the Chinese market for 15 years with its own headquarters located in Suzhou, about 100 km from Shanghai, with its own sales and technical assistance structure for the entire Far East area, as well as a permanent demo center able to host customized demonstrations for local printers interested in deepening their knowledge about Made in Italy technology.
Labelexpo Asia is the main continent-wide event for the label and packaging printing sector: this year it exceeded 300 exhibitors this year and some thousands of visitors. OMET has been the only European manufacturer with a complete label printing line on display.
"It was an extraordinary event – said Paolo Grasso, OMET Head of Sales for Printing Division – which we love to attend as we have been pioneers in China and we continue to believe and to invest in this market. As OMET, we showcased the iFlex with full LED from CoolUV. Like every year it was the only international flexo machine on show, and it's been highly appreciated by local and international companies for its simplicity in use and for the low cost-per-label it delivers".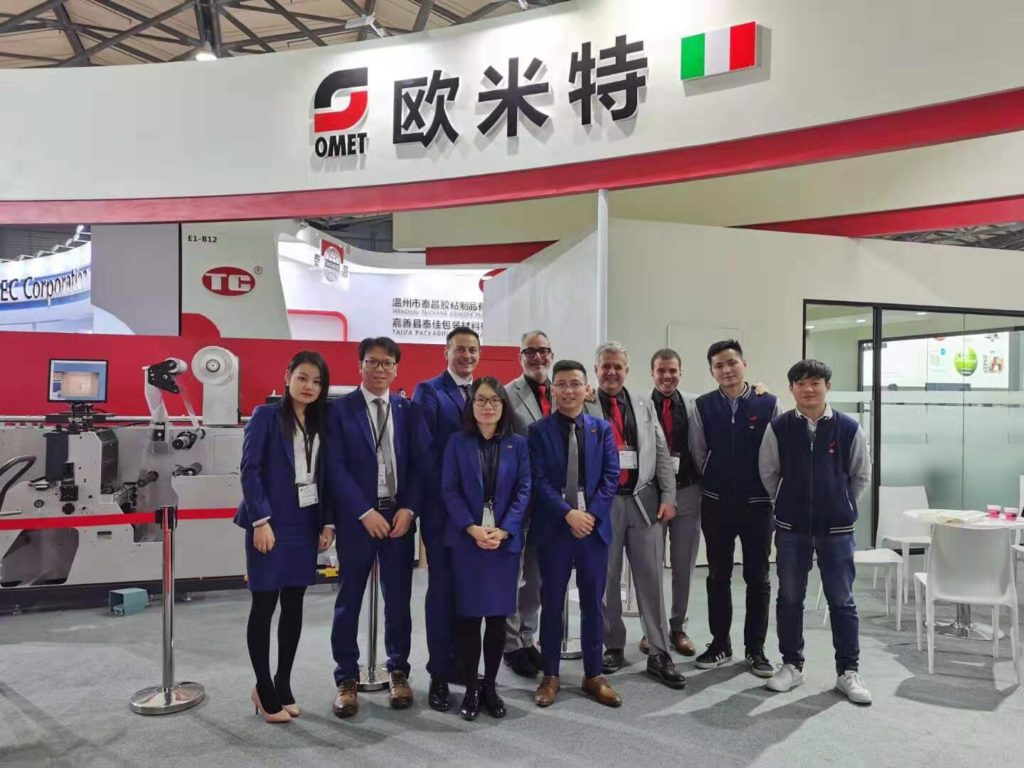 ---
OMET iFLEX protagonista anche a Shanghai
Labelexpo Asia 2019 è stato un evento di grande successo, con visitatori provenienti non solo dalle diverse regioni della Cina, ma anche da Sudest Asiatico, dal subcontinente Indiano, dalla Russia e dal Medio Oriente. OMET ha presentato una iFLEX a 12 colori flexo UV-LED, senza dubbio la macchina più performante e apprezzata di questa edizione.
Lo stand OMET a Labelexpo Asia, svoltasi a Shanghai dal 3 al 6 Dicembre 2019, è stato fra i più visitati in assoluto, grazie alla presenza di una linea iFLEX con 12 unità di stampa flexo UV-LED, doppio cold foil, stazione di converting Easy Change per la fustellatura e sfridatura in linea con cambio rapido e diverse dimostrazioni di stampa ad alta qualità ogni giorno. OMET è presente da 15 anni sul mercato cinese con una propria sede situata a Suzhou, a circa 100 km da Shanghai, con una propria struttura commerciale e di Assistenza tecnica per tutta l'area del Far East, nonché un demo center permanente dove vengono organizzate dimostrazioni ad hoc per gli stampatori locali interessanti ad approfondire la conoscenza della tecnologia made in Italy.
Labelexpo Asia è l'evento principale di tutto il continente per quanto riguarda il settore della stampa di etichette e imballaggi, che ha superato quest'anno i 300 espositori e alcune migliaia di visitatori. OMET è stato l'unico costruttore europeo presente in fiera con una macchina da stampa per etichette in dimostrazione sullo stand.
"E' stato un evento straordinario – ha commentato Paolo Grasso, OMET Head of Sales for Printing Division – al quale siamo molto legati, essendo stati dei pionieri per il mercato della stampa cinese, nel quale continuiamo a credere e ad investire. Abbiamo presentato una iFLEX full LED a 12 colori e come ogni anno è stata l'unica macchina flexo internazionale presente in fiera, molto apprezzata dai visitatori locali ed internazionali per la sua semplicità d'uso ed il competitivo costo di produzione per etichetta che permette ai suoi utilizzatori".