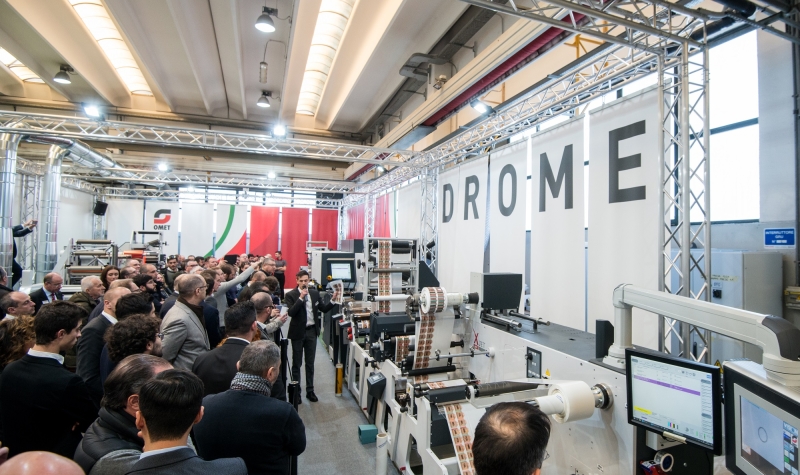 OMET Hybrid Experience: OMET open house for digital and flexo technologies to inaugurate the new OMET DROME
January 29, 2019
Great turnout at the event organized by OMET on January 24th-25th, during which OMET inaugurated the new DROME demo center in Molteno.
More than 250 people took part at the "OMET Hybrid Experience" Open house dedicated to the opportunities of hybrid printing technology in the label industry. Held on January 24th and 25th 2019 at the new OMET DROME, the event was enriched by technical presentations, live demos and visits to the OMET production sites. A lovely gala dinner at the beautiful lake-view location attracted a great number of participants.
Great success for the live demos of the OMET XJet powered by Durst, which proved its exceptional performance in terms of technology, flexibility, productivity and infinite customization possibilities. Another start of the event was the OMET iFlex, presented with hybrid curing configuration: UV and LED printing simultaneously. Two machines running amazing production jobs, appreciated for their real complexities, and of course for the printed quality results.
Few highly technical presentations were dedicated to the future of label printing. Paolo Grasso (OMET Head of Sales – Labels Business Unit) spoke about the advantages of digital + flexo hybrid printing technology proposed by OMET in collaboration with Durst, and those offered by flexo UV-LED printing shown on iFlex at the event.
Sergio Veneziani (Ritrama) introduced the partnership between OMET and Ritrama for a new laminating module to produce linerless labels: an innovative clear-on-clear PS label engineered to be transformed into a laminated but Linerless construction, ready to be dispensed. This innovation will allows significant improvements in terms of efficiency and sustainability for the printing industry and brand owners.
Martin Leitner (Durst) explained the potential and opportunities of digital: for a printer, moving towards digital inkjet or hybrid technology is not just a matter of buying a new machine, but the beginning of a transformation in the business model itself. Durst and OMET offer a solid base of skills essential for this evolutions.
Francesco Niorettini (Italgrafica Sistemi) spoke about his personal case history, being the first Italian XJet user. "Our challenge is to go for bigger volumes through hybrid-digital: OMET XJet is the solution that made me possible to break through old barriers of very low figures. Being able to combine the best of OMET's and Durst's worlds, made my investment in innovation a game-changer that allows Italgrafica raising the bar in the industry".
OMET success for this open house is to be shared with the main 15 sponsors who actively participated to the event: Apex, Asahi, Avery Dennison, Control Technique (Nidec Group), Erhardt + Leimer, GEW, Kurz, Italfinance, Ritrama, Rossini, Rotometrics. Swedev, Tesa, Vetaphone and Zeller + Gmelin.
---
"OMET Hybrid Experience", open house fra digitale e flexo per inaugurare il nuovo OMET DROME
Grande affluenza di visitatori all'evento organizzato da OMET il 24 e 25 gennaio, che ha visto l'inaugurazione del nuovo demo center presso la sede produttiva di Molteno, a pochi km da Lecco.
Oltre 250 persone sono state graditi ospiti all'Open house "OMET Hybrid Experience" dedicato alle opportunità della tecnologia di stampa ibrida nel mercato delle etichette, svoltosi il 24 e 25 gennaio 2019. L'occasione è stata l'inaugurazione del nuovo OMET DROME nella sede di Molteno (LC). L'evento, costituito da due giornate di presentazioni tecniche, demo live, e visite alle sedi produttive OMET oltre ad una cena di gala per gli ospiti, ha registrato un'altissima affluenza e molto entusiasmo da parte di tutti gli intervenuti.
Grande successo, in particolare, per le demo della OMET XJet powered by Durst, che ha dato prova delle sue eccezionali prestazioni in termini di tecnologia, adattabilità, produttività e personalizzazione. Altra star dell'evento era la OMET iFlex allestita in configurazione ibrida con asciugamenti UV e LED: le due linee hanno sorpreso tutti per la complessità dei lavori dimostrati e, chiaramente, per il risultato qualitativo degli stampati.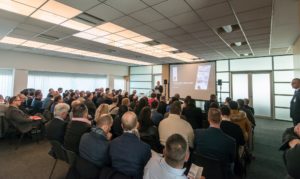 Al futuro del mondo etichette sono state dedicate alcune presentazioni molto tecniche. Paolo Grasso (Head of Sales per la divisione Printing della OMET) ha spiegato i numerosi vantaggi della tecnologia di stampa ibrida digitale + flexo proposta da OMET in collaborazione con Durst, e quelli insiti nella stampa flexo UV-LED proposta in questo evento sulla macchina iFlex.
Sergio Veneziani di Ritrama ha introdotto la partnership tra OMET e Ritrama per lo sviluppo del progetto etichette linerless. Un'innovazione che consente notevoli risparmi, velocità ed un impatto positivo sia sull'efficienza sia sulla sostenibilità ambientale del processo di stampa.
Martin Leitner di Durst ha illustrato il potenziale e le opportunità offerte dalla stampa digitale: muoversi verso la tecnologia digitale inkjet o ibrida per un'azienda di stampa non è soltanto l'acquisto di una nuova macchina, ma può essere l'inizio di una trasformazione del proprio modello di business e dell'azienda stessa. Durst e OMET da questo punto di vista offrono una solida base di competenze, indispensabili per questa evoluzione.
Francesco Niorettini di Italgrafica Sistemi ha raccontato la sua case study personale come primo utente XJet in Italia. "La nostra sfida è quella di fare tirature sempre più lunghe in modalità digitale: la XJet è una soluzione unica, capace di unire il meglio dei mondi OMET e Durst: un investimento in innovazione che ci ha permesso di alzare l'asticella a livello tecnico e professionale".
L'evento ha avuto il supporto di 15 sponsor che hanno attivamente partecipato all'evento. Vogliamo quindi ringraziare in particolar modo: Apex, Asahi, Avery Dennison, Control Technique (Nidec Group), Erhardt+Leimer, GEW, Kurz, Italfinance, Ritrama, Rossini, Rotometrics. Swedev, Tesa, Vetaphone e Zeller+Gmelin.