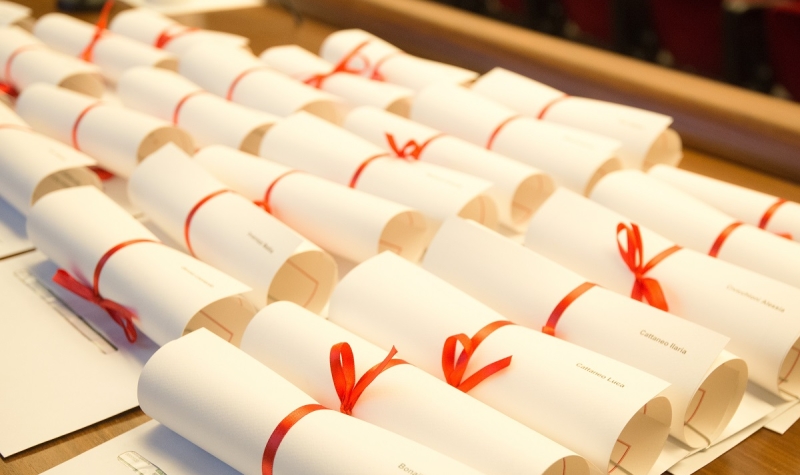 OMET Group awards 38 scholarships to employees' sons and daughters
December 21, 2020
Despite the difficulties of this 2020, due to the global pandemic and the slowdown of the market, the OMET Group made good of its tradition and awarded 38 scholarships to the most deserving sons and daughters of its employees, attending high school or universities with excellent results. The virtual ceremony took place on Decemeber 15th.
The initiative, carried out by the OMET Group for several years, meets the attention always paid to people, training and merit. "We want to award scholarships even in this difficult year, to keep the promise and to underline how merit and academic commitment must always be a priority to be valued" said Antonio Bartesaghi, President of the OMET Group, during the ceremony.
"In life, as in work and study, times for expansion always alternate with difficulties – said Bartesaghi to the students -. We must face them with serenity and determination, because these moments are never completely negative but offer hidden advantages and opportunities for improvement. We have done the same in our companies. In this period of market slowdown, OMET had the opportunity to improve processes and face important reorganization plans. O-PAC has enjoyed a positive contingent situation because of the demand for cleaning and disinfection products, so high that requests went beyond our possibilities and in some cases we chose to give up for ethics reasons. In general we have learned new things, for example deal with virtual means, we have suffered from the lack of sociality but acquired tools that will prove valuable in the future. There is still a lot of uncertainty, but we have never slowed down our investments and we move forward with confidence. I hope next year I will have the pride of hosting you at the new OMET headquarters in Molteno, which will be inaugurated in 2021".
The students had the opportunity to exchange opinions about their studies and on distance learning, and they received words of encouragement and trust from Bartesaghi for their academic and working future. "Congratulations for your commitment and your passion. Good luck to make your dreams come true" concluded Bartesaghi.
————-
Il Gruppo OMET premia i figli dei dipendenti con 38 borse di studio
Anche nel 2020, nonostante le difficoltà dovute alla pandemia globale e al conseguente rallentamento del mercato, il Gruppo OMET ha tenuto fede alla propria tradizione e con una cerimonia a distanza ha consegnato 38 borse di studio ai figli più meritevoli dei propri dipendenti che frequentano scuole superiori o università ottenendo risultati di eccellenza nell'anno scolastico 2019/2020.
L'iniziativa, che il Gruppo OMET porta avanti ormai da diversi anni, risponde all'attenzione da sempre dimostrata verso i propri collaboratori, la formazione dei giovani, e il riconoscimento del merito. "Abbiamo voluto assegnare le borse di studio anche in questo anno difficile, per mantenere la promessa fatta ai ragazzi e per sottolineare come il merito e l'impegno scolastico debbano essere sempre una priorità a cui dare valore" ha detto il Presidente del Gruppo OMET Antonio Bartesaghi durante la cerimonia.
"Nella vita, come nel lavoro e nello studio, i periodi di espansione si alternano sempre con quelli di difficoltà – ha detto Bartesaghi -. Bisogna affrontarli con serenità e determinazione, perché non sono mai momenti completamente negativi ma offrono vantaggi nascosti e opportunità di migliorare. Lo abbiamo fatto anche con le nostre aziende. In questo periodo di rallentamento del mercato, in OMET abbiamo avuto modo di migliorare i processi e affrontare una fase di riorganizzazione importante. O-PAC ha goduto di una situazione contingente positiva legata alla domanda di prodotti per la pulizia e la disinfezione, che ha generato richieste oltre le nostre possibilità a cui abbiamo in alcuni casi scelto di rinunciare per questioni di etica. In generale abbiamo imparato cose nuove, ci siamo abituati alla realtà virtuale, abbiamo sofferto la mancanza di socialità ma acquisito strumenti che in futuro si riveleranno preziosi. C'è ancora molta incertezza, ma non abbiamo mai rallentato i nostri investimenti e andiamo avanti con fiducia. Mi auguro il prossimo anno avrò l'orgoglio di ospitarvi presso la nuova sede OMET di Molteno, che sarà inaugurata nel 2021".
I ragazzi hanno avuto l'opportunità di scambiare opinioni sul proprio corso di studi e sulle difficoltà legate alla didattica a distanza, e di ricevere parole di incoraggiamento e di fiducia da parte di Bartesaghi per il loro futuro scolastico e lavorativo. "Congratulazioni per il vostro impegno e la vostra passione. Il mio in bocca al lupo per realizzare i vostri sogni" ha concluso Bartesaghi.