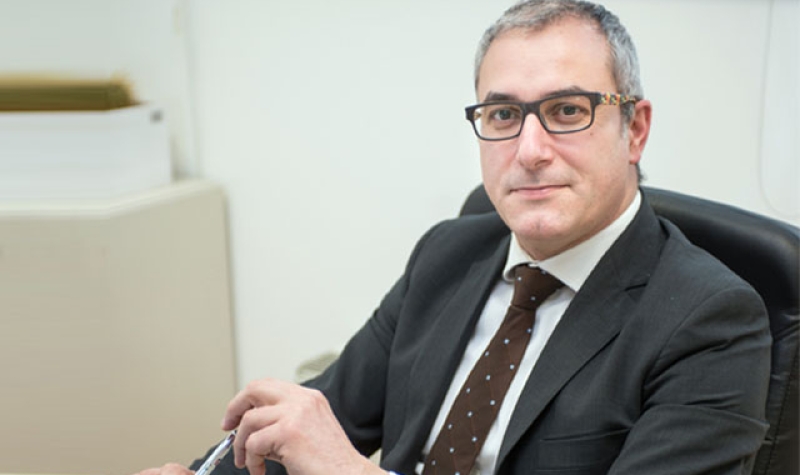 OMET Group appoints Mr Paolo Grasso as Head of Sales – Labels Business Unit
January 18, 2018
With effect of 1st of January 2018 OMET Group appoints Mr Paolo Grasso as Head of Sales –  OMET Labels Business Unit.
In his 14 years of cooperation with OMET Italy as area sales manager (Asia and ME), Grasso has been instrumental in establishing a strong base of clients and installations in one of the toughest but yet growing regions of the world. Seeing his ability to lead OMET to new and challenging territories OMET top management has appointed him the new role. Speaking on this development Mr. Marco Calcagni, Director Sales, said: "it's the right time to organise our sales activities to be able to complete our global expansion with a closer attention to each customer, as for OMET every customer is special and deserves the necessary attention. OMET, is a very innovative company with path breaking ideas in many markets, which has led OMET's growth in diverse market segments. Hence we now feel that each of these segments deserves the necessary focus. We will continue to work in this direction for the best results"
OMET Group has consistently grown in double digits in the last decade with further continuous growth expected. The newly introduced structure with separate unit for Label and Packaging markets allows us to provide dedicated resources and enhanced support to our global customer base. This step will further allow OMET to have a deeper market presence, streamlined marketing and communication and strengthen belief of customer centric approach.
In his new role, Paolo Grasso will lead the global sales team, agents and distributor network of the Label Business Unit, supporting them closely to further enhance the sales and market response. On accepting his new role, Grasso mentioned, "I'm proud of the trust OMET management has bestowed on me and will continue to work towards the company's uninterrupted growth and success. It's my great honour, as I feel the label industry deserves greater attention, seen the continuous trend of changes and innovations it is going through".
The OMET team wishes Paolo Grasso success and satisfaction in his new role.
---
Paolo Grasso promosso Head of Sales – Labels Business Unit del gruppo OMET
A partire dal 1 Gennaio 2018, Paolo Grasso ricoprirà il ruolo di responsabile vendite della Business Unit Labels del gruppo OMET
Durante i 14 anni di collaborazione con OMET come sales manager per Asia e Medio Oriente, Grasso ha creato una solida base di clienti ed installazioni ed ha costruito un'efficace rete di vendita. Trattasi di un ottimo risultato in un'area tra le più competitive e difficili a livello globale, ma anche con il tasso di crescita più rapido.
Grasso si è guadagnato il nuovo importante ruolo, affidatogli dalla dirigenza OMET, per la capacità nel saper gestire le reti vendita creando team work e valore aggiunto a tutta la catena del processo. Parlando di questa novità, Marco Calcagni (Sales Director) ha commentato: "È il momento giusto per riorganizzare le nostre attività commerciali e completare l'espansione globale. OMET è un'azienda che fa dell'innovazione continua il suo massimo punto di forza. Grazie a ciò è riuscita a crescere e conquistare diversi segmenti di mercato. Per questo motivo vogliamo dedicare la giusta attenzione a ognuno dei nostri segmenti di mercato. Continueremo a lavorare in questa direzione per raggiungere sempre nuovi orizzonti di qualità, servizio ed attenzione ai clienti".
Nell'ultimo decennio, il gruppo OMET ha sempre battuto i propri record di crescita ed i benchmark di riferimento, crescendo a doppia cifra anno dopo anno. La nuova struttura organizzativa con Business Unit separate per i mercati Label e Packaging ci permette di focalizzare un maggior numero di risorse a supporto di tutti i clienti. Questo importante passo intensificherà la presenza di OMET sul mercato, veicolando al meglio le strategie di marketing, comunicazione e servizio, raggiungendo un approccio olistico verso la clientela.
Nel suo nuovo ruolo, Paolo Grasso guiderà l'organizzazione di vendita OMET, composta di agenti, filiali e distributori, supportandoli per incrementare ulteriormente il market share. Accettando il nuovo incarico, Paolo Grasso ha commentato: "Sono orgoglioso della fiducia che il management di OMET ha riposto in me e lavorerò per assicurare all'azienda la giusta crescita ed i cambiamenti che merita. Questo incarico è un grande sfida, ma credo che l'industria delle etichette meriti massima attenzione, considerando i continui cambiamenti ed innovazioni che la caratterizzano".
Tutto il team OMET augura a Paolo Grasso il massimo successo e soddisfazione nel suo nuovo ruolo.