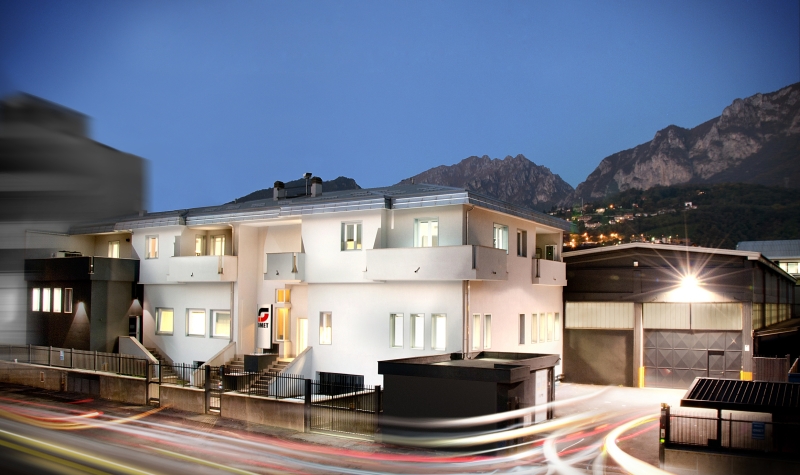 "OMET Folding Experience", an open house during the Tissue World
February 27, 2019
Double event dedicated to the tissue industry: from 25th to 27th March, OMET will attend the Tissue World in Milan and at the same time will open the doors of its plants in Lecco and Valmadrera with the open house "OMET folding experience". Shuttles will be available for transfers from the fair to OMET headquarters, where 4 production lines for napkins and folded products will be operating to show all guests the opportunities and the superior quality of Italian OMET technology.
OMET will have a prominent position at the Tissue World, crucial meeting point of the tissue industry at an international level hosted at FieraMilanoCity. At the booth D801, OMET experts will illustrate the wide range of our solutions for production and converting of tissue products like napkins, placemats, interfolded and non-interfoded towels, facial tissue and toilet paper.
On the same days of the event, from 25th to 27th March, OMET will open the doors of its historic headquarters in via Caduti a Fossoli in Lecco and of the new plant in Valmadrera (both less than one hour far from Milan). Participants will have the opportunity to know more about OMET's technological innovations, experience the superior performances of OMET machines and further explore market evolutions.
Visitors attending the Tissue World could take advantage of the shuttles organized by OMET to reach the company's production facilities, where 4 tissue lines will be operating: the new TV 840 XP, high performance automatic line for napkins with 6 printing units allowing rapid job changeover and automatic register set-up; the Chameleon by OMET digital printing unit integrated in line on a TV 503 machine for the production of napkins and customised placemats with variable graphics and data; a TV 503 XP, a new single line for high-speed printed napkins; and the complete TV 840 line with Multipack wrapping machine in-line, that will show the potential of OMET technology on the whole transformation process from the paper reel to the packaged final product.
The shuttles will leave from Milan to Lecco and back every day of the fair. You can book your visit online at http://tissue.omet.com/en/openhouse
The Tissue World, biennial event that attracts 3000 participants from over 100 countries and over 200 international exhibitors, provides an international platform for tissue manufacturers, converters, jumbo roll suppliers and an exhaustive range of industry suppliers to network and source for the latest tissue industry technologies and solutions.
---
"OMET Folding Experience", un open house in occasione del Tissue World
Doppio appuntamento con il mondo del tissue per OMET: dal 25 al 27 marzo, oltre a presenziare al Tissue World di Milano, OMET aprirà le porte delle proprie sedi produttive di Lecco e Valmadrera con l'open house "OMET folding experience". Navette dedicate saranno a disposizione per trasferimenti dalla fiera alle sedi OMET, dove saranno azionate ben 4 linee per tovaglioli e prodotti piegati, per mostrare agli ospiti tutte le opportunità e la qualità superiore della tecnologia italiana firmata OMET.
OMET avrà un posto di primo piano al Tissue World, appuntamento di riferimento per il settore a livello internazionale, che anche quest'anno si terrà in FieraMilanoCity. Allo stand D801, lo staff specializzato sarà a disposizione per illustrare l'ampia gamma di soluzioni OMET per la produzione e il converting di prodotti monouso in carta tissue come tovaglioli, tovagliette sottopiatti, tovaglioli dispenser, asciugamani interfogliati e non, facial tissue e carta igienica.
Negli stessi giorni dell'evento, dal 25 al 27 marzo, OMET aprirà le porte della propria sede storica di via Caduti a Fossoli a Lecco e del nuovo plant di Valmadrera (entrambi a meno di un'ora da Milano) per permettere a tutti gli interessati di approfondire le opportunità di mercato, apprezzare le innovazioni tecnologiche e toccare con mano le superiori performance delle macchine OMET.
I visitatori del Tissue World potranno approfittare delle navette organizzate da OMET per raggiungere le sedi produttive dell'azienda, dove saranno in funzione 4 macchine per la produzione di tovaglioli: la nuova TV 840 XP, linea automatica per alta produzione di tovaglioli con 6 gruppi stampa che permettono il cambio rapido del lavoro e la messa a registro automatica; il gruppo Chameleon by OMET per la stampa digitale inkjet OMET su tovaglioli con dati variabili, installato in linea su una OMET TV 503; una TV 503 XP, nuova linea singola per tovaglioli stampati ad alta velocità; e la linea completa TV 840 con confezionatrice Multipack in linea, che mostrerà le potenzialità della tecnologia OMET sull'intero processo di trasformazione dalla bobina di carta al prodotto finito impilato e impacchettato.
Le navette partiranno dalla fiera di Milano per Lecco e ritorno tutti i giorni della fiera. E' possibile prenotare la propria visita on-line alla pagina web http://tissue.omet.com/openhouse/ 
Il Tissue World, appuntamento biennale di rilevanza internazionale che richiama 3000 partecipanti da oltre 100 nazioni e oltre 200 espositori internazionali, è luogo di incontro priviliegiato per fornitori di macchinari, produttori di carta e bobine, converter e stakeholder del settore provenienti da tutto il mondo.