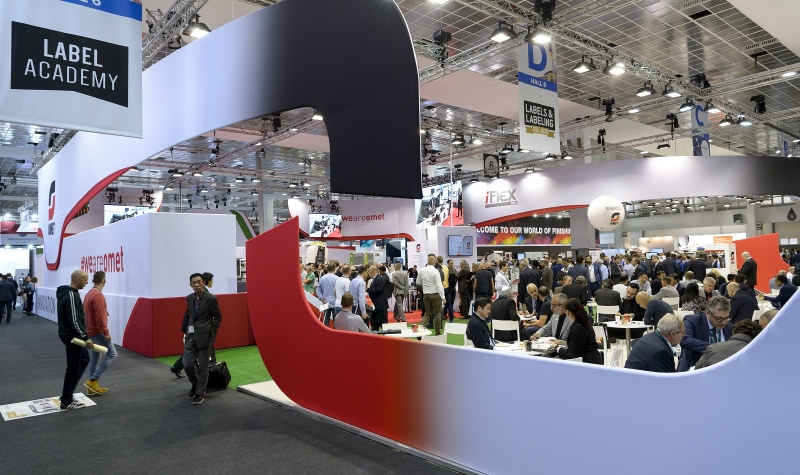 OMET enchants at Labelexpo Europe 2019
October 4, 2019
The new OMET XFlex X7 was the "queen" of the fair. Its demos attracted an extraordinary flow of interested visitors. Great attention was also paid to the demos of the new hybrid OMET XJet powered by Durst and of the iFLEX full LED version.
The most successful Labelexpo Europe ever for OMET!
Thanks to the number of innovations introduced by the Italian company were highly appreciated by the market, OMET generated an incredible amount of contacts. Orders worth 5M Euro were signed during at the show, and a lot of ongoing negotiations to be finalised in the coming weeks. One of the biggest and most elegant stand hosted thousands of people during the 4 days of the fair: it was a must-see stop for all visitors, intrigued by the great innovations showed by OMET.
OMET's world' premiere: the X7, is an actual revolution for the sector. A 670mm (26″) wide flexo-hybrid line equipped with innovative features, that integrates several printing and converting technologies in-line with a modular design. The new High Value Rotogravure printing unit (HVR) – for the first time at Labelexpo, running on water-based inks. The all new flexo station designed with Zero Gears Solution also available in the Vertical Geometry version with extended drying tunnel. X7 allows the maximum level of precision, automation, quick setup and waste control.
Another attraction for printers was the new hybrid XJet powered by Durst: the flexo+inkjet fully integrated solution, able to print the highest-quality labels and shrink sleeves. Another world premier to widen printers' business opportunities.
The third machine on demo was iFLEX in 8-LED with a new COLD FOIL SAVER that allows considerable energy savings and FOIL saving upto 50%
The project "OMET-The green side of printing" was right the topic of the show where each printer and brand-owner showed interest around the topic of sustainability. For a long time OMET's technological research has been paying attention to eco-sustainability, involving different aspects of the printing process: substrates, inks, energy, LED and waste reduction.
Last but not least, OMET was also presenting its role of solution provider in the "Core Linerless Solution" project for Linerless labels, in collaboration with Ritrama, Spilker and ILTI. OMET engineered the laminating module to process CLS self-adhesive film (Core Linerless Solution) for the transformation in a single ply Linerless web.
---
OMET incanta a Labelexpo Europe 2019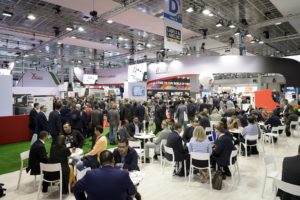 La nuova XFlex X7 è stata la macchina regina della fiera e le sue dimostrazioni di stampa hanno sempre avuto una presenza altissima di visitatori interessati. Grande attenzione anche per le dimostrazioni della nuova ibrida XJet powered by Durst e la iFLEX in versione full LED.
Grande soddisfazione per OMET dopo la partecipazione a Labelexpo Europe 2019, dove le novità presentate dall'azienda italiana sono state molto apprezzate dal mercato, con numerosi contatti e diverse vendite definite già durante la manifestazione, oltre numerose trattative che verranno chiuse nelle prossime settimane. Uno stand bello e accogliente ha ospitato migliaia di persone nel corso dei 4 giorni della fiera, una tappa fissa per tutti i visitatori incuriositi dalle grandi novità OMET.
La X7, ultima nata in casa OMET, ha rappresentato una vera rivoluzione nel settore. E' una linea flexo da 670 mm (26″) dotata di una serie di funzioni innovative, diverse tecnologie di stampa e converting in linea con design modulare: dall'unità di stampa a rotocalco con inchiostri a base acqua High Value Rotogravure (HVR), prima volta in assoluto in fiera per un gruppo rotocalco funzionante, alla nuova stazione flexo progettata con la Zero Gears Solution, anche in versione Vertical Flexo con asciugamento esteso, consente il massimo livello di precisione sul mercato, massima automazione, setup rapido e sprechi tendenti a zero.
Ad attrarre i visitatori sullo stand anche la nuova versione della ibrida XJet powered by Durst, la macchina flexo+inkjet in grado di produrre oltre ad etichette di altissima qualità anche shrink label con stampa combinata: dalla sua presentazione al mercato, ha registrato tassi crescenti di apprezzamento e installazioni. Sempre apprezzate le dimostrazioni della piccola iFLEX, presentata in fiera con una configurazione a 8 colori flexo UV-LED che permette un notevole risparmio energetico ed un asciugamento perfetto ad alta velocità, mantenendo l'alto standard qualitativo di stampa OMET, con un nuovo gruppo cold foil con saver che permette il risparmio del 50% del materiale.
Il progetto OMET – The green side of printing ha suscitato molto interesse per quanto riguarda l'attenzione alla sostenibilità nel mercato della stampa. La ricerca tecnologica OMET si sta dedicando da tempo all'ecosostenibilità, sviluppando diversi punti che incidono sulla stampa: materiali e inchiostri sostenibili, riciclo dell'aria, asciugamenti UV-LED e riduzione degli scarti.
In quest'ambito OMET ha presentato un video che illustra il processo completo del progetto "Core Linerless Solution" in collaborazione con Ritrama, Spilker e ILTI, con protagoniste le etichette Linerless. OMET ha creato il gruppo di laminazione per il processo di lavorazione del materiale CLS (Core Linerless Solution), film autoadesivo prodotto da Ritrama che si trasforma in un laminato senza liner, pronto per essere applicato sul prodotto finito con un'etichettatrice linerless.