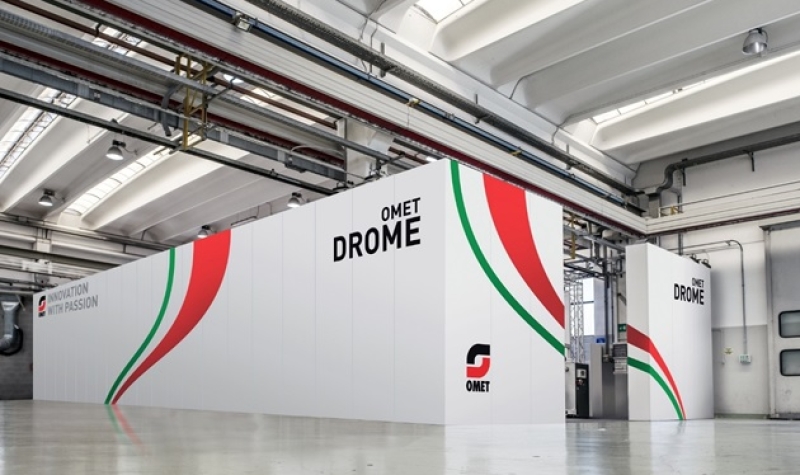 OMET Drome: the showcase of technology
October 29, 2019
The OMET plant in Molteno (LC) hosts a new demo center, inaugurated a few months ago, for tests and press demonstrations on OMET machines: more than two hundred square meters of high technology available to customers.
Seeing a printing machine working and testing it with own printing subjects or substrates is one of the most frequent requests made by printing companies when coming to OMET, be they small printers or large multinationals. To satisfy them, OMET has recently inaugurated a specific area for its customers and potential customers: over 200 square meters of space for tests and customized demos in the production plant located in Molteno, 10 km far from the headquarters in Lecco.
This is the new OMET DROME, inaugurated on the occasion of the Open House "OMET Hybrid Experience" which took place last 24-25 January with over 250 visitors. The Drome is set up to host two OMET machines and is available by reservation.
Currently, the machines hosted by the Drome are a super-equipped iFLEX for label printing and an XJet powered by Durst for hybrid flexo + inkjet printing.
To date, OMET Drome has hosted dozens of demos, proving to be an extremely appreciated technological showcase for printers from all over the world.
---
OMET Drome: la vetrina della tecnologia
Nella sede OMET di Molteno (LC) è da pochi mesi attivo un nuovo demo center che ospita i test e le dimostrazioni di stampa sulle macchine OMET: oltre duecento metri quadrati di alta tecnologia a disposizione dei clienti.
La possibilità di vedere una macchina da stampa in funzione e di testarla con i propri soggetti di stampa o materiali è una delle esigenze più importanti per un'azienda di stampa, dal piccolo stampatore alla grande multinazionale.
OMET ha recentemente messo a disposizione dei propri clienti e potenziali clienti un'area dedicata, con oltre 200 metri quadrati di spazio per la realizzazione di test e demo, anche personalizzate, all'interno del polo produttivo di Molteno situato a 10 km dalla sede centrale di Lecco.
Si tratta del nuovo OMET DROME, inaugurato in occasione dell'Open House "OMET Hybrid Experience" che ha avuto luogo il 24 e 25 Gennaio con oltre 250 visitatori. Il Drome è allestito per ospitare due macchine OMET ed è disponibile su prenotazione.
Attualmente, le macchine allestite all'interno del Drome sono una iFLEX super accessoriata per la stampa di etichette e una XJet powered by Durst per la stampa ibrida flexo + inkjet.
Ad oggi sono l'OMET Drome ha ospitato decine di demo, dimostrando di essere un'apprezzatissima vetrina tecnologica per gli stampatori di tutto il mondo.