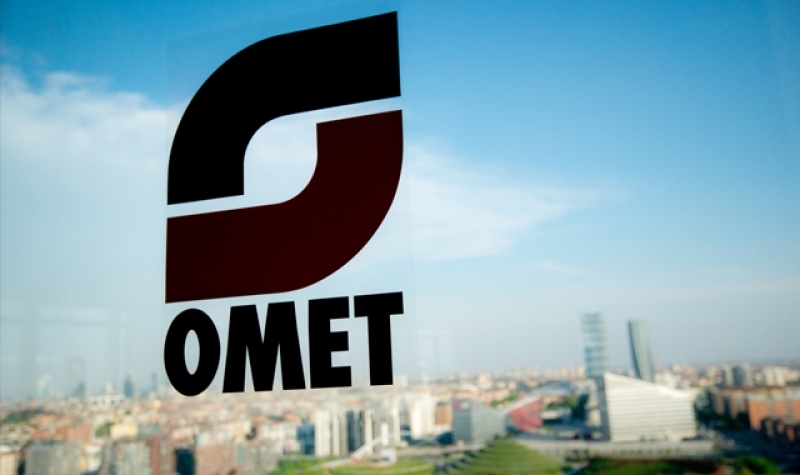 OMET celebrates success in tissue market with prestigious customers
April 13, 2017
Tissue World in Milan and Open House in Lecco. Three days focused on networking and sharing knowledge, culminated in the great gala dinner "OMET Night Out – Tissue Over Milan" at the restaurant UNICO in Milan, exclusive location completely reserved for OMET and its important guests.
The panoramic terrace at the 20th floor of the renowned Milanese restaurant, with unmatchable view on the entire Milan skyline. It was the perfect location for the exclusive event organized by OMET the 11 April, where nearly 100 people among which historic customers, suppliers and important journalists of the sector, enjoyed a gourmet dinner and shared a pleasant night.
During the gala night, OMET wanted to demonstrate sincere gratitude to its partners with a simple gift, sign of long-lasting collaboration through the years. Their trust in OMET technology is the best prove of the quality and reliability of the products and the support offered by the Italian company, worldwide leader in this market.
"So far, 2017 has been the best year ever in terms of number of orders and installations – commented Marco Calcagni, OMET commercial director -. OMET continuous growth is the demonstration of the strong trust of the market in our technology and quality".
The gala event was organized during the Tissue World Milan, one of the most important trade fair of the tissue industry, taking place at FieraMilanoCity from 10th to 12th April. OMET took part to the exhibition with a private space inside the IT's Tissue's booth, the biggest and most appreciated stand of the entire exposition, which attracted many people interested in Italian tissue technology. The 12 companies forming the Tissue Italy network and representing Italian excellence in the tissue market, are the organizers of the IT's Tissue event, whose next edition will take place from 25 to 29 June 2018.
During the exhibition, OMET reached an agreement with WEPA Italia, big tissue converter for many famous brands, for the sale of a TV840 with 6 colors and micro-embossing station. The very complex configuration is enhanced with many accessory units, making it a special line able to satisfy different kinds of jobs.
Concurrently to the Tissue World, OMET opened the doors of its production site to give the opportunity to touch by hand the entire product portfolio of tissue converting machines. Among the six operative machines, the main attraction was Chameleon, the new digital inkjet printing group, integrated on TV503 line, able to produce customized napkins with variable data images, without pre-press downtime and equipment costs. The new version features 17" (432 cm) print width and automatic cleaning systems of the printing heads. Another big innovation showed during the Open House was the Improved Bonding Technology system: a brand new solution for improved laminating capability on the embossing station, enabling the perfect adherence of the plies, installed on OMET TV840.6 line, for the production of 2-ply printed napkins with colored embossing pattern.
---

A Milano OMET celebra il successo con i migliori clienti del settore Tissue
Tissue World a Milano e Open House a Lecco. Tre giorni di importanti contatti e spettacolari dimostrazioni per la OMET, culminati con la serata "OMET Night Out" all'UNICO di Milano, esclusiva location riservata totalmente alla OMET e ai suoi clienti e partner più storici e prestigiosi.
La terrazza panoramica del prestigioso ristorante milanese, situato al 20° piano con vista sul Duomo e sulla skyline di Milano, ha ospitato nella serata dell'11 aprile un centinaio di persone fra clienti provenienti da diversi Paesi del mondo, operatori del settore e giornalisti delle maggiori testate nazionali e internazionali.
Durante la cena, OMET ha voluto omaggiare i clienti con un segno di ringraziamento per la collaborazione che in alcuni casi dura da alcuni decenni. La loro fiducia nelle macchine e nel lavoro della OMET, è testimonianza della qualità e dell'affidabilità del prodotto e del servizio offerti dall'azienda lecchese, leader di settore in Italia e nel mondo.
"Il 2017, fino ad ora ed anche in prospettiva, è il migliore per numero di ordini e installazioni – commenta Marco Calcagni, Direttore Commerciale OMET –. La crescita continua di OMET è la dimostrazione della qualità della nostra offerta e della fiducia del mercato".
La serata è stata organizzata in occasione della fiera Tissue World, uno tra gli eventi più importanti a livello mondiale al servizio dell'industria del tissue, in corso a Milano dal 10 al 12 aprile. OMET è presente in fiera con il proprio spazio all'interno dello stand delle 12 aziende della rete Tissue Italy (organizzatori dell'evento It's Tissue, prossima edizione dal 25 al 29 Giugno 2018) che rappresentano l'eccellenza tecnologica italiana nel mondo del tissue. Lo stand, in assoluto il più apprezzato e visitato della fiera, ha registrato grande affluenza ed elevato interesse per le linee OMET.
In fiera è stato siglato un accordo per la vendita di una macchina TV840 a 6 colori con goffratura punta punta alla WEPA Italia di Lucca, produttore articoli di carta e cartone con marchi molto noti. La configurazione, molto complessa, si arricchisce di molti altri accessori che rendono la linea sicuramente interessante e con molte possibilità di produzioni tra loro diverse.
Negli stessi giorni della fiera OMET ha aperto le porte della sede produttiva dedicata alle macchine tissue in Via Caduti a Fossoli a Lecco, per dare modo di conoscere da vicino altre linee della gamma OMET per il tissue. Sei le macchine in funzione: in pratica, il portfolio completo OMET, tra cui spicca Chameleon, la nuova unità digitale inkjet su tovaglioli che consente di stampare tovaglioli personalizzati, con qualsiasi immagine digitale, senza i costi e i tempi legati ai clichè e anche in piccole tirature. All'Open House è in funzione su una linea OMET TV503, nella versione larghezza stampa 17″ (432 mm) e con pulizia automatica delle testine. Tra le altre novità presentate, l'Improved Bonding Technology: la nuova tecnologia di laminazione su goffratore che permette la perfetta unione dei veli del tovagliolo, installato su una linea OMET TV840.6 per la produzione di tovaglioli con due veli di colori differenti e con goffratura colorata.