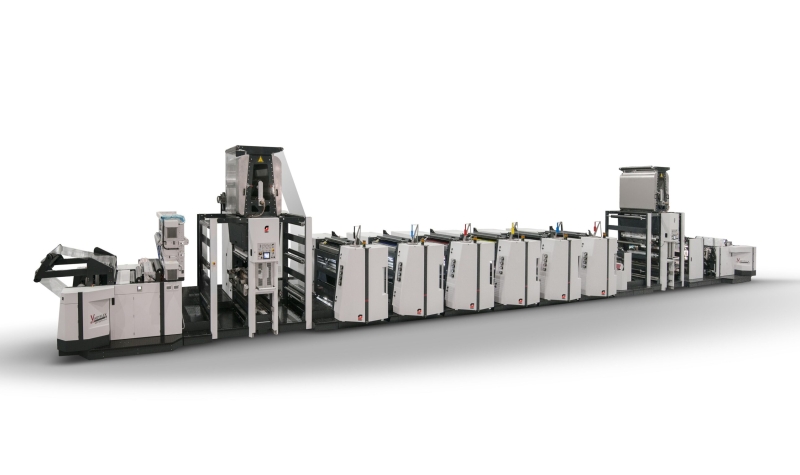 OMET brings a new "Packaging Revolution" with OMET VaryFlex V4
November 30, 2020
OMET has been on the forefront of bringing new revolutions in the labels and package printing sector for decades. Following this ambition and its continuous investment in technological research, OMET will showcase the new VARYFLEX V4 during the live streaming open house "Packaging Revolution" on the 3rd Of December 2020 in two sessions at 9.30 am and 4 pm. This machine is a path breaking solution for the flexible packaging printing and converting industry, which combines quality, sustainability and flexibility with significant cost savings. Printers will also be shown the unlimited opportunities this machine provides by bringing together various printing and drying technologies such as Offset Sleeve, Gravure, Flexo, UV or Electronic Beam (EB)
The future comes faster than you can think, and to keep up with the future, means a continuous investment in technology! This has been the secret of success for OMET, a company which continues to invest in path breaking technologies, by entering newer markets and exploring new ideas which brings in revolutions in the printing and packaging industry! In the recent past, OMET has been offering high-tech printing solutions for the packaging sector and has received excellent feedback from significant international clients in the sector, who have chosen to collaborate with the company for their latest innovations.
The flexible Packaging market is constantly evolving and is looking for revolutionary solutions in areas of flexibility, quality, speed and safety. Amongst these, flexibility of the machine is of utmost importance because of the changing dynamics of the market. Considering flexible packaging is easier to print as compared to other materials and offers a unique variety of shapes, sizes and formats, it allows brands owners to work on added value solutions and hit the target consumers with greater precision. Additionally, prints runs are becoming shorter due to frequent changes in pack, products are getting increasingly personalised and reduction in time-to-market makes speed a crucial element. This along with high demands of print quality aiding in visual impact on shelves and safety of the pack improving the product shelf life collectively form the new demands brand owners and printers have, for which they need promising solutions.
Sensing the opportunity to meet these demands, OMET is going to present an extremely flexible hybrid machine, allowing very rapid change overs not only in offset printing, but also on flexo and rotogravure units which are integrated inline. The new Varyflex V4 Offset, being presented during the "Packaging Revolution" steaming event has 850mm offset units with patented OMET sleeve technology. The machine is capable to print with a maximum mechanical speed of 400m/min in combination with the new generation high speed gravure printing units. OMET also offers the possibility of adding in-line high performance flexo units shall the printers require the same.
The new gravure unit is designed for the application of solids and special effects on high quality sleeves, labels and flexible packaging. It is equipped with Direct Drive transmission on the printing cylinder, with no gears or bearings, thus allowing exceptional printing results for each job. The OMET gravure unit offers extreme ease of access on both sides and is equipped with an integrated chill drum and doctor blade with double-sided printing capability. This printing line has the new Easy Sleeve Format Change with automatic printing pressures control that allows a complete job change in a few minutes. OMET Varyflex V4 has been designed to work with different configurations such as Wet-On-Dry with UV drying between the printing units, Wet-On-Wet with UV drying or, available on request is, EBeam drying, with an extreme process flexibility.
During the OMET virtual Open House to be held on December 3rd the machine on demo will be shown with 6 Varyflex V4 offset units equipped with UV drying and two rotogravure units with hot air drying capability. It will print, various jobs on PET material with quick change of the print subject.
Thanks to the EBeam system and low migration inks, the OMET Varyflex V4 is a safe solution for printing direct food packaging, avoiding the risk of ink or solvent residues on the packaging. Beyond the use of inks without photo-initiators, OMET offers further sustainable solutions such as wet-on-wet printing with extremely reduced material waste, Ebeam drying with reduced power supply and further cost savings or Flexo Ebeam printing that avoid the use of ultraviolet, hot air drying system and solvents in the inks. In other words, the OMET Varyflex V4 Offset has been designed to cater to the unmet market needs and bring together all the desired benefits such as of profitability, quality and safety. With this new line, OMET expands its portfolio, by consolidating its position in the flexible packaging market, and answering to the widespread need for greater added value and customization.
OMET has chosen to broadcast this open house live to all its global users, as virtual events are fast becoming the new standard as the spread of the Coronavirus pandemic continues and it's not advised to travel internationally. This is in line with trends followed by major marketing events, which have been organized on digital platforms with excellent results, increasing safety of the participants and maintaining high effectiveness in communication.
If you are interested in attending the event please send an email to mkt@omet.it
---
Con VaryFlex V4 OMET inizia la "Packaging Revolution"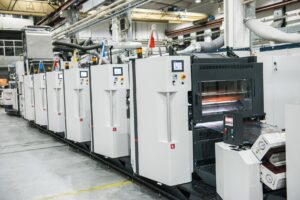 Investimento continuo nella ricerca tecnologica. Il 3 dicembre 2020 OMET mostrerà le prestazioni della nuova VaryFlex V4 durante l'open house in live streaming "Packaging Revolution ": una macchina dedicata alla stampa e il converting di flexible packaging che permette di unire in modo armonico qualità, sostenibilità e flessibilità, con un notevole risparmio sui costi e opportunità illimitate: offset, rotocalco, flexo, UV o EB.
Stare al passo col futuro vuol dire investire in tecnologia. Ed è quello che continua a fare OMET con le sue macchine entrando in nuovi mercati, ma non solo. Con il perdurare della pandemia di Coronavirus, gli eventi virtuali stanno rapidamente diventando il nuovo standard. In questo periodo, importanti eventi di marketing vengono organizzati su piattaforme digitali con ottimi risultati, aumentando la sicurezza dei partecipanti e mantenendo un'elevata efficacia nella comunicazione. OMET sta investendo anche in questa tecnologia.
Da alcuni anni OMET offre delle soluzioni di stampa ad alta tecnologia per il settore del packaging, con ottimi riscontri di installazioni e collaborazioni con importanti gruppi multinazionali. Il mercato è in continua evoluzione e cerca di soluzioni adeguate ed efficienti in termini di flessibilità, qualità e sicurezza. Flessibilità perché spesso vengono richieste più versioni dello stesso packaging a fronte – per esempio – di iniziative di marketing. Gli imballaggi flessibili sono più facili da stampare rispetto ad altri packaging ed offrono una varietà unica di forme, taglie e formati che permettono di lavorare sul valore aggiunto e centrare il target di mercato con maggior precisione.
Le tirature tendono a diminuire perché si cambia spesso, i prodotti sono sempre più personalizzati ed è cruciale la velocità per ridurre i tempi di time-to-market. La qualità del packaging non può essere sacrificata, perché determina spesso la scelta del consumatore, ed è fondamentale per massimizzare l'impatto visivo a scaffale. La sicurezza, qui citata per ultima, è forse il fattore critico di successo del flexible packaging per le proprietà barriera che migliorano e allungano la conservazione dei prodotti.
Per venire incontro alle esigenze degli stampatori, OMET presenta una macchina ibrida estremamente flessibile, che permette rapidissimi cambi di lavoro non solo sui gruppi di stampa offset, ma anche sui gruppi flexo e rotocalco che possono integrare la linea ottimizzando qualità del prodotto finito e costi di gestione della linea.
La Varyflex V4 Offset che sarà presentata durante l'evento streaming "Packaging Revolution" monta gruppi offset in fascia 850 mm con tecnologia Sleeve OMET brevettata, capaci di arrivare ad una velocità meccanica massima di 400 m/min, in combinazione con gruppi rotocalco di nuova generazione, con la possibilità di aggiungere in linea anche gruppi flexo ad alte prestazioni. La nuova unità rotocalco è progettata per l'applicazione di solidi ed effetti speciali su sleeve, etichette e imballaggi flessibili di alta qualità. È dotato di trasmissione Direct Drive sul cilindro di stampa, senza ingranaggi e senza cuscinetti che consente risultati di stampa eccezionali ad ogni tiratura. L'unità rotocalco OMET offre estrema accessibilità su entrambi i lati ed è dotata di tamburo di raffreddamento integrato e racla con capacità di stampa fronte e retro.
La nuova linea di stampa dispone del sistema cambio rapido a sleeve (Easy Sleeve Format Change) con controllo automatico delle pressioni di stampa che permettono un cambio formato completo in pochi minuti. E' stata progettata per lavorare con diverse configurazioni: Wet-On-Dry con asciugamento UV tra un gruppo stampa e l'altro; Wet-On-Wet con asciugamento UV oppure, su richiesta, con asciugamento EBeam, mantenendo un'estrema flessibilità di processo. Durante l'Open House virtuale verrà mostrata la soluzione con 6 gruppi offset con asciugamento UV e due gruppi rotocalco con asciugamento ad aria calda, per la stampa di diversi lavori su materiale PET con cambio rapido del soggetto di stampa.
Grazie all'integrazione del sistema EBeam e all'utilizzo di inchiostri a bassa migrazione, la Varyflex V4 si presenta come soluzione sicura per la stampa di imballaggi alimentari, eliminando completamente il rischio di residui di inchiostro o solvente sul packaging. Oltre all'utilizzo di inchiostri senza foto-iniziatori, OMET offre ulteriori soluzioni che sposano la sostenibilità: la stampa wet-on-wet con passaggio materiale ridottissimo permette uno scarto di materiale estremamente ridotto; l'utilizzo dell'asciugamento Ebeam con alimentazione elettrica ridotta consente un ulteriore risparmio dei costi; la stampa Flexo Ebeam permette di non utilizzare ultravioletti, cappe di aspirazione e solventi negli inchiostri.
In altre parole, la Varyflex V4 Offset è stata progettata per anticipare le esigenze del mercato e portare alle aziende tutti i vantaggi in termini di redditività, qualità e sicurezza. Con questa linea, OMET amplia la propria gamma consolidando la sua posizione nel mercato dell'imballaggio flessibile, rispondendo alla diffusa esigenza di maggior valore aggiunto e personalizzazione.
Per partecipare all'evento, mandare una richiesta via e-mail all'indirizzo mkt@omet.it.