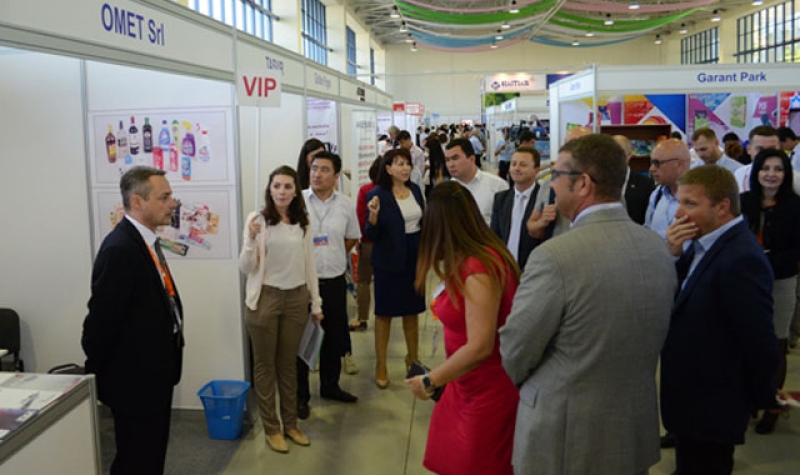 OMET at Uzbekprint-Uzupack 2016
October 11, 2016
From 14 to 16 September 2016 in the beautiful capital of Uzbekistan Tashkent the international exhibition Uzbekprint-Uzupack was open to visitors. Among the exhibitors coming from more than ten countries, OMET srl participated with its own stand.
Many visitors from Uzbekistan and neighboring countries attended the event actively. This particular interest was due to the growing trend of local market as well as the strong orientation of Uzbek economy towards the local production incentivisation.
In addition, the development of local food industry has created an increasing demand for packaging such as labels, flexible packaging and cardboard. Uzbek potential customers showed a lot of interest and curiosity in the newest technologies and production possibilities offered by the different international suppliers. They were attracted especially from OMET's innovations in flexo, offset and combined printing technologies. In fact, OMET's machines can combine all the available technologies with in-line versatile finishing possibilities, so that customers can have everything they need in one single machine.
During the exhibition, OMET's representatives welcomed visitors in very friendly and hospitable atmosphere to answer questions and present new products, creating the basis for future projects in a highly prospective market such as Uzbek printing industry.
---
OMET  Uzbekprint-Uzupack 2016
Dal 14 al 16 Settembre 2016 si è tenuta a Tashkent, bellissima capitale dell'Uzbekistan, la fiera internazionale Uzbekprint-Uzupack in cui OMET si è distinta con il proprio stand, tra numerosi espositori provenienti da più di dieci paesi.
L'evento ha richiamato l'attenzione di molti visitatori uzbeki e dei paesi limitrofi che hanno fatto registrare una presenza sopra le aspettative. Questo particolare interesse è attribuibile sia al trend crescente del mercato locale, sia al forte orientamento dell'economia uzbeka verso una politica di incentivazione e supporto della produzione locale. Inoltre, il continuo sviluppo dell'industria alimentare ha portato a un sostanziale incremento della domanda di packaging in tutte le sue tipologie: etichette, imballaggio flessibile e cartoncino pieghevole. Molti visitatori hanno mostrato particolare interesse e curiosità per le numerose possibilità produttive offerte dai diversi espositori e per le tecnologie di ultima generazione.
Enorme successo per le innovazioni presentate da OMET nella stampa flessografica, offset e nella tecnologia combinata. Questa caratteristica è da sempre punto di forza di tutte le macchine OMET, che permettono di combinare diverse tecnologie di stampa con esclusivi moduli di nobilitazione e conversione in linea, offrendo la possibilità di ottenere sempre il prodotto finito in un solo passaggio.
Durante la fiera, i rappresentanti OMET hanno accolto i visitatori in un'atmosfera amichevole e ospitale, rispondendo alle domande su mercato e prodotti, creando importanti basi per futuri progetti in un mercato dalle grandi prospettive come quello uzbeko.