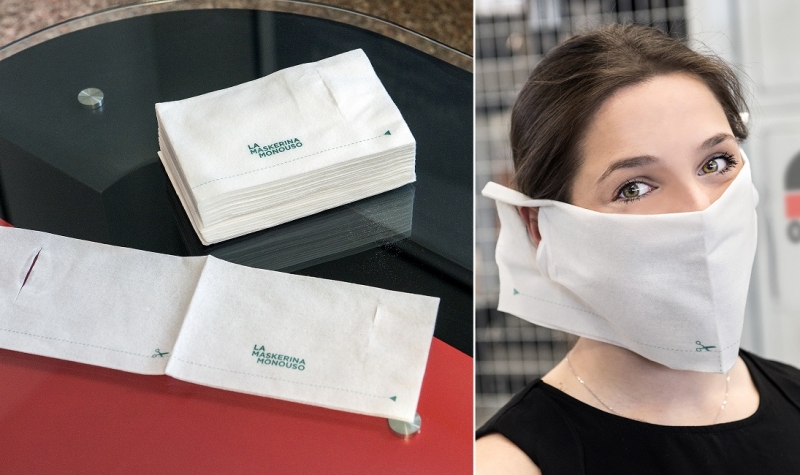 OMET AT THE FOREFRONT OF THE FIGHT AGAINST COVID-19
April 24, 2020
Some OMET tissue napkins converting machines adapted to the production of disposable masks are already working at some customers' factories. OMET offers its TV 503 Line already configured for this production with short-term deliveries.
OMET doesn't stop but it's deployed in the front line to face the state of emergency that is affecting the entire planet, offering the opportunity to make a contribution and concrete help to the growing demand of filter masks.
OMET TV 503 production line, which some customer is already using for this purpose, thanks to its reliability and performances, can produce up to 1.000 masks per minute. These are extremely comfortable and simply to use filter masks.
The delivery of these machines is available in the short term, for more information contact your reference OMET sales manager or send an e-mail to comm@omet.it.
---
OMET IN PRIMA LINEA PER COMBATTERE IL COVID-19
Sono già in funzione presso alcuni clienti le macchine OMET per la produzione di tovaglioli convertite alla produzione di mascherine monouso. OMET offre la propria linea TV503, già configurata per questa produzione, con consegne nel breve periodo.
OMET non si ferma, anzi è schierata in prima linea per far fronte allo stato di emergenza che sta colpendo l'intero pianeta, offrendo la possibilità di dare un contributo e aiuto concreto alla crescente domanda di produzione di mascherine filtranti.
La linea di produzione OMET TV503, che già qualche cliente sta utilizzando a questo scopo, grazie alla sua affidabilità e performance può arrivare a produrre fino a 1000 mascherine al minuto. Si tratta di mascherine filtranti  estremamente comode e semplici da utilizzare.
La consegna di queste macchine è disponibile nel breve periodo, per maggiori informazioni contattare il proprio venditore di riferimento o mandare email al seguente indirizzo: comm@omet.it.
Nella foto: Mascherina prodotta con linea OMET, è possibile ridurre l'ingombro della mascherina tagliando lungo la linea tratteggiata.