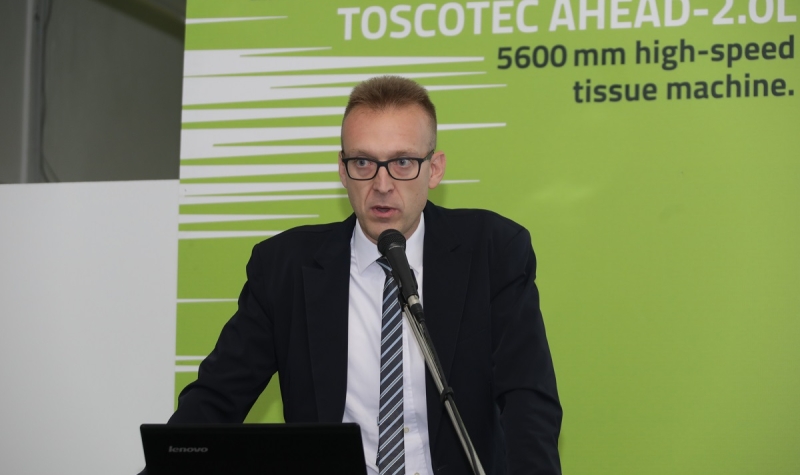 OMET at MIAC Conference 2018: new applications for tissue folded products
December 18, 2018
OMET took part at the MIAC Tissue Conference "Toward the Tissue Converting Plant 4.0" on October 11th, 2018 with a speech of Alberto Colombo, product manager of OMET Tissue Division.
In an increasingly competitive international environment, tissue products have to be produced with increasing efficiency, promptly responding to market demands and new consumer needs. Moving in parallel with the production line, both of the paper mill and of the converting, we will face several critical points of the process presenting the best available technologies to increase performance, quality and process management.
Over recent years, process automation and product innovation have been the trends followed by the paper and tissue companies to stand out in an increasing global competition.
OMET, leading manufacturer of tissue converting machines for folded products (such as napkins, towels and other single-use products), is always looking for solutions that can help its customers to gain competitive advantage on the market. Following the new trends in process automation and product innovation, OMET has invested in research and development in particular in two fields: production flexibility and automation upgrade.
The main innovation recently proposed by OMET is the digital printing on paper napkins, which allows a simple, radical and economical way to print personalized napkins even in small quantities. Thanks to the Chameleon digital printing unit by OMET, installed in-line on a TV503 machine, clients can print any digital image on paper napkins in less than a minute, without any pre-printing costs and even for a single napkin. This is flexibility at maximum level!
Chameleon by OMET can be managed with a software installed on the machine, easy and intuitive for any operator. It allows to print any kind of graphic and variable data at a speed of 200 meters per minute (depending on the required resolution), with just-in-time delivery times. This new OMET solution can be considered a true marketing tool offering endless possibilities.
OMET has also invested to develop systems to update existing machines to create new products and new solutions, offering new opportunities for converters all over the world. The new ASV Line for interfolded products presented in 2018 is having a huge success thanks to several factors: it boasts the maximum production speed on the market for this kind of product, it has a new vacuum-fold technology and a production process completely automated with independent engines distributed on the line.
The ASV Line allows different kind of folds (V or W) on towels, facial tissues and toilet paper with two or three plies.
OMET is developing other innovations to improve automation and production flexibility. For example, we have the new FV Line, fully automatic and high-performing vacuum folding machine for high production of napkins. Or the electronic revolution on the TV840 XP and TV503 XP lines: these are fully servo driven machines that allow advanced printing with an higher dot gain than the existing ones. This is possible thanks to the servo drives positioned on the printing cylinders, the automatic printing register system, as well as the possibility to memorize and recall the parameters of every job through the RFID devices.
The OMET No-Stop unwinder, available for both TV503 line and TV840 line, allows to change paper rolls without stopping the machine but simply slowing down the speed, by automatically cutting and joining the low and the new paper roll. Thanks to OMET's technology, for the first time this process can work both for single and two-ply products. This assures a considerable cost saving and an increase in productivity around 10-15% per year. The innovative IBT embossing system with Improved Bonding Technology enables a stronger bonding of the plies compared to standard embossing systems, even with medium-quality and recycled materials, also creating colored embossing.
---
OMET al MIAC 2018: nuove applicazioni di prodotti piegati nel tissue
OMET ha preso parte al Convegno del MIAC "Verso il Converting Tissue 4.0" il giorno 11 ottobre 2018 con la presentazione di Alberto Colombo, product manager divisione Tissue OMET.
In un contesto internazionale sempre più competitivo, i prodotti tissue devono essere realizzati con sempre maggiore efficienza rispondendo tempestivamente alle richieste del mercato e alle nuove esigenze del consumatore. Viaggiando in parallelo con la linea produttiva, sia della cartiera che del converting, affronteremo quindi diversi punti critici del processo produttivo presentando le migliori tecnologie disponibili per incrementare le prestazioni, la qualità e la gestione del processo.
L'automazione del processo e l'innovazione del prodotto sono i trend che negli ultimi anni stanno guidando le aziende di produzione del settore carta e tissue per distinguersi dalla sempre più acerrima concorrenza globale.
OMET, come produttore leader nell'innovazione di macchine per produzione di prodotti piegati come tovaglioli, asciugamani e altri prodotti monouso, è da sempre in cerca di soluzioni che possano offrire ai propri clienti la possibilità di emergere sul mercato. Per seguire i nuovi trend di automazione del processo e innovazione del prodotto, OMET ha investito con la propria Ricerca & Sviluppo verso due principali obiettivi: la flessibilità produttiva e l'aumento del livello di automazione delle proprie macchine.
La principale innovazione proposta da OMET negli ultimi anni riguarda la stampa digitale su tovaglioli di carta, che permette in modo semplice, radido ed economico di realizzare tovaglioli personalizzati anche in tirature minime. Grazie all'unità di stampa digitale Chameleon by OMET, installata in linea sulla macchina TV503, è possibile oggi stampare qualsiasi immagine digitale su tovagliolo in carta in meno di un minuto, senza alcun costo di pre-stampa ed anche per un solo tovagliolo per tipo. Flessibilità alla massima potenza!
La stampa digitale Chameleon by OMET è gestita da un software su PC installato sulla macchina ed è semplice ed intuitiva per qualsiasi operatore, permette di stampare grafiche di ogni tipo e dati variabili ad una velocità di 200 metri al minuto (dipende dalla risoluzione richiesta), con tempi di consegna just-in-time. Con questa nuova soluzione OMET offre non solo una macchina di produzione ma un vero e proprio strumento di marketing, con infinite possibilità di applicazione.
OMET ha inoltre investito per creare macchine in grado di realizzare nuovi prodotti e nuove soluzioni su macchine esistenti, offrendo nuove opportunità ai converter di tutto il mondo.
La nuova ASV Line, presentata nel 2018, è la macchina per prodotti interfogliati che sta avendo un enorme successo, grazie alla massima velocità produttiva sul mercato per questa tipologia di prodotto, ad una testa di piega aspirata di nuova concezione ed alla completa automazione di tutto il processo produttivo grazie agli azionamenti a motori indipendenti distribuiti sulla linea.
La ASV Line permette di realizzare differenti pieghe a V o a W su asciugamani, facial tissue e carta igienica a due o tre veli.
Altre novità proposte da OMET con l'obiettivo dell'automazione e della flessibilità produttiva sono la nuova linea FV a piega aspirata per alte produzioni di tovaglioli, con processo completamente automatizzato fino a 6 linee e la rivoluzione elettronica applicata sulle linee TV840 XP e TV503 XP: macchine completamente servo comandate che permettono una stampa evoluta con un dot gain superiore alle macchine esistenti, grazie ai servomotori sui cilindri di stampa ed un sistema di registro di stampa automatico, oltre alla possibilità di richiamare le coordinate di stampa grazie a dispositivi RFID installate sui cilindri di stampa.
Lo svolgitore No-Stop OMET, disponibile sia per TV503 line che per TV840 line, permette il cambio bobina automatico senza mai fermare la produzione della macchina, semplicemente rallentandone la corsa, con un taglio e giunta automatica realizzata fra la bobina in esaurimento e la nuova bobina di carta da utilizzare. Un processo che, per la prima volta grazie ad OMET, è utilizzabile sia per i prodotti monovelo che per quelli bivelo. Questo garantisce un risparmio di costi notevole ed un aumento della produttività quantificabile in un 10-15% annuo.
Il nuovo gruppo di laminazione a colla IBT, Improved Bonding Technology, permette la perfetta adesione dei veli anche con materiali di media qualità e riciclati, realizzando anche goffrature con trame colorate.