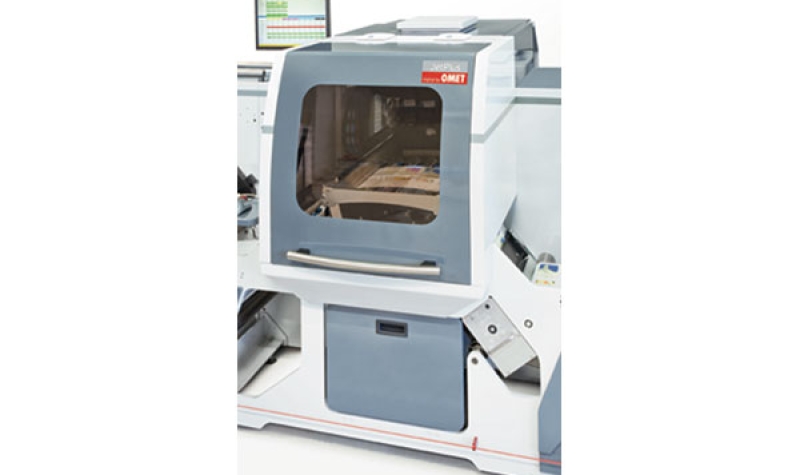 OMET announces that the digital inkjet unit JetPlus has successfully outdone all field tests and is now available for sale
July 28, 2014
After a period of testing the company has given its OK to the sale of the new digital inkjet printing unit named JetPlus. The technology is the result of the cooperation with the Swiss company Domino, provider of the inkjet module, and the work of OMET's R&D team that is responsible for its perfect integration into the presses and the achievement of important results for what concerns the speed of operation and the general cost management.
With JetPlus, OMET adds another important piece to its multi-technology, multi-substrate, multi-application machine offer, with digital inkjet fitting into OMET's in-line printing, converting, finishing and delivery solution package for real all-in-one-pass production. On the same press line it is possible to add flexo and offset groups, for the printing of pantones and solids, digital for cmyk or pantone printing, cold and hot foil, screen printing for special effects, UV lamination when needed and, finally, die-cutting and embossing. All processes are performed in-line with no need of extra converting work offline, generally quite expensive as for energy spending, handling costs and operators' work.
JetPlus allows printing and die-cutting at an average speed of 60 meters per minute (most recent tests have validated this speed) thanks to the presence of Monotwin Cut, the die-cutting system patented by OMET. In case of variation of the die-cutting shape, the change is carried out rapidly with no need to neither replace the magnetic cylinder nor adjust the die-cutting unit since pre-register settings are automatic with respect both to digital or flexo. Monotwin Cut is equipped with standard gap-master to promote a longer and better use of dies.
The rapidity of start-ups with minimum waste involved, and the fast changeovers, even in presence of rather different print jobs, confirm the efficiency of the flexo/digital press for the printing of small runs handling a great variability of materials and designs, and coping with just-in-time deliveries. Through JetPlus, jobs that normally would not be convenient if printed on a much higher productive machine or on equipment with by far complex configurations, become possible with the guarantee of the highest quality.
So states Marco Calcagni, sales and marketing director of OMET: "JetPlus is for converters a flexible, economic, compact solution capable of delivering in one stop the upmost quality, the highest productivity and increased savings of time and waste. Such a technology was still missing in the market and we are confident that converters will take the challenge of all-in-one pass production to improve their efficiency on small to long runs."