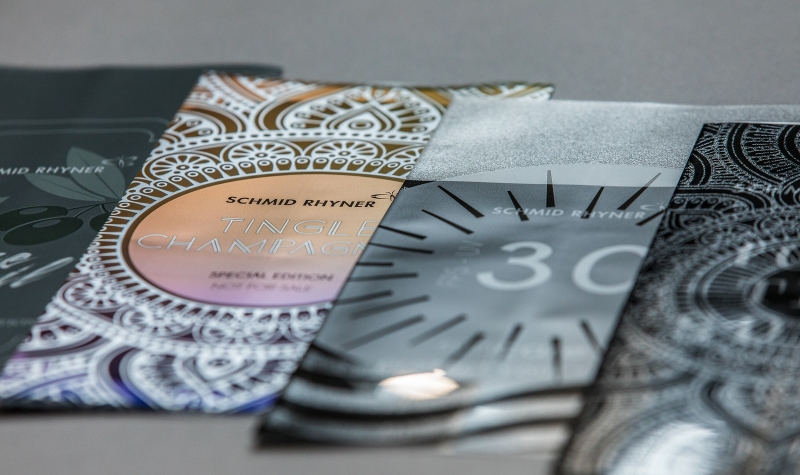 OMET and ACTEGA Schmid Rhyner: innovation for special effects
July 9, 2020
Endless possibilities to amaze with special effects. Thanks to the collaboration with ACTEGA Schmid Rhyner AG, a company which is now part of ACTEGA, world leader in the field of inks and finishes, OMET machines allow to create printed products of superior quality with aesthetic and sensorial innovations. The new OMET X7, in particular, has been designed to meet the most complex needs in this field, both in terms of finishing materials and applications.
The experience and the ability to innovate, values shared by OMET, have set off an excellence partnership that has brought new finishing effects and packaging solutions to the market, able of standing out for quality, refinement, safety and durability.
"We transform surfaces into experiences: this is the slogan of our company" explains Dr. Alexander Ossenbach, Site Manager ACTEGA Schmid Rhyner AG "Touch plays an essential role, because packaging with special feelings arouses our curiosity and emotions. It shouldn't be just functional and good-looking: packaging also conveys a message and describes the product inside it. Shopping is a sensory experience. In over 100 countries, companies of the printing and packaging sector rely on our products: UV curing coatings and adhesives of the WESSCO® brand, aqua coatings of the GALACRYL® family, solvent based products (BRIVIO®) and finally DIVAR® for digital varnishes based on UV-inkjet technology»
"The market is moving towards new requests and new needs – adds Marco Calcagni, OMET Sales & Marketing Director -. We are very careful to offer our customers solutions that satisfy, and sometimes anticipate, these requests. In September 2019 we presented the new OMET X7 at Labelexpo Europe, arousing a strong interest for the wide range of possible effects achievable on printed products. Thanks to the new and high-performance flexo printing units and to the possibility of having in-line Soft Touch vertical flexo printing units and the OMET Soft Touch rotogravure unit, the use of special effects brings surprising results even on Shrink Sleeve materials".
Among the new proposals in the field of inks there are, for example, the POLAR coating, sustainable alternative to hotfoil or metallic effects, and diVar® technology for digital finishing. To guarantee the maximum security for migration, ACTEGA Schmid Rhyner has developed its own EPPI® photoinitiator for low migration coatings, the perfect choice for delicate packaging.
Among the most innovative and appreciated finishes on the market, there are also the tactile effects SOFTTOUCH, WETTOUCH, PAPERTOUCH, the BARRIER coatings for sustainable products, the RAINBOW effect that guarantees safety and attracts attention, and SHRINK sleeves.
(See the different special effects in the table at the bottom of the article)
---
OMET e ACTEGA Schmid Rhyner, l'innovazione negli effetti speciali
Infinite possibilità di stupire con effetti speciali. Le macchine OMET, grazie alla collaborazione con ACTEGA Schmid Rhyner AG, società che ora f aparte di ACTEGA, leader mondiale nel campo degli inchiostri e delle finiture, permettono di realizzare prodotti stampati di qualità superiore con innovative proposte estetiche e sensoriali. La nuova OMET X7, in particolare, è stata concepita per soddisfare le più complesse esigenze in questo campo, sia in termini di materiali che di applicazioni.
L'esperienza e la capacità di innovare, valori condivisi da OMET, hanno dato avvio ad una partnership d'eccellenza che ha portato al mercato nuovi effetti di finitura e soluzioni per il packaging, capaci di distinguersi per qualità, ricercatezza, sicurezza e durata.
«Trasformiamo le superfici in esperienze: ecco lo slogan della nostra azienda» spiega Dr. Alexander Ossenbach, Site Manager ACTEGA Schmid Rhyner AG «È soprattutto il senso del tatto che gioca un ruolo essenziale, perché un packaging con una sensazione speciale suscita la nostra curiosità ed emozioni molto specifiche. Non dovrebbe essere solo funzionale e di bell'aspetto: trasmette anche un messaggio e descrive il prodotto all'interno. Lo shopping è un'esperienza sensoriale. In oltre 100 paesi, i clienti del settore della stampa e dell'imballaggio fanno affidamento sui nostri prodotti: i rivestimenti e gli adesivi a polimerizzazione UV del marchio WESSCO®, i rivestimenti a base d'acqua della famiglia di prodotti GALACRYL®, i prodotti a base solvente BRIVIO® e infine i DIVAR® per vernice digitale basati sulla tecnologia UV-inkjet»
«Il mercato si sta muovendo verso nuove richieste e con nuove esigenze – aggiunge Marco Calcagni, Sales & Marketing Director OMET – e noi siamo molto attenti a proporre ai nostri clienti soluzioni che le soddisfino, e a volte le anticipino. OMET già a Settembre 2019 ha presentato la nuova X7 a Labelexpo Europe, suscitando un forte interesse per la vasta possibilità di effetti realizzabili sui prodotti stampati. Grazie ai nuovi e performanti gruppi stampa flexo e la possibilità di avere in linea gruppi stampa flexo verticali Soft Touch ed il gruppo rotocalco OMET Soft Touch, l'utilizzo di effetti speciali porta risultati sorprendenti, anche su materiali Shrink Sleeve».
Tra le novità proposte nel campo degli inchiostri ci sono ad esempio il rivestimento POLAR, un'alternativa sostenibile all'hotfoil o all'effetto metallizzato, e la tecnologia diVar® per la finitura digitale. Per garantire la massima sicurezza di migrazione, ACTEGA Schmid Rhyner ha sviluppato il proprio fotoiniziatore EPPI® per rivestimenti a bassa migrazione, la scelta perfetta per imballaggi delicati.
Tra le finiture innovative e più richieste sul mercato oggi ci sono anche gli effetti tattili SOFTTOUCH, WETTOUCH, PAPERTOUCH, rivestimenti BARRIERA per prodotti sostenibili, l'effetto RAINBOW che garantisce sicurezza e attira l'attenzione e gli SHRINK sleeves.
(I diversi effetti speciali sono visibili nella tabella in calce all'articolo)