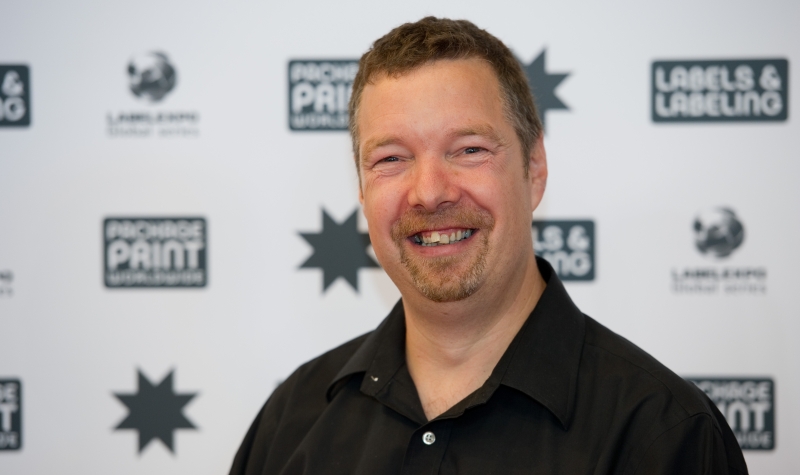 OMET, a personal view by Andy Thomas
May 2, 2013
I have been following developments at OMET now for over 15 years, and it has been a very interesting journey! In my recollection, OMET was one of the first narrow web press manufacturers to recognize the important trend towards multi-process work, and also towards the diversification of the narrow web industry from labels into flexible packaging and folding cartons.
I remember the launch of the Varyflex press series as a key development. These presses were fully modular, and could incorporate a range of different print and converting processes, and OMET was one of the first manufacturers to also offer the option of a gravure module along with silk screen, UV flexo, foiling and, later, offset units.
I have always seen OMET as a highly innovative engineering company focused on developing solutions to make the print and converting process more efficient. Developments such as format-free die cutting systems have certainly made the process of in-line converting more efficient, while the Vision register control system represented a real step forward in reducing waste during makeready and cutting the time taken to make sellable labels.
OMET has been at the head of the innovation curve in other areas as well. Its new sleeve offset unit is a major rethinking of how impression, plate and blanket cylinders interact, and the company was quick to introduce the option of a 4-color inkjet unit as a module on its narrow web presses when 4-color digital printing became a possibility.
OMET has also impressed me with its expansion into a worldwide force. The company was the first Western press manufacturer to attempt building its own presses in China and has persevered in the difficult Chinese market while other Western press manufacturers walked away. I was lucky enough to write about very interesting Chinese installations – for example converting very complex folding cartons, including registered holograms, for the tobacco industry.
The company has spread its wings into India recently through the Weldon agency, and is starting to make a real impact there.
On a personal level, I was always been made very welcome in the beautiful city of Lecco by Angelo Bartesaghi, who founded OMET back in 1963, and only recently passed away, and look forward to working with his son Antonio as OMET continues to develop. For many years I have also enjoyed warm friendships with Marco Calcagni, who has driven the global expansion of OMET, and also Massimo Bellingardi who has helped spread the OMET message.
I wish OMET the very best wishes for their 50th anniversary and look forward with great interest to the way the company's technologies and global business will grow in the future.
Andy Thomas is Group Managing Editor of Labels & Labeling magazine and Labels & Labeling China, both published by the Tarsus Labels Group. Andy has been writing about the packaging and printing industry for 15 years, having previously edited British Printer and Packaging News magazines in the 1990s. He has also chaired a number of conferences and seminars including the International Flexographic Conference, and Radio Frequency Identification (RFID) conference organized by the Tarsus Group.