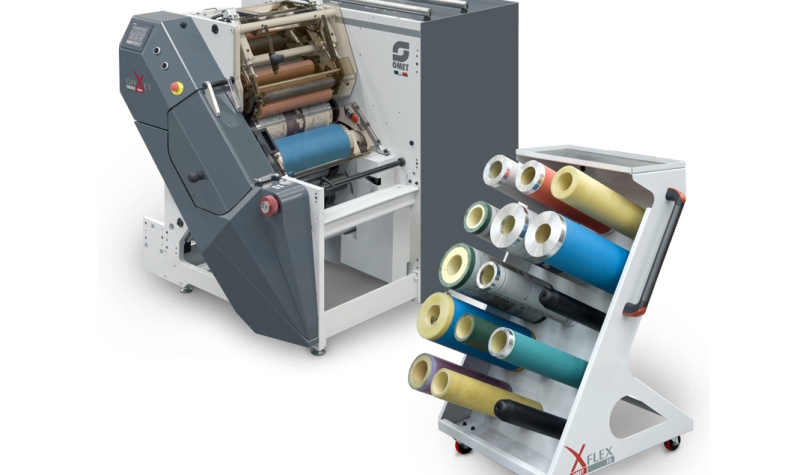 Offset with Sleeves: going larger and better
May 1, 2012
Offset is the most reliable printing technology when it comes to consistency and uniformity of print including fine details and 0 to 100% vignettes. There is a widespread knowledge of Offset, which helps to abate the costs of pre-press, available all over the world and sharing the same international standards. The introduction of servo-motors and electronic controls helped solve some of the remaining challenges of Offset: start-up speed (decreased at 10 meters per minute during the ink/water balance phase) and general wastage reduction.
Offset can be combined in-line on the whole range of OMET multi-process and platform presses (both families Varyflex and XFlex) and is available in widths 430, 530, 670 and 850 mm. The introduction of sleeves has changed quite thoroughly OMET approach to customers. Sleeves, in fact, have permitted the extension of the format range with 1/48 inch incremental steps making of Offset a true variable format. The job change becomes easier (sleeves can be of plastic, extremely light material, or in aluminum with a 60% weight increase), low-cost (sleeves are less expensive, less bulky and more easily storable than cassettes) and increasingly rapid to perform.
The new group by OMET features the following novelties: anti-ghosting system, extra rigidness and absence of sliding parts to avoid unnecessary vibrations, print regulations performed outside the group, maximum printing speed up to 200 meters per minute, format range from 14'' to 25'', pneumatic blocking of the sleeves directly on the machine (like in flexo), integrated automatic register control and pre-register (both longitudinal and transversal), remotely motorized ink trays and automatic dampening system, enhanced automatic pressure, temperature and tension controls.
The group features further advantages, typical of OMET printing units: Vision-1 or 2 (multi-camera) register controls, favored ergonomics of operation, accessibility of the unit from both sides, user-friendliness and availability of a HMI interface on each group, in addition to the main control pulpit.
OMET choice to add Offset to its catalog had been dictated by the need to respond to customers' requirements, including label converters, often tempted by the portfolio of products Offset can handle or obliged by major brands to print under precise standards. The addition of sleeves is the natural consequence of the attention OMET pays to the requests of customers and to the increasingly more stringent needs they have to save margins by speeding up procedures and reduce wastage.