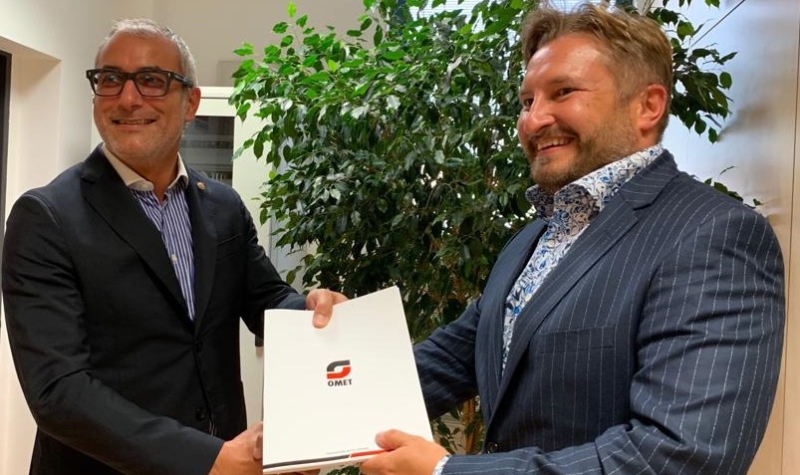 New stellar partnership for OMET in Poland
September 4, 2019
OMET is delighted to announce the new partnership with Omigraf Sp. z o.o., new Polish agent operating in the segment of narrow-web printing machines, including peripheral equipment, spare parts and consumables.
The founder of the company is Andrzej Włodzimierz Turski, who has been advising clients and selling machines and devices for 23 years of printing on the Polish market.
The goal of the company is to introduce many pro-ecological solutions to the printing market and improve quality customer service in the dynamically developing narrow web segment. Omigraf will deal not only with sales but also with consulting, training and assistance in acquiring financing and subsidies.
Omigraf and OMET has just signed an exclusive dealership agreement which gives both companies a huge deal potential for action.
Photo, from the left side: Paolo Grasso, Head of Sales for OMET Printing Division, and Andrzej Włodzimierz Turski, President of Omigraf Sp. z o.o.
---
Polonia, nuova partnership stellata per OMET
OMET è lieta di annunciare la partnership siglata con Omigraf Sp. z o.o., nuovo agente polacco che opera nel segmento delle macchine da stampa a nastro stretto con un'attività a tutto tondo che include unità periferiche, pezzi di ricambio e materiali di consumo.
Il fondatore, Andrzej Włodzimierz Turski, è attivo da 23 anni nel mercato polacco di macchine e dispositivi per la stampa, operando a livello commerciale e di consulenza. L'obiettivo dell'azienda è quello di introdurre soluzioni ecologiche nel mercato della stampa e migliorare il servizio clienti, puntando sulla qualità, nel segmento della stampa a nastro stretto, che sta vivendo un dinamico sviluppo. Omigraf si occupa non solo di vendite, ma anche di consulenza, formazione e assistenza nell'acquisizione di finanziamenti e sussidi.
Omigraf e OMET hanno appena firmato un accordo esclusivo, che offre a entrambe un enorme potenziale di azione in tutta l'area geografica coinvolta.
Foto, da sinistra: Paolo Grasso, responsabile vendite OMET Printing Division, e Andrzej Włodzimierz Turski, presidente di Omigraf Sp. z o.o.