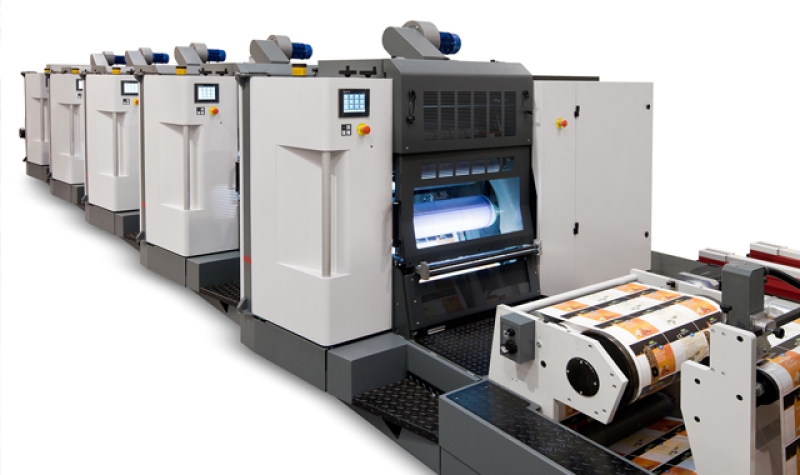 New OMET installation in Poland: one Varyflex offset to Drukarnia Jaslo
April 13, 2017
Poland has been a fruitful market for OMET in the last years. The Varyflex V2 Offset sold to Drukarnia Jaslo at the beginning of 2017 is a further prove of the great appeal OMET technology has in this area. The new installation will be dedicated to the production of high-end flexible packaging, strengthening the presence of the Polish company in the packaging market, where it already operates with solvent-base CI flexo machines.
"The final goal of the customer is to increase its market share by amplifying the offer – explains Sergio Villa, OMET area manager, who reached the agreement together with OMET agent Adam Ambrozkiewicz of WRH Global Polska -. They decided to buy a web offset press to respond to the increasing demand for short runs and high quality products: the lower cost of pre-press and offset plates compared to other printing technologies, guarantees higher profitability even with this market requirements".
The Varyflex V2 670 features 6 offset UV units and one final flexo group for varnishing. It is mainly dedicated to unsupported film and it was chosen after an in-depth comparison with the solutions offered by other 3 potential suppliers. "After several tests, one meeting in OMET and one in Drupa last year, the customer selected us and at the beginning of this year we finalized the order".
Drukarnia is located in the pre-Carpathians, a hill area in the south of Poland. "It is a strategic client for its particular geographic position and its end market: most of its customers are hardly reachable for other printers. Most importantly, the new Varyflex enables a consistent growth in terms of flexibility and product range, consolidating its leading role due to the geographical advantage".
This is the second installation of this kind in Poland: another OMET press with similar configuration was installed a few years ago in Białystok, in the north-east area.
OMET strengthens once again its presence in the Polish market where it counts more than 20 installations.
---
Una Varyflex Offset alla Drukarnia Jaslo: un'altra OMET in Polonia
Stamperà packaging flessibile di alta qualità la OMET Varyflex 670 Offset venduta in Polonia all'inizio del 2017. Acquirente, la Drukarnia Jaslo, che già opera nel settore con macchinari di alta tecnologia a tamburo centrale e flessografia a base solvente.
"L'obiettivo del cliente è ampliare offerta e quota di mercato – spiega Sergio Villa, area manager OMET che ha finalizzato l'accordo insieme ad Adam Ambrozkiewicz della WRH Global Polska, agente OMET sul territorio -. Ha deciso di acquistare una macchina offset in linea per gestire le basse tirature  stampando in alta qualità: i ridotti costi di prestampa delle lastre offset consentono di essere profittevole anche in questi casi".
La macchina è una Varyflex 670 con 6 gruppi offset UV e un gruppo flexo finale per la verniciatura. E' destinata alla stampa di film non supportato ed è stata scelta dopo un confronto approfondito delle macchine sul mercato che ha incluso 3 potenziali fornitori oltre a OMET. "Dopo una serie di test, una visita in OMET e una in Drupa lo scorso autunno, il cliente ha scelto noi e ad inizio 2017 abbiamo concluso quest'ordine" racconta Villa.
Drukarnia si trova nella Precarpazia, in una zona collinare a sud della Polonia. "E' un cliente strategico per la sua posizione geografica e per il mercato di sbocco. Serve clienti a cui altri hanno difficile accesso e la Varyflex permette di crescere in termini di flessibilità e di gamma offerta, consolidando la posizione già favorita a livello geografico".
Si tratta della seconda macchina OMET di questo tipo in Polonia, un'altra molto simile è stata installata a Białystok, nella zona Nordest del Paese. OMET è presente sul mercato polacco da diversi anni con oltre 20 macchine installate.