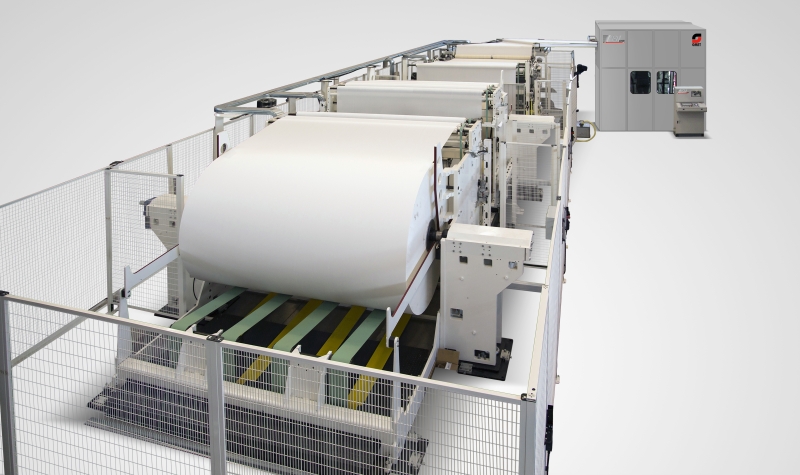 The new OMET ASV Line ready for It's Tissue 2018
March 30, 2018
A new line dedicated to interfolded tissue products and many other exclusive surprises will take center stage at the production plant in Lecco and the showroom in Lucca. This is how OMET gets ready for the next edition of IT's Tissue, from 25 to 29 June, an opportunity to dive into a real Italian technology excellence.
OMET has prepared notable innovations for IT's Tissue, the main event of 2018 for the Tissue industry. The first to be unveiled is the OMET ASV Line, the new automatic interfolding machine for the production of interfolded tissue products at high speeds, featuring user-friendly design and extreme modularity. This new line is the result of advanced technology development having innovative operating principles, different from the machines currently on the market. It has all the essential requisites sought by the user: ease of use, high-quality output, moderate investment and full automation, which allows for considerable labor cost savings.
The core of the new ASV Line è the automatic interfolding head that features vacuum folding cylinders, Belt conveyor with independent motorization and automatic separation system. The machine can be designed and configured according to the necessities of the user, by adding different functional units such as unwinders, embossing and gluing stations, longitudinal slitting group, bending or integral wrapping modules. This allows the user to bring about a free market strategy.
During the first three days of IT's Tissue 2018, from Monday to Wednesday, OMET will offer the possibility to visit the production plant in Lecco, where visitors can see three converting lines for the production of napkins. The new plant of Lucca stays open for the whole week, when it will be possible to touch by hand the new ASV Line and the Chameleon by OMET digital inkjet printing unit integrated into a TV503.
It's Tissue was created in 2013 by 12 Italian companies, leading players operating in the business of Tissue, covering a wide area, from Lucca (Tuscany) to Lecco (Lombardy), including Bologna and Reggio Emilia. The event, in its third edition, is a dynamic exposition where different products and services dedicated to the Tissue industry are displayed at the same time in different locations. The premises of the 12 affiliated companies are connected by free logistic services, events and shows that will make IT's Tissue an unforgettable experience for all the participants.
Click here for more info about the new ASV Line
---
La nuova OMET ASV Line pronta per It's Tissue 2018
Un'inedita linea per prodotti tissue interfogliati ad alta velocità, ed altre sorprendenti demo nella sede produttiva di Lecco e nella showroom allestita a Lucca. Così OMET si prepara ad essere protagonista della prossima edizione di IT's Tissue. L'appuntamento è dal 25 al 29 giugno per un viaggio intensivo nell'eccellenza tecnologica made in Italy.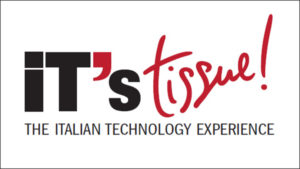 OMET ha in serbo grandi novità per It's TIssue, l'appuntamento principale del 2018 nell'industria del tissue. La prima ad essere svelata si chiama OMET ASV Line, ed è la nuova linea interfogliatrice automatica di facile utilizzo ed elevata modularità per la produzione ad alta velocità di prodotti tissue interfogliati. Questa linea è frutto di un'avanzata ricerca tecnologica e vanta principi di funzionamento del tutto innovativi, diversi da quelli presenti sul mercato. Ha tutti i requisiti essenziali da sempre ricercati dall'utilizzatore: alti livelli qualitativi e quantitativi di prodotto, semplicità di utilizzo, investimento contenuto e completa automazione, che permette un risparmio considerevole sui costi del personale.
Il cuore della nuova ASV Line è la testa interfogliatrice automatica, che consente la più alta velocità produttiva sul mercato grazie ai cilindri di piega con sistema a vuoto, nastro trasportatore a tappeto con motorizzazione indipendente e sistema di separazione automatica della steccata. La modularità di questa macchina permette l'aggiunta di diversi moduli funzionali come svolgitori, goffratori, laminatori, gruppi di taglio longitudinale, fasciatrici e troncatori.
In occasione di It's Tissue 2018, OMET offrirà la possibilità di visitare la propria sede produttiva di Lecco, dove saranno in dimostrazione tre linee complete per la produzione di tovaglioli, nei primi tre giorni della settimana, da lunedì 25 a mercoledì 27 giugno. Nella nuova sede di Lucca, per tutta la settimana, OMET mostrerà la nuova ASV Line e una TV503 Line con la nuova unità di stampa digitale inkjet Chameleon by OMET.
It's Tissue è un evento creato nel 2013 da 12 aziende italiane, eccellenze tecnologiche del settore tissue che operano su un ampio territorio che va dalla Lucchesia a Lecco passando per Bologna e Reggio Emilia. L'evento, giunto alla terza edizione, è una contemporanea esposizione di prodotti e servizi per l'industria del tissue presso le sedi delle 12 aziende organizzatrici: gli open house sono collegati da servizi logistici, eventi e spettacoli di contorno che rendono l'esperienza indimenticabile per tutti i visitatori.
Clicca qui per avere maggiori informazioni riguardo la nuova ASV Line