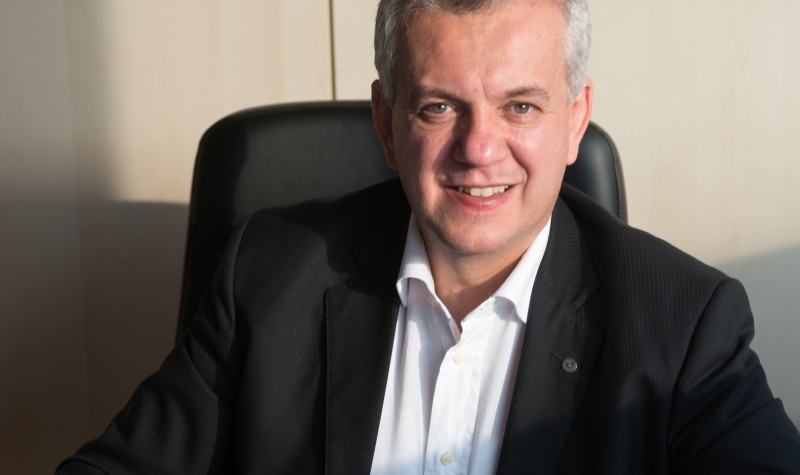 New goal: extreme quality
February 3, 2020
New products, new technologies and new ways of working to guarantee extreme quality and precision on any line: Marco Calcagni, OMET Sales & Marketing Director, introduces the year 2020 revealing the path taken by OMET to lead an increasingly complex and ever-changing market.
The label and packaging market is changing rapidly. There is an increasing need for efficiency, speed, automation and, above all, quality. OMET research and development is following one of the main market trends, definitely pursuing the extreme quality of printing, in particularly for the flexographic technology. In this field, the latest technological innovations introduced by OMET are leading to the complete elimination of the "bouncing" effect, typical of the flexographic printing, thanks to new and patented systems that ensure the stability of printing quality over time.
New orientations are getting ahead in the market, first of all the trend towards savings of energy and materials such as inks and paper. Thanks to the new production technologies and to the pressure adjustment of the rolls involved in the printing process – anilox and cliché – the inks dosage becomes more and more precise, defining the exact quantity needed to obtain the goal without any waste. Regarding the stability of the register, the goal of zero waste in job change is getting closer.
To guarantee this extreme level of quality and precision for each press, OMET has advanced all the printing technologies – flexo, rotogravure, offset and digital – offering the possibility of integration on any available platform. This way, OMET can configure completely customized machines, allowing customers to have the highest efficiency and the best qualitative results for any kind of job they have to carry out.
The new OMET X7 presented at Labelexpo Europe 2019 has been designed according to these goals and is a revolution for the printing world. It will be available in a 670 mm version to optimize the production of the medium-volume products in strong evolution, such as shrink sleeve labels. We turned the spotlight also on the new hybrid OMET XJet, which today is the only machine with combined printing able to guarantee excellent results and very high performances up to 80 meters per minute on all types of support, including shrink labels. The XFlex X6 combination with the TAU RSC digital inkjet unit is certainly the most advanced solution available on the whole label market.
OMET has invested on several fronts, paying great attention to the ease of use of the machines, always designed to ensure a constant product quality. Today the operator is only asked to remotely control the production process, without manual intervention, allowing greater production control and higher safety at work.
Customer service – both before and after sales – is another function on which OMET is strongly investing. The rapid evolution of the market generates the need to maintain a constant contact between technology producers like OMET and customers, during the investment analysis and the following phases. Thanks to the flexibility of our machines, it is possible to invest in their evolution even at a later stage, making customized changes and upgrades that make them always up to date with the needs of the customers.
---
Nuovo obiettivo: qualità estrema
Nuovi prodotti, nuove tecnologie e nuove modalità di lavoro per garantire livelli estremi di qualità e precisione su ogni tipo di linea: Marco Calcagni, OMET Sales & Marketing Director, introduce il 2020 e svela la strada intrapresa da OMET per rispondere ad un mercato sempre più complesso e in continuo cambiamento.
Il mercato del converting per etichette e packaging sta cambiando rapidamente. C'è sempre più bisogno di efficienza, velocità, automazione, e soprattutto di qualità. Uno dei trend che la ricerca e sviluppo OMET sta seguendo è proprio quello della qualità estrema della stampa, in particolare nella tecnologia flessografica. In questo campo, le ultime innovazioni tecnologiche introdotte da OMET stanno portando ad eliminare completamente l'effetto "bouncing", tipico della stampa flessografica, con sistemi nuovi e brevettati che assicurano la stabilità nel tempo della qualità di stampa.
Nel mercato si fanno sempre più strada nuovi orientamenti, primo fra tutti quello verso il risparmio di energia e di materiali come inchiostri e carta. Grazie alle nuove tecnologie di produzione e al controllo delle pressioni dei rulli coinvolti nella stampa – anilox e cliché – si fa sempre più preciso il dosaggio degli inchiostri utilizzati nel processo di produzione, arrivando a definire esattamente la quantità necessaria per ottenere il risultato senza alcuno spreco. Per quanto riguarda la stabilità dei registri, è sempre più vicino l'obiettivo dello scarto zero in un cambio di lavoro.
Per garantire questi livelli estremi di qualità e precisione su ogni linea, OMET ha sviluppato tutte le tecnologie di stampa – flexo, rotocalco, offset e digitale – ed è in grado di offrire la possibilità di integrarle sulle varie piattaforme disponibili. OMET configura così macchine completamente personalizzate che consentono al cliente di avere la maggiore efficienza possibile e il miglior risultato qualitativo in funzione del tipo di lavoro che deve portare a termine.
La nuova OMET X7 presentata a Labelexpo Europe 2019 è stata progettata in funzione di questi obiettivi e rappresenta una rivoluzione nel mondo della stampa. E' disponibile in versione 670 mm per permettere di ottimizzare le produzioni di quei prodotti di medio volume in forte trend evolutivo sul mercato, ad esempio le shrink sleeve labels. OMET ha acceso i riflettori anche sulla nuova ibrida OMET XJet, che ad oggi è l'unica macchina in commercio con soluzione combinata, in grado di garantire ottimi risultati e performance elevatissime fino ad 80 metri al minuto su tutti i tipi di materiale, comprese le shrink labels. La combinazione XFlex X6 con il gruppo digitale inkjet TAU RSC è sicuramente la soluzione qualitativamente più all'avanguardia sul mercato delle etichette.
OMET ha investito su diversi fronti, ponendo grande attenzione alla facilità d'uso dei macchinari che sono progettati per assicurare una qualità di prodotto costante. Oggi l'operatore deve solamente controllare il processo produttivo a distanza, senza intervento manuale, consentendo un maggior controllo della produzione e un aumento della sicurezza sul lavoro.
Il servizio al cliente, pre e post vendita, è un altro degli aspetti sui cui OMET sta convogliando le energie: la rapidità evolutiva del mercato porta la necessità di mantenere un costante contatto tra i produttori di tecnologia come OMET e i clienti, sia in fase di analisi dell'investimento sia nelle fasi successive: grazie alla flessibilità delle macchine, è possibile investire per la loro evoluzione anche in una fase successiva, apportando modifiche personalizzate e upgrade che permettono di renderle sempre aggiornate e al passo con le esigenze dei clienti.