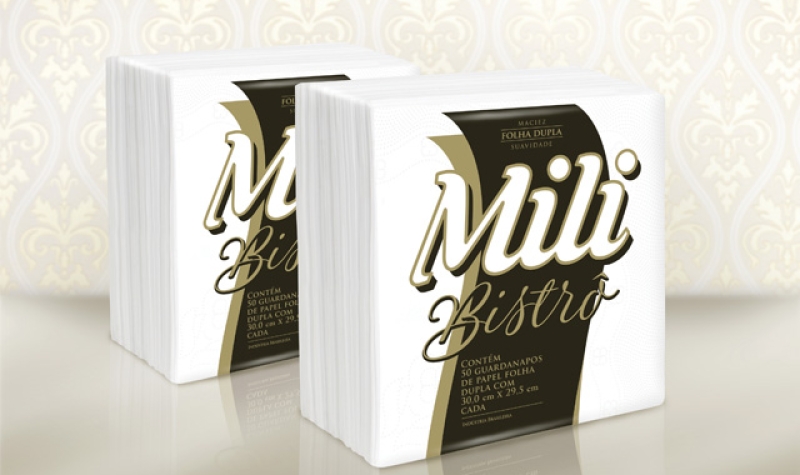 Mili orders the third and fourth OMET line for napkins
February 16, 2017
Mili Tissue in Brazil is a true wonder: continued growth from 1983 to the present, with high regard to environmental impact and to the happiness of the consumer.
One of Brazil's largest manufacturers in the field of hygiene and cleanliness, a true industrial giant that grows from year to year, exponentially increasing production volumes, with production facilities as large as an entire town. Mili is the market leader in Brazil for various types of products, among which toilet paper rolls, paper napkins, sanitary towels for intimate hygiene and baby diapers, up to several products for cleaning the home.
Founded in 1983 in Três Barras, a town located 170 kilometres from Curitiba, the little toilet paper rolls factory grew and developed during the eighties. In the nineties it diversified its product range by launching the production of napkins (1992), sanitary towels (1994), diapers and disposable towels (1998,) ending with opening two more production sites in Curitiba (1991) and Maceiò (2008).
Mili was the first company in Brazil to produce toilet paper in 60 metre rolls (2003) and two-ply (2008), also offering the market adult diapers in 2011.
Since 2001, Mili has established a distribution centre in Curitiba, positioning itself strategically and mainly on the increasing large-scale retail market: rapid and precise delivery of the products to all sale points, regardless of distance and location, has allowed Mili's consumer products to penetrate the entire national market reaching more and more consumers.
Today in the industrial complex of Tres Barras (Santa Caterina), production site of napkins, paper towels, rolls of single and two-ply toilet paper, there is great attention to environmental impact, which results in recycling more than 10,000 tons of paper per month (the largest health recycler in Brazil). This value translates into preserving an amount of wood per month that is equivalent to a surface area of 36 soccer pitches!
Thanks to extensive research in the field, today Mili is able to reduce the production of waste by 80% and to use less than half the water compared to normal standards for the production of paper (8 litres of water per kg of paper compared to 15-20 litres normally used). Mili also has painstakingly designed a water treatment system that not only meets standard law requirements, but allows the water to be recycled.
At its headquarters in Curitiba (Paranà) baby diapers, sanitary napkins for adults and for personal hygiene are also produced. Quality control is a continuous process in Mili' plants, starting from receipt of raw materials and only ends with the end consumer's approval.
As proof of the excellent results achieved by Mili, at the beginning of 2016, for the fourth consecutive year, the Brazilian company received the prestigious Abras award (Brazilian Association of supermarkets) which rewards the best-selling brands in Brazil, according to sales research conducted by Nielsen.
Mili's attention to market demands has pushed the company to make large, long-term investments in recent years, with the expansion of its production lines and range of products.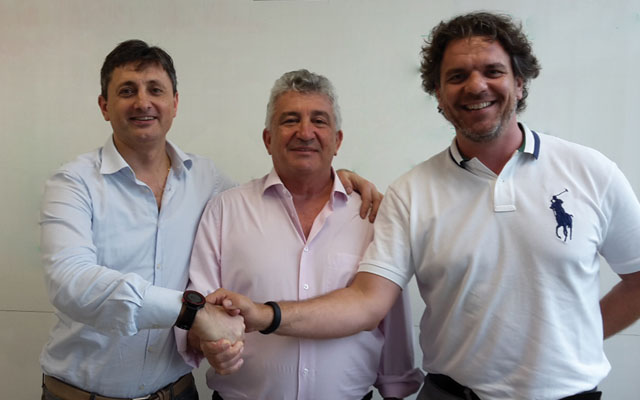 In the photo, Alberto Redaelli, Valdemar Lissoni (Mili President) and Daniel Signori (Industry Director)
The collaboration between OMET and Mili began in 2014 with the Brazilian company purchasing an OMET GN100 line, i.e. a complete TV840 line including packing system, for the production of packaged napkins. The results obtained with OMET machine met Mili's expectations, enough to buy a new GN100 line immediately after the initial installation and to recently finalize the order of two other GN100 lines expected for the beginning of 2017.
Thanks to the quality and reliability of OMET machines, Mili has recently launched a new line of premium, two-ply napkins "Mili Bistro'", to meet the growing demand of the Brazilian market for higher quality consumer products, which result in greater softness, smoothness and absorption capacity.
---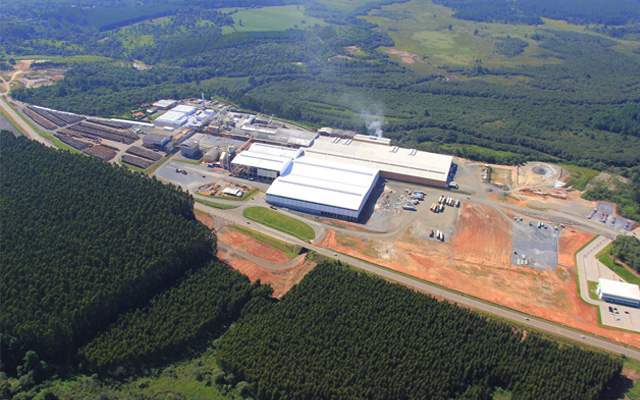 Mili ordina la terza e quarta linea per tovaglioli OMET
La splendida realtà di Mili Tissue in Brasile: una crescita continua dal 1983 a oggi, con un occhio di riguardo all'impatto ambientale e alla felicità del consumatore.
Uno dei più grandi produttori del Brasile nel settore dell'igiene e della pulizia, un vero colosso industriale che cresce di anno in anno, aumentando esponenzialmente i volumi di produzione, con stabilimenti di produzione grandi quanto un'intera cittadina. Mili è il leader di mercato in Brasile per diverse tipologie di prodotti, fra i quali i rotoli di carta igienica, i tovaglioli in carta, gli assorbenti per igiene intima e i pannolini per bambini, fino a diversi prodotti per la pulizia della casa.
Fondata nel 1983 a Três Barras, una località situata a 170 chilometri da Curitiba, la piccola fabbrica di rotoli di carta igienica cresce e si sviluppa nel corso degli anni Ottanta, e negli anni Novanta diversifica la sua gamma di prodotti avviando la produzione di tovaglioli (1992), assorbenti (1994), pannolini e asciugamani usa e getta (1998) arrivando ad aprire altre due sedi produttive a Curitiba (1991) e a Maceiò (2008).
Mili è stata la prima azienda in Brasile a produrre la carta igienica in rotoli da 60 metri (2003) e a due veli (2008), proponendo al mercato anche i pannolini per adulti nel 2011.
A partire dal 2001, Mili si è dotata di un centro di distribuzione a Curitiba, posizionandosi strategicamente in modo predominante sul crescente mercato della grande distribuzione: la consegna rapida e precisa dei prodotti presso tutti i punti vendita, indipendentemente dalla loro distanza e posizione, ha permesso ai prodotti di consumo Mili di penetrare tutto il mercato nazionale raggiungendo un sempre maggior numero di consumatori.
Oggi nel complesso industriale di Tres Barras (Santa Caterina), dove si producono principalmente i tovaglioli e gli asciugamani di carta, i rotoli di carta igienica monovelo e bivelo, si ha una grande attenzione all'impatto ambientale, che si traduce nel riciclaggio di più di 10.000 tonnellate di carta al mese (il più grande riciclatore sanitario del Brasile). Questo valore si traduce nella conservazione della quantità mensile di legno equivalente ad una superficie di 36 campi da calcio!
Grazie ad accurate ricerche in materia, oggi Mili è in grado di ridurre dell'80% la produzione di scarti e di utilizzare meno della metà dell'acqua rispetto agli standard normali per la produzione della carta (8 litri di acqua per kg di carta rispetto ai 15-20 litri utilizzati di solito).  Inoltre Mili ha accuratamente progettato un trattamento dell'acqua che permette non solo di soddisfare gli standard richiesti dalla legge, ma che permette il riciclo dell'acqua stessa.
Nella sede centrale di Curitiba (Paranà) vengono prodotti anche i pannolini per bambini, per adulti e assorbenti per l'igiene intima. In Mili, il controllo qualità è un processo continuo, che inizia al momento della ricezione delle materie prime e termina solo con l'apprezzamento del consumatore finale.
A conferma degli ottimi risultati conseguiti da Mili, ad inizio 2016, l'azienda brasiliana ha ricevuto per il quarto anno consecutivo il prestigioso premio Abras (associazione dei supermercati brasiliani) che premia i marchi più venduti in Brasile in base alle ricerche di vendita condotte da Nielsen.
L'attenzione alle esigenze del mercato da parte di Mili ha spinto l'azienda a grandi investimenti a lungo termine nel corso degli ultimi anni, con l'ampliamento delle proprie linee di produzione e delle tipologie di prodotti realizzati.
La collaborazione tra OMET è Mili ha avuto inizio nel 2014, con l'acquisto da parte dell'azienda brasiliana di una linea OMET GN100, ovvero una linea completa TV840 comprensiva di confezionatrice, per la produzione di tovaglioli confezionati.  I risultati ottenuti con la macchina OMET hanno soddisfatto le aspettative di Mili, tanto da acquistare una nuova linea GN100 subito dopo la prima installazione e finalizzare recentemente l'ordine di altre due linee GN100 previste per l'inizio del 2017.
Grazie alla qualità e affidabilità delle macchine OMET, Mili ha recentemente lanciato sul mercato la nuova linea di tovaglioli premium a due veli "Mili Bistro'", per far fronte alla crescente richiesta del mercato brasiliano di prodotti di consumo di qualità più alta, che si traduce in maggiore morbidezza, scorrevolezza e capacità di assorbimento.
Nella foto sopra, Alberto Redaelli, Valdemar Lissoni (Presidente di Mili) e Daniel Signori (Industry Director)