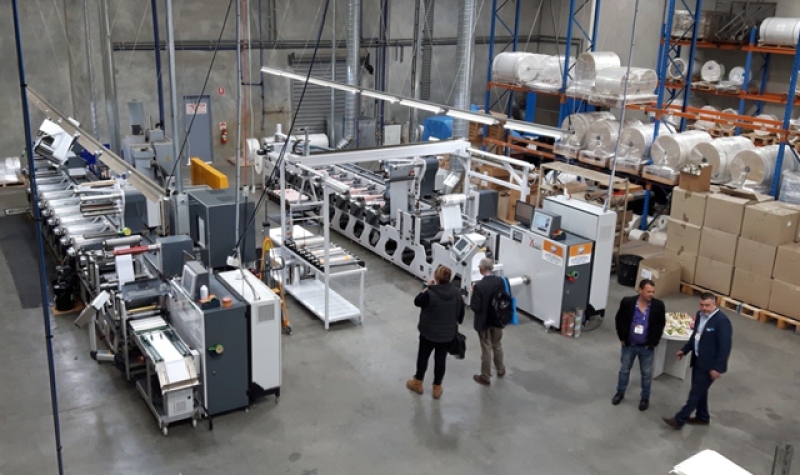 Melbourne, Open house format seduces PacPrint 2017
June 27, 2017
Touch by hand the real technology: this is the secret for the success of OMET Open House. The latest event was organized in Australia on the occasion of PacPrint 2017, the greatest trade fair in the printing and graphic industry in the southern hemisphere. The main attraction was OMET XFlex X4 440 recently installed at one of Melbourne's leading converters.
OMET participated to PacPrint trade fair held in Melbourne from Tuesday 23 to Friday 26 May 2017 at the Convention & Exhibition Centre, with a dedicated area inside the booth of Currie Group, OMET local distributor.
Claudio Piredda, OMET Area Manager explains: "Instead of bringing the machine to the exhibition, we decided to have it displayed in a working space. Thus, we organized an Open House at OMET customer's premises, only 20 minutes away from the exhibition centre, as we did four years ago during the 2013 edition, when the same client had its first OMET XFlex X4 370 installed".
The attendance was impressive: a great number of people, most of them potential customers, had the possibility to see with their own eyes the potentialities of OMET presses in their proper environment and talk to prepared technicians and sales people.
Mr. Piredda continues: "We carried out several different jobs both on the new press and on the one installed in 2012. All the attendees were satisfied with the demonstrations: they realized the real advantages of OMET technology in terms of set-up time, waste reduction and cost saving. After a short break, all the visitors were driven back to the exhibition centre. We are glad to notice once again that this special format was a huge success and we are very happy with the extremely positive feedback.
---
Con un Open house OMET conquista la PacPrint 2017
Toccare con mano la tecnologia: ecco il segreto del successo degli Open House OMET. Il più recente è quello organizzato in Australia in occasione della PacPrint 2017, la più grande fiera BtB del settore stampa e grafica dell'emisfero australe. Protagonista, la OMET XFlex X4 440 installata questa primavera presso uno dei converter più importanti di Melbourne.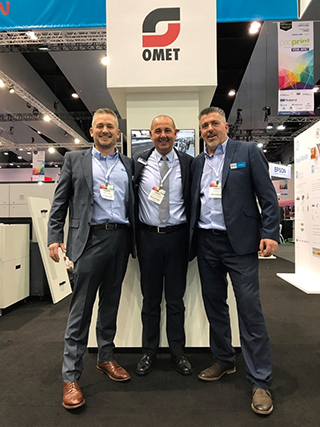 La fiera PacPrint ha avuto luogo nella città australiana di Melbourne da martedì 23 a venerdì 26 maggio 2017 presso il Convention & Exhibition Centre e OMET era presente con un'area dedicata all'interno dello stand Currie Group, agente di zona.
"Invece di portare una macchina in fiera, abbiamo pensato di mostrare il suo funzionamento in ambiente produttivo – racconta Claudio Piredda, area manager OMET -. E' stato quindi organizzato un Open House presso un cliente OMET, che ha sede a soli 20 minuti dalla fiera, replicando un'idea che aveva già avuto successo durante l'edizione del 2013 quando il cliente aveva installato la sua prima macchina OMET, una XFlex X4 370".
L'adesione è stata molto elevata: un nutrito gruppo di interessati, la maggior parte dei quali potenziali clienti, ha avuto la possibilità di testare dal vivo le capacità delle macchine OMET inserite nel loro "ambiente reale", confrontandosi con personale di vendita e personale tecnico.
"Abbiamo eseguito diversi tipi di lavoro sulla macchina nuova e su quella installata nel 2013 – racconta Piredda –. I lavori sono stati seguiti da uno stampatore OMET che aveva effettuato l'installazione nelle settimane precedenti. I partecipanti si aspettavano di vedere la tecnologia OMET e sono stati molto soddisfatti della dimostrazione: hanno potuto rendersi conto dei vantaggi delle nostre macchine valutando set-up, tempi e scarti. Alla fine, dopo un piccolo rinfresco, sono stati riaccompagnati in fiera. Possiamo dire che questa formula, utilizzata spesso da OMET, ha avuto anche stavolta un feedback assolutamente positivo".