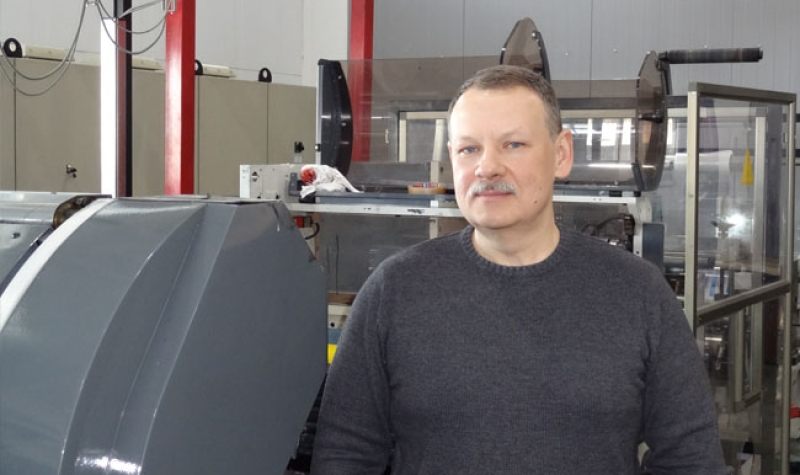 Maxiprint: not only offset, flexo and screen printing
March 15, 2017
Located in the suburbs of Minsk, capital of Belarus, Maxiprint typography is an important company producing self-adhesive labels since 2006. In 2012, with the purchase of an OMET Varyflex, they started to combine flexo printing with offset technology, reaching extraordinary results in terms of printing quality and flexibility.
The Varyflex owned by Maxiprint, combining 6 flexo groups and 4 offset, was the first hybrid machine sold in Belarus. It was specifically chosen to print self-adhesive labels up to 20 colors featuring hot stamping, cold foil, rotary screen printing and sheets delivery. Thanks to these additional units, Varyflex can add hot stamping on paper supports, to produce several special applications, like stamps, in a cheaper way.
The unique features of the machine and the functionality of the hybrid process – increase in printing precision and the economic advantages typical of flexography – are able to satisfy even the most demanding clients and key players in the markets of food, wine&spirits and cosmetics. This technological leap gave the Belorussian typography the crucial opportunity to strengthen its position on the market.
"Why did I choose OMET machine? – explains Andrey Sheiko, Maxiprint's owner – When we were showed the printing result of the offset press, we noticed right away the superior printing quality, higher than any other solution, and we saw the opportunity to enter a niche of the market dedicated to premium labels. A consistent competitive advantage. After four years from the installation of the Varyflex, I can say that we are very satisfied not only with the press, but also with the constant and professional support provided by OMET technical department, after-sales and logistics".
"Despite the crisis affecting Belarus economy – goes on Andrey Sheiko – the market of self-adhesive labels show constant growth. Competition is strong, but thanks to the advantages we can offer with this machine – high quality, unique technology, fast production and delivery, flexibility – we are planning to expand our market share in Belarus and Russia, where we export the 20% of our production. We also see the opportunity to enter the packaging market: we haven't done any detailed analysis yet, but we are confident that our exclusive technological capability are the key to enter that sector".
Acknowledgements to "Flexo Plus" magazine for the authorization to publish the article – February 2017
---
Maxiprint: offset, flexo, serigrafia – e non solo
Situata alla periferia di Minsk, in Bielorussia, la tipografia "Maxiprint" produce dal 2006 etichette adesive con macchine flessografiche rotative.  Nel 2012, con all'acquisto di una OMET Varyflex, ha iniziato ad utilizzare la stampa offset in combinazione con la tecnologia flexo, raggiungendo una qualità di stampa unica sul mercato locale.
La Varyflex di Maxiprint, configurata con 6 gruppi stampa flexo UV e 4 offset, è stata la prima macchina ibrida in tutta la Bielorussia. E' stata scelta per stampare etichette autoadesive fino a 20 colori con stampa a caldo o a freddo, serigrafia e uscita a fogli.  Gli optional installati permettono anche la stampa a caldo di supporti in carta per applicazioni speciali come i francobolli, a costi contenuti.
Le caratteristiche della macchina e le funzionalità della stampa ibrida – che consentono di aumentare la precisione conservando i noti vantaggi economici della flessografia – sono in grado di soddisfare i clienti più esigenti, tra i quali figurano molti noti produttori di cibo, alcool e industrie cosmetiche. Il salto tecnologico ha permesso così alla tipografia di rafforzare in modo significativo la propria posizione sul mercato.
"Perché ho scelto una macchina OMET? – spiega Andrey Sheiko, titolare della Maxiprint – Quando ci hanno mostrato le stampe eseguite sulla macchina offset di OMET, abbiamo subito notato una qualità di stampa superiore, che ci avrebbe permesso di occupare una nicchia di mercato dedicata alle etichette di alta qualità. Un vantaggio competitivo notevole. Dopo quattro anni dall'installazione della Varyflex posso dire che siamo soddisfatti non solo della macchina, ma anche dal supporto costante e professionale della sede italiana di OMET, della progettazione, dell'assistenza tecnica, della logistica".
"Nonostante la crisi economica in Bielorussia – prosegue Andrey Sheiko – il mercato delle etichette autoadesive mostra una crescita costante.  La concorrenza è forte, ma grazie ai vantaggi che possiamo offrire con questa macchina – alta qualità, tecnologia unica, velocità di produzione e consegna, flessibilità – contiamo di espandere la nostra quota di mercato in Bielorussia e in Russia, dove attualmente esportiamo circa il 20% della produzione. Tra le nostre prospettive di sviluppo vedo anche il mercato del packaging: non abbiamo ancora effettuato studi dettagliati, ma siamo gli unici ad avere le capacità tecnologiche per entrarvi".
Si ringrazia la rivista "Flexo Plus" per l'autorizzazione alla pubblicazione – Febbraio 2017.