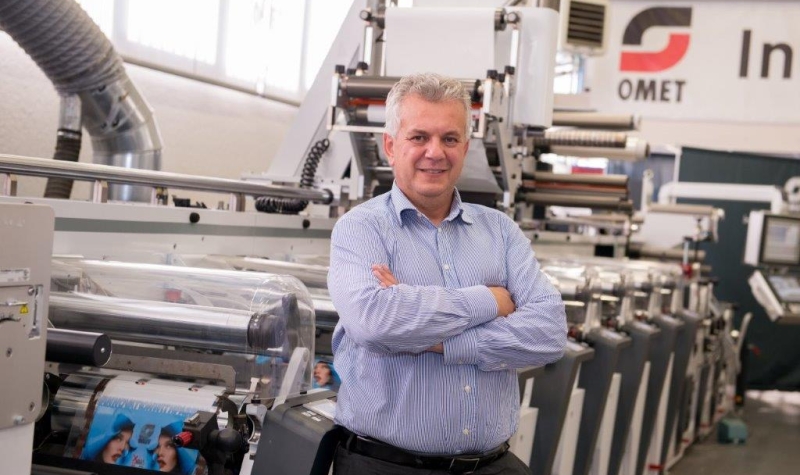 Marco Calcagni: investments and positivity, a duty of any entrepreneur
January 7, 2021
Recently, strong changes have affected the market and the companies. The way of working, the needs of customers, the approach to suppliers have radically changed. People travel less, and meetings are mostly virtual: at first, everything seemed difficult, but the result is greater efficiency and greater speed in communication and problem solving.
The effects of this "revolution" on the OMET group depend on many factors like reference markets and the geographical areas differently influenced by Covid-19: OMET works for different industries, all over the world, both with the packaging and tissue divisions.
Packaging, in general, has not suffered any decline: it has remained stable with some increases in the food sector. It was forbidden to go to restaurants or on cruises, but people have not stopped eating, so they turned to supermarkets buying packaged goods and producing an increase their demand. This didn't immediately become an increase in the investment market, where OMET operates, but it balanced the fear of the future which was its main brake.
Tissue, mainly depending on food service industries, has a different situation. Several clients have suffered and postponed investments. However, there has been a growth in the hygiene/cleaning sector: OMET's luck and ability to configure its machines to produce masks and non-woven products for the medical and pharmaceutical sectors has allowed the production flow to continue in a rather stable way. With the hope that the virus will disappear in a short time, currently it is interesting for our customers to invest in machines that can produce both masks and napkins as needed.
Right now, the key to everything is looking over the contingent emergency with a strong vision: a praise goes to the many forward-looking entrepreneurs who continue to invest, and to the governments that encourage the restart of the economies. A positive vision is essential for the future of the economy and the new generations: we cannot leave debts to our children. It is a specific duty of any entrepreneur to give the economy a boost with strength and positivity.
---
Marco Calcagni: investimenti e positività, un dovere di ogni imprenditore
Negli ultimi mesi, forti cambiamenti hanno investito il mercato e le imprese. Sono cambiati il modo di lavorare, le necessità dei clienti, l'approccio ai fornitori. Si viaggia meno, e le riunioni sono spesso virtuali: all'inizio tutto sembrava difficile, ma il risultato è stato maggior efficienza e maggior velocità nella comunicazione e nella risoluzione dei problemi.
Gli effetti di questa "rivoluzione" sul gruppo OMET dipendono da un intreccio di fattori legati ai mercati di riferimento e alle aree geografiche: OMET lavora per diversi settori nel mondo del packaging e del tissue, in Paesi diversamente influenzati dal Covid-19.
Il packaging, in generale, non ha subito flessioni: è rimasto stabile con incrementi in particolare nel settore food. La gente non ha più potuto andare al ristorante o in crociera ma non ha smesso di mangiare, quindi si è rivolta alla grande distribuzione acquistando piccole confezioni, e aumentando la richiesta di packaging. Questo non si è riflesso immediatamente in un aumento nel mercato degli investimenti, dove opera OMET, ma ha compensato la paura del futuro che ne costituisce il principale freno.
La situazione è differente per il tissue, legato alla ristorazione e alle mense. Parecchi clienti hanno sofferto e posticipato gli investimenti. C'è stata però una crescita nel settore igiene/pulizia: la fortuna e la capacità della OMET di configurare le macchine per produrre panni polvere, panni spugna e mascherine ha permesso di continuare il flusso produttivo in modo piuttosto stabile. Con la speranza che il virus possa scomparire in tempi brevi, risulta interessante per i nostri clienti investire in macchinari che possono produrre sia mascherine sia tovaglioli a seconda dell'esigenza.
In questo momento, la chiave di tutto è una visione che vada al di là della situazione contingente di emergenza: un plauso va a tanti imprenditori lungimiranti che continuano a investire, e ai Governi che incentivano il rilancio delle economie. Una visione positiva è la chiave per il futuro dell'economia e delle nuove generazioni: non possiamo permetterci di lasciare debiti ai nostri figli. E' un preciso dovere degli imprenditori ridare spinta all'economia con forza e positività.